Interview: Bobby "Blitz" Ellsworth of Overkill: "We don't want to be considered the old dudes on the block"
New Jersey thrash metal veterans Overkill are still at it and they're better than ever. Roppongi Rocks met vocalist Bobby "Blitz" Ellsworth when Overkill recently visited Japan for a chat about staying relevant and what drives the band some 37 years into their career.
Bobby "Blitz" Ellsworth is in a great mood when I meet him backstage when Overkill recently returned to Japan for another terrific performance for its Japanese fans. Clearly this is a man who loves what he does and it is an interview filled with laughter.
Formed in 1980, Overkill is still a hungry band that always delivers a great show. Its latest album, the Andy Sneap produced "The Grinding Wheel", is its 18th studio album and it is one of the band's best ever. The current line-up of the band – founding members Bobby "Blitz" Ellsworth and DD Verni plus long-serving guitarists Dave Linsk and Derek "The Skull" Tailer and new drummer Jason Bittner – is ridiculously good.
Overkill sounds better than ever. What's the secret behind staying relevant and on top of your game after all these years? "I never spend my money on street drugs. I go right to the pharmacies. Haha!!! I do think there's still obviously a huge excitement for us internally. We're New Jersey guys. I am sitting about ten feet from my partner," says Blitz and points at bassist DD Verni, before he continues, "who is probably thinking the same thing I am: Today is a great opportunity for us. I think that if you take that opportunity, and an opportunist attitude, for 30 plus years, you're making the best out of every event that comes your way at every opportunity. So I think that sounding better is always about challenging yourselves, always trying to make it a little bit better, not releasing the same thing, not mailing the record in saying: 'Hey, you know, we can make some money on the road so just mail the record in'. It's really about having that pride and making the most of the opportunity."
"The Grinding Wheel" is your 18th studio album. How do you think Overkill's music has evolved over the years? "I think that's the challenging that I mentioned from the inside. We don't want to be considered the old dudes on the block. We wanna be able to come out with that spunk that we had back then, but let's say a reinvented version of it in the present day. Reinventing it is taking what we've learned along the way, or that maturity or growth, and applying it as time goes on, to know that it's not just being the fastest, heaviest band, but to say 'Hey, we have many tools in the tool shed. Let's break out the groove again. Let's break out the slow and heavy. Let's change the tempo. Let's get thrashier.' If these are all the things we have experimented with and have become the things we are notable for, it's not wrong for us to use our own things. But to only mix that puzzle up and do it a little differently. That becomes a challenge in itself, so therefore you get a fresher kind of vibe."
Andy Sneap worked with you on the latest album. Did that have an impact on the result? "I do think that probably one of the things we learn along the way is that when we decide to mix things ourselves, there are too many chiefs and not enough Indians in the room. So it's nice to have an objective opinion, especially from a guy who has got THE set of ears when it comes to mixing. Andy sees things different through his ears than we would see things through our ears. We will do the production all the way through. And production to us at this point is very simple: It's about getting good tones, about getting great performances and staying fucking organised! That's what makes a great record. When you hand it to someone like Andy he says 'Jeez, everything is lined up for me perfectly. All I can do now is make it sound better', not do all this kind of engineering type things, moving things around and making edits. He got to spend an entire month mixing this record that we had all organised for him. So I think it's a neat thing to have objectivity even this late in our careers. To be able to, let's say, even get that vision a different shade of black. Haha!!"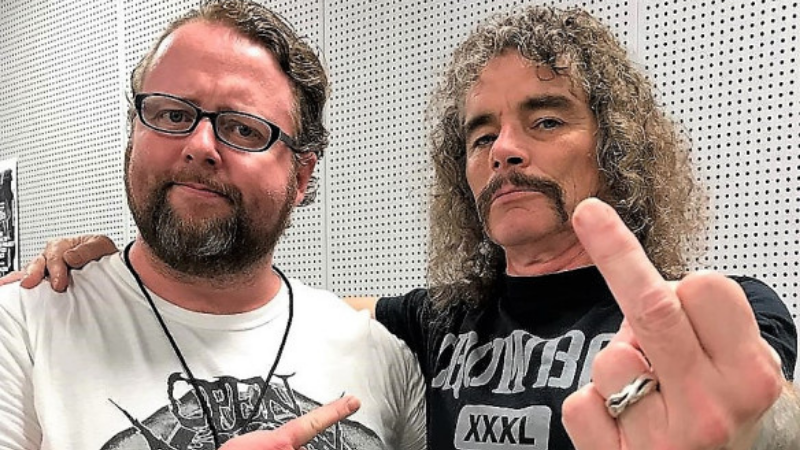 You and your band co-founder DD Verni are still going strong. How would you describe your relationship? "Well, he doesn't speak any English so he doesn't know what the fuck I'm saying. Haha!!  He's been yabbering in Italian and Spanish for 30 years! I think that our relationship is really kind of an unspoken type of bond. We come from the same background. Our parents are both first generation Americans. Our grandparents were immigrants. We understood the same shit. We came from Irish and Italian neighbourhoods originally out of New York. One of the great things is that that melting pot gave us principle. His uncles are mine. Mine being Irish uncles and his being Italians. Work hard and keep your fucking mouth shut and don't let anybody know your secrets. We're the same guy in two different things and I think that's why it works for us. And I love that about this band. The only people I know longer than DD are my mother, father and siblings. To have a relationship for almost 40 years with the guy and still be writing songs that we're proud of, that's pretty special. I think that comes from the principles we learned as kids."
You've survived a cancer scare and an on-stage stroke. Is there anything that can stop you from performing? "It's not those things. Everybody has their own crosses. You have things, your family has things. Mine just happened to be publicised. Haha!! That's really all it is. And I remember this guy saying to me: 'It's not how many times you get knocked down, it's how many times you can get up after you get knocked down.' Because then you have the opportunity to continue doing what you're doing. I think, in my case, I wasn't just lucky, I had great support. Whether my wife or my band, the band I'm part of, not my band. It's what you believe, that's what makes it happen. They could've been career-ending things. But obviously they weren't. If you live to fight another day, you make the best of it."
Last time you played Japan in 2015, it was as part of a killer bill with Exodus and Sodom. "Sodom is one of my favourite German bands. I just love Tom. He just doesn't give a shit and that's what I love about him. He's like: 'I'm here to play if you like it or not, I'm doing it!' Haha!! I love it!"
You have a new drummer in the band since you last played Japan. What has Jason Bittner, who has played with Flotsam and Jetsam, Toxik and Anthrax, brought to the band? "He's an edgy kind of guy. You know, it's a drummer's band when you're on stage. I've said it to every drummer in this band: 'This has nothing to do with me. This is all about you. Don't worry, I'll hang on.' Haha!! You steer the ship, captain. Haha!! And Jason knows that from the get-go. I love the fact that he's edgy. I love the fact that he's from my area. He understands our sense of humour. I'd rather tour with guys that can make a great band, instead of coming in being great. But Jason kind of have both. Jason has kudos from other drummers even before he got into this band. That kind of an addition always raises the bar for us. Because you have to keep up with the new guy's energy. You wanna see if you're getting old and that? Try staying up with Jason! Haha!! I think that says it all, right there. He was the natural choice. We've known him for years. He was hanging around our shows when he was a teenager with drum sticks in his back pocket, trying to get a gig, hoping that somebody would drop dead on stage, obviously the drummer. Haha!!"
You have a very loyal following here in Japan. What does Japan mean for Overkill? "We obviously identify with them. I think that one of the beauties of this music is its purity. I think that when people recognise that purity they keep it for life. Whether they come or not, this many years later, it's touched them in a way that it can never…that scar will always be there. I think Japan always open your arms to that purity. There is a serious honesty about this. This is one team, one fight. I think when that's recognised, it's not individuals in the band, but the band has always been presented as a band, no matter who is in that band. That Overkill is more important than the individuals. I think that's where we connect with people and I think the Japanese specifically are very keen on that presentation. 1988 is my first year here, so 29 years later and now we're playing a bigger show in Japan, it says something for that principle. I think we connect on that level."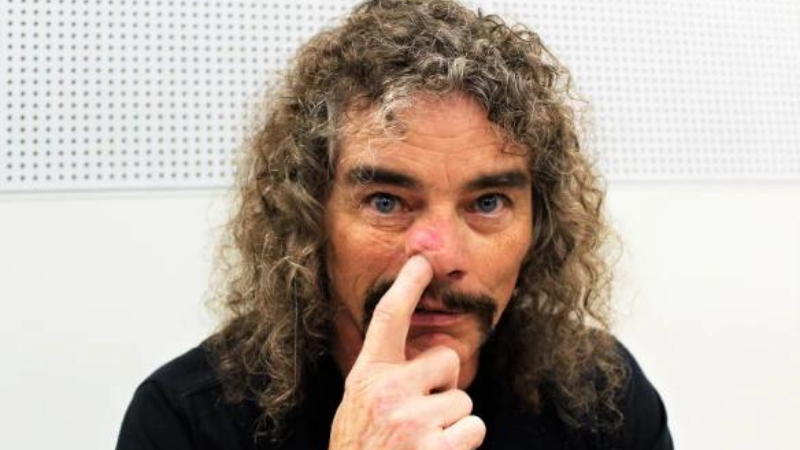 What's coming up next in the world of Overkill? "We're gonna finish the touring now. We're gonna go over to Europe with the Cavalera boys. We're gonna eat rodizio and they're gonna do the 'Roots' thing and we're gonna be on that show with them. That's about 20 shows or so, 17 shows. Then an Australian run once the beginning of the year comes around. Probably call it quits right around that to go back into the cycle. Part of our visibility is rags like yours, internet like you guys, but also do a record every couple of years. We don't really let shit sit around and get stale, you know? We're not doing it to get rich, we're doing it because we still can and we can still do it at a high level. So, 2018 is going to be a writing year for us."
Ladies and gentlemen: Overkill is still relevant, they still have spunk and they're always putting on a great thrash metal show.
www.facebook.com/overkillwreckingcrew