Enforcer: heavy metal done properly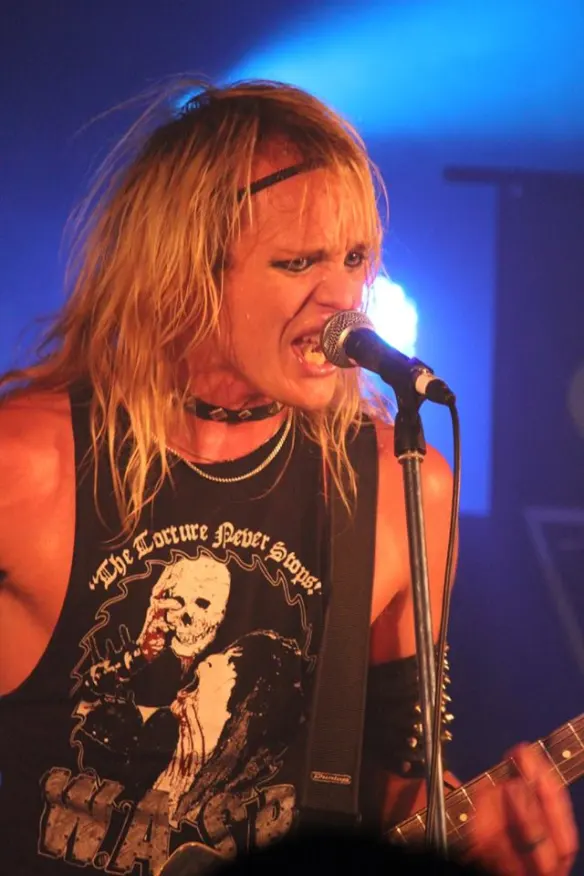 Enforcer is a Swedish band at the forefront of a generation of newer, younger bands playing what perhaps can best be described as proper and timeless heavy metal. Enforcer, who released their latest studio album "From Beyond" in February, has been touring around the world for the past decade. When they recently came to Japan for their third visit, Roppongi Rocks' Stefan Nilsson decided to have a chat with Olof Wikstrand, Enforcer's founder, vocalist and guitarist.
Over the past decade, Swedish heavy metal band Enforcer has released four studio albums and never really stopped touring around the world. They're on a mission: to give the world proper heavy metal. So far they're doing a terrific job.
The band's frontman Olof Wikstrand often talks about "real" and "timeless" heavy metal, but at the same time he doesn't want to put labels on his music. "One limits oneself by saying that you are something or that you identify with something. I think it is very important, at least if you want to continue to develop, to stay away from that. I listen to all kinds of good music. That's what I am trying to bring to what we're doing. It's not more complicated than that. There are so many bands nowadays, especially newer, younger bands, who are so busy playing a certain kind of music that they completely forget to be themselves. I find that kind of thing completely uninteresting," explains Wikstrand as we sit down for a chat in a Tokyo hotel between Enforcer's two gigs at Spiritual Beast's Japanese Assault Fest.
Whatever one wants to call what Enforcer does, this is a band playing great heavy metal. It is the kind of music that is perfectly suited for a spot of air guitar and some intense headbanging. "It's rather catchy and music full of energy," says Wikstrand.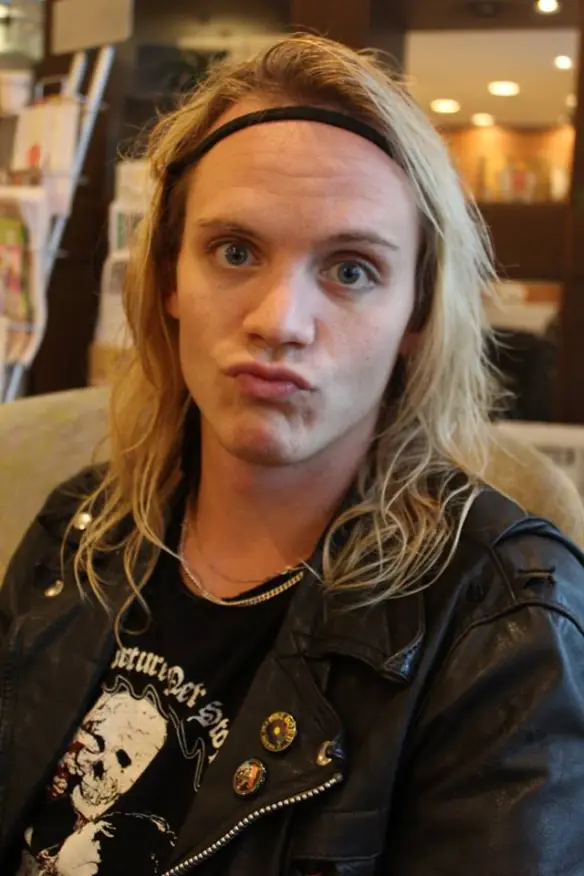 Some fans and music critics were surprised when Enforcer recorded a cover of the Misfits classic "I turned into a Martian" – a song that they also sometimes perform live. Wikstrand, however, thinks that a Misfits cover fits nicely in with Enforcer's music. "It is so similar! It is the same type of riffs. Misfits is absolutely not far off from Enforcer's sound. Some people react to this because they are too narrow-minded when it comes to categorising music. Musically I think Misfits fits perfectly with our music!" explains Wikstrand. Later in the evening Enforcer also gives us a splendid version of KISS classic "I stole your love" during their gig and that, too, fits nicely into Enforcer's set list.
Enforcer hails from Arvika, a small town in rural Sweden which is also home to death metal heroes Tribulation. The two bands are closely related with several members having played in both bands.
"There's no rivalry at all. We've grown up together," explains Wikstrand. "When we started there were no other bands doing this kind of thing, playing real hard rock like we do. What the hell did people listen to back then? Technical grindcore and that kind of thing. It is probably the worst music era in world history – late 90s, early 2000s. And so we obviously stood out from the crowd when we started to play real music," says Wikstrand.
The two bands are linked by more than just people. "Many songs have been going back and forth between the two bands. Some riffs that Adam Zaars for example came up with for Enforcer ended up with Tribulation and vice versa. Jonka, Tribulation's vocalist, have been writing some of our stuff and I produced the first Tribulation album. Jonas Wikstrand, my brother who plays drums for us, produced the second Tribulation album. The level of inbreeding here is at a level rarely seen!" laughs Wikstrand.
This is Enforcer's third Japan visit. "People still buy records here. That is very interesting and people are so dedicated. It really is fantastic coming here to play. People are so committed, we get a level of support we rarely experience elsewhere. A lot of people come to see our gigs here. In Europe it really varies a lot," explains Wikstrand the appeal of touring in Japan.
Enforcer's two most recent studio albums, "Death by Fire" (2013) and "From Beyond" (2015), both released through Nuclear Blast, have a slightly better production than the earlier albums. "It has nothing to do with the record company. The fact is that we have produced these two albums completely ourselves, which is why it sounds more like we want it to sound and is thus not a coincidence. It's been a lot of work with the last two albums but I am extremely satisfied with the sound. I am not really unhappy with the sound on the first two albums, but it can never be a hundred percent right when you work with someone else, just 99. We felt that it wasn't enough and that we wanted to get that final one percent and get everything just the way we want it."
Enforcer is a ridiculously good live act and thus it comes as no big surprise that they have just released a spectacular live box set. "Live by Fire" (out on Nuclear Blast internationally and Spiritual Beast in Japan) contains great audio and video as well as a booklet with photos from the band's career. "We recorded the DVD while we played here in Japan at Loud Park. It was a short set and so we decided to make a bigger package with a live album, a DVD and three new studio songs. It's a recording of a gig in Athens in its entirety, 75 minutes. It's really great to be able to release something that is a bit different as we have already released four full-length studio albums. We're now releasing live material which the fans will actually be happy with."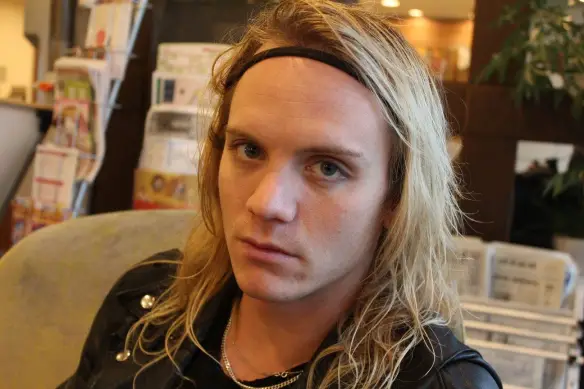 With the Asian tour now over the band will do some odd jobs, such as a visit to Greece, before the end of the year. The world tour will then continue in the new year with a major tour of North and South America. "We'll be touring over there for a total of twelve weeks," explains Wikstrand. "It's great to get out on the road to play and meet people. But also, hopefully, to grow as a band and sell albums in the long term. This is the only way to do it. Iron Maiden didn't become the world's biggest heavy metal band because they wrote good songs and then sat at home waiting to break. One just has to get out and play," says Wikstrand.
The plans for the next studio album are already firm. "Yes, we will start writing as soon as we get home. We plan on releasing a new album in exactly a year. Preliminary release date is 4th or 5th November 2016. We've planned for the next three years already. You have to be a bit goal oriented if you want to continue to develop as a band."
Catch Enforcer on tour and buy the live box. It's terrific and, yes, it is proper, timeless heavy metal indeed.
Enforcer – band members
Olof Wikstrand – vocals, guitar
Jonas Wikstrand – drums
Joseph Tholl – guitar
Tobias Lindkvist – bass
Albums
Into the Night (2008)
Diamonds (2010)
Death by Fire (2013)
From Beyond (2015)
Live by Fire (2015)