Album review: Skunk Anansie "25LIVE@25"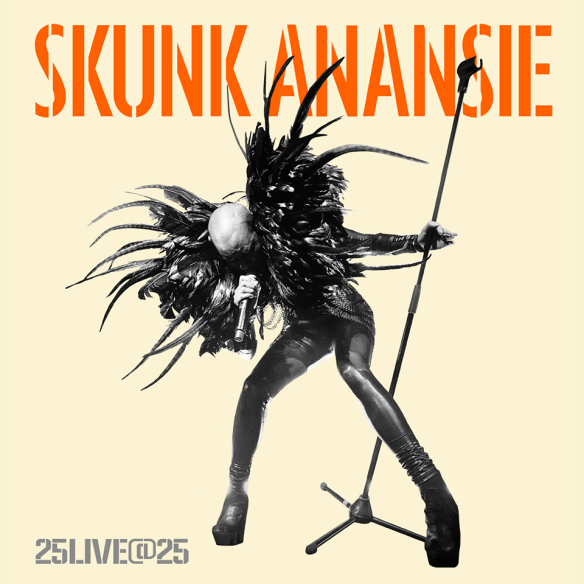 Skunk Anansie celebrates turning 25 with a new live album that brings back terrific memories of London in the 1990s. 
I saw Skunk Anansie open for KISS in Finsbury Park in London in 1997. The Skunks were perhaps not an obvious choice to open for KISS, but it was a great choice (Rage Against The Machine, Thunder, 3 Colours Red and L7 were also on the bill that summer evening). Skin and the boys owned the stage and the audience like it was nobody's business. Inspiring a large crowd waiting for KISS is not the easiest of gigs. Skunk Anansie's brand new live album "25LIVE@25" brings me down memory lane, back to London in the 1990s, the city that was my home for a decade.
Skunk Anansie always had excellent songs that gave them hits and fans. But they have also always been a great live band where fierce powerhouse lead-singer Skin gets to shine while being backed by a groovy band. Skunk Anansie is perhaps best defined as an in-your-face 90s British alternative rock band with punk attitude, great songs and a terrific frontwoman in Skin. They always brought in a wide range of influences into their rock music. They made it work and they became a musical melting pot mirroring the diversity of their hometown London. On this splendid live album we get all the goodies from back in the 90s, including "Intellectualise My Blackness", "I Can Dream", "Charity", "Selling Jesus", "Little Baby Swastikkka", "Weak" and "Hedonism" as well as newer material. The album sounds terrific but also unpolished, like a live bootleg with great sound. And that is a good thing. "Yes, It's Fucking Political" is a song title which nicely sums up what Skunk Anansie is about. They never shy away from bringing up social issues and other sometimes controversial topics they feel strongly about. That is part of what makes this such a great band, a talented band full of adrenaline and attitude. The band disbanded in 2001 but reformed some years later with the same line-up they've had since 1995: Skin on vocals, Martin "Ace" Kent on guitar, Richard "Cass" Lewis on bass and Mark Richardson on drums. Based on this live album, they're as good now as they were back in the 90s. Nostalgia? Yes, but this band is also relevant here and now and they have a future. 
Skunk Anansie's "25LIVE@25" is out now via Boogooyamma.
www.facebook.com/officialskunkanansie