Japanese guitarist Kelly SIMONZ talks about Ritchie Blackmore's influence
Born in Osaka in 1970, fab Japanese guitarist Kelly SIMONZ started playing the guitar at 14. By the age of 17, he performed as the opening act for Loudness. Later he left Japan to study at Musicians Institute in Hollywood. Since returning home to Japan, Kelly has performed both as a solo artist and with several bands and projects. In addition to releasing a number of studio albums, he has performed live around the world and has been conducting guitar clinics and seminars both in Japan and internationally. In recent years, he has worked together with former Yngwie Malmsteen vocalist Mark Boals. On 5th November, Kelly will perform as Ritchie Blackmore during the Rainbow part of the Legend of Rock tribute shows in Tokyo. Roppongi Rocks checked in with Kelly to find out more.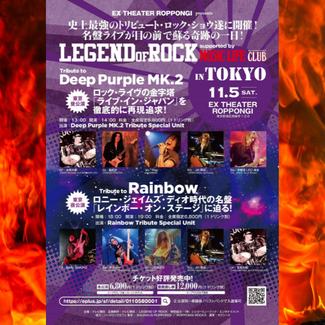 What has Ritchie Blackmore meant to you as a guitarist?
"I started playing the guitar because of players who were influenced by Ritchie and I believe that I have been influenced by him quite a bit, though not directly. I have heard from many of my predecessors who experienced his live performances that Ritchie had a charismatic presence on stage that was very different from others. And since many of my favourite players are also like that, I am sure that he has influenced me."
For you as an artist, what are the differences between playing your own music and playing classic songs by other artists such as Rainbow?
"I always enjoy playing masterpieces and give them my utmost respect. When I play my own music, I see it as something completely different in the sense that it is still based on the premise of how I can show everything I have to offer."
How did you get involved in playing tribute shows?
"I played with DioKen, the vocalist, in our own bands. He invited me to join this Rainbow tribute unit. To be honest, I wasn't that strongly influenced by Ritchie, and I didn't know many of his songs, so I was a bit hesitant. But I decided to accept the invitation because I thought it would be a chance to let more people know who I am."
At tribute shows such as Legend of Rock, do you feel pressure from fans to sound and look like Ritchie?
"If we were a 'full tribute band', that would be very important, but since I and the other members are artists working professionally in our own bands, I am not too concerned about that. However, my guitar sound is in the direct lineage of Ritchie's influences, such as Jimi Hendrix, so I am confident that I can play with a tone that is very close to Ritchie's sound, and I am sure that we can meet your expectations."
How do you prepare for such shows? Do you watch a lot of live videos to learn all the details?
"I watch videos to study performances, but I try to focus more on 'sound' than in the past. I try to focus more on the auditory nuances and Ritchie's unique timing than on the visuals because I can get an idea of the performance even if I only listen to the sound. Unfortunately, there doesn't seem to be time to break the guitar at this concert. Haha!"
Apart from Legend of Rock, what else keeps you busy as an artist at the moment?
"I was a solo artist when I debuted in 1999, but I originally worked on a project called Kelly SIMONZ's BLIND FAITH, with band members Kaz on bass and Yosuke on drums, and we have been performing live and at events for almost ten years. In 2019. Mark Boals, a former singer in Yngwie Malmsteen's band, supported our band as a member when he toured Japan, which led to Mark's offer to sing in my band. We are currently in discussions to make an album. We hope to complete the album next year with Mark on vocals, so please look forward to it."
For more information about and tickets to Kelly's forthcoming performance with Legend of Rock on 5th November at EX-Theater Roppongi, please visit: www.ex-theater.com/contents/schedule/1355/