Great Canadian progressive power metal on Scythia's new album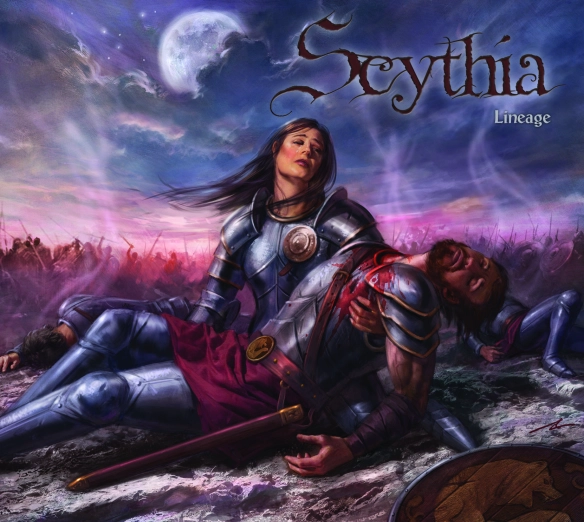 Canadian progressive power metal band Scythia is about to release its best album to date, "Lineage".
Scythia is a great new find from Canada. The band formed in 2008 and released its debut album "Of War" in 2010. "Lineage" is Scythia's fourth full-length album. Sometimes they're labelled as "folklore metallers", but this a bit different from your standard Nordic pagan metal bands. It is a great mix of power metal and progressive metal.
The church organ on "Laugh of the Tsar", a rather brutal metal track which is perhaps the best track on the album, is wicked. "Soldier's Lament" is another immediate favourite track. "The Loremaster" is a great journey in itself divided up into two parts. Like a mini concept album. The title track "Lineage" could easily fit in on a Helloween album. Most of the album is something like a cross of Helloween and Dream Theater with some heavier Manowar parts here and there. Some of the music is similar to Unleash The Archers and other parts remind me of projects like Avantasia and Phenomena. There is some very fine musicianship on this album and the vocals fit well with the band's style.
Maybe it is my deep Viking roots and adopted Samurai culture, but there is something about this folklore-inspired musical landscape filled with electric guitars that I really like. Image wise the band lives in a warrior/pagan/Viking/Celtic/medieval kind of place. There is a danger that this kind of image sometimes get in the way of the music. But make no mistake about it, this is a great Canadian metal band. If the mighty Manowar can get away with it, Scythia can probably too.
"Lineage" will be independently released on 4th May. Metal warriors – buy the album and book a flight to Canada to see the band play live.
Scythia "Lineage" – track listing
Eternal Oath
Laugh of the Tsar
Barbarian
Soldier's Lament
Loremaster pt. I
Loremaster pt. II
The Sacrifice
Lineage
Scythia – band members
Dave Khan – guitar and vocals
Terry Savage – bass and growls
AJ Bergin – guitar and growls/vocals
Celine Derval – drums and vocals