Interview: Kyle Hughes – a young English drummer touring the world in the name of rock
English drummer Kyle Hughes may only be 21 years old, but he's already toured with Bumblefoot and Marco Mendoza. With his first Japan tour now under his belt, this drummer has a bright future ahead of him. 
Having started to make a name for himself locally as a drummer in Twister, young and talented Newcastle drummer Kyle Hughes got discovered by former Guns N' Roses guitarist Bumblefoot. Having toured internationally with Bumblefoot, the English drummer then teamed up with former Whitesnake and Thin Lizzy bassist Marco Mendoza. When Marco Mendoza's trio recently came to play in Japan during their "Viva La Rock" world tour, Roppongi Rocks sat down with the drummer at his hotel for a chat a few hours after he had landed in Japan for the very first time.
You're from Newcastle in England. How did you go from playing the local pubs to playing internationally with American artists like Marco Mendoza and Bumblefoot? "It's crazy and it blows my mind that it's worked out that way. It's kind of one of them stories where it's like – it takes one moment for something to happen and then it just changes everything. Meeting Bumblefoot was actually one of those moments. I was in an original band, which was called Twister when I was… How old was I, 15 when I joined them? They were a bit older than me, mid-twenties and stuff. I got a phone call from the singer. Well, actually, we were in a local club, ironically. 'Bumblefoot is coming to town and he needs a backing band and we've got the gig!' He was travelling around the world, just kind of going into different, I guess it was music schools and doing gigs with lots of musicians all over the shop. Then he comes to Newcastle of all places and my band, through Peter Mann, who works in the northeast scene. He had seen us play a local gig in Durham somewhere and he got the call: 'We need a band, who'd you recommend?' That's how it works! So, we got the gig. I was 17 and I jammed with Bumblefoot. I loved the material, it's full of a lot of chops for me to play and stuff. " He met Bumblefoot for the first time at soundcheck and, there and then, they ran through the whole set. "We went on stage after one rehearsal and just blasted it out. Ever since then we've kept in touch and played gigs all over the place – in USA and Europe. I'm very grateful for that. He's a very good friend of mine. Yeah, crazy experience! It leads on to everything else, to now! That's how it works!"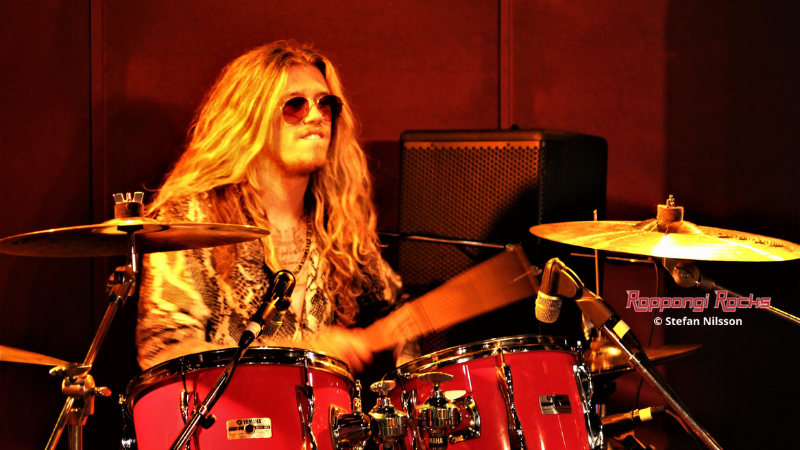 How did you meet Marco Mendoza and ended up playing with him? "In London. That's when I, I guess, got the gig if you like. We'd met, he was looking for a drummer and my friend Micky Crystal, fantastic guitar player of the Tygers of Pan Tang – a good friend of mine from home, obviously – recommended me for the gig. Marco was open to the idea, so we exchanged emails and the next tour he called me and said: 'Do you want to do this?' I was like: Yeah, why not? Haha! You're not going to say no. I mean I grew up… My dad's a bass player and a singer. We watched videos and Marco's name would pop up with Whitesnake and Thin Lizzy of course. So, I was like: Yeah, I'm in! We just hit it off musically. He's a great person and here I am in Tokyo, Japan! It blows my mind! I'm really grateful for the friendship and we have a great time on stage. That relationship from the bass and the drums is really solid now. I've been in this band now for about a year, so it has to be! Haha!" 
As a younger musician, you're still only 21, do you ever feel nervous or intimidated playing with industry veterans, or do you just get on with it? "Not really. I was jamming in LA a couple of months back with Mike Keneally and some friends like Bryan Beller. You know, they're older than me, they've been around awhile. But it's one of them things where I feel once you are kind of in with people and you're friendly with them, I think that's the difference when you're comfortable with someone on a friendly level. This guy is just a normal dude or whatever, just normal people. The more I've been in those circles and hanging out with people like that, it just becomes, I guess, normal and you don't really get starstruck. Obviously, I have my heroes, which if I'd have met, I'd be a bit more… Like Tommy Aldridge, who Marco knows. Haha! Certain people, but in general, it's kind of like I feel like when you're in that circle you're on the same level as everyone and you don't feel intimated. There's a reason that you're there, I guess. I stay humble. I'm always one to work to improve and get better, but I feel when you're in the same room and you're going to be on stage with someone, they obviously see you as, I guess, one of them. 'He's on my level.' That's the way to kind of look at it, which keeps you confident and doesn't put you in that intimidated spot." 
Your hometown Newcastle has a proud history of producing some serious musical talent. What's the secret? "That is a really tough question. But I am going to say this much, and I wouldn't just say this. Even now I still play gigs locally when I'm not on tour. There are some of the most talented musicians… There's some amazing talent in Newcastle that some people don't even know. Some of the best players I've ever played with are from Newcastle. I don't necessarily know why it is, but there is something about… Like for me, here I am now and in a couple of weeks, I'll be back playing a working men's club. It keeps you humble. It just brings you straight back down to Earth. I always think that something like that is a good thing. It keeps me in check. It's the grind of like pulling big bass bins and drum kits up the stairs to get to the gig. It's really cool and, honestly, I treat every gig the same. There's something about that, where you play a pub or a club and then you're given an opportunity to do something like this or when you're touring Europe or the world, you're just ready. I started in the pubs and clubs with my dad's band when I was about 13 years old. I had the training years before I even met Bumblefoot or any of this even happened. I was, maybe not tour ready, but I was ready musically. You learn your craft and that's for me, anyway, how it worked. I knew what I had to do. Then you get one tour and the next tour and then you just adapt. It's all a learning experience though."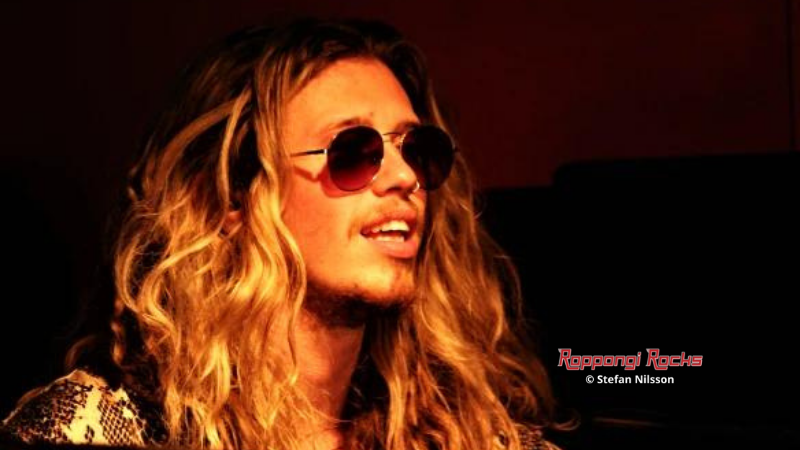 What's the highlight of your career so far? "This being one of them. I can't lie. I've always wanted to come to Japan. I feel very welcomed here. It's amazing! I'm very grateful for this experience. Haven't even played a show yet! There's so many – doing my first gig in America, playing at the Iridium with Bumblefoot, that was a highlight for me. Playing my first big gig at a festival supporting Simple Minds – it was insane – with my old band Twister. There are so many… I can't put it into one. This whole tour has been amazing. It's the longest tour I've done. I've played places I've never played before. I've seen new places. I'm just really grateful for everything. I know it sounds cheesy, but I never want to take it for granted. I wanna be in the moment."
Marco Mendoza's shows in Japan are followed by a few gigs in Russia. What's coming up after that for you? "5th Avenue from Hamburg has called me to do a few shows and maybe Wacken festival and things like that. Pretty much kind of studio things and I have companies asking me to do things. I am just trying to find the time when I am home so that I can actually act on it. And, of course, I want to get back to LA as soon as possible. We played there at the start of the year, me and Marco, and it was great, it's really working out over there. I feel that's the place where I want to be. I want to try and maybe experiment with going into something new, stylistically, musically. Just experiment and try something new, kind of like Conrado Pesinato. Doing like a hip-hop R&B thing. That's kind of what I want to try. That scene, like pop music. Not to go away, or detach myself, from the classic rock thing, it's nice to do something that keeps you versatile, it keeps you on your toes. There's something about learning a new style. It's rewarding when you nail it and do a good job. I'm always one to keep things fresh, for sure." 
www.facebook.com/kylehughesdrums