Tomoko Sukenobu: "I hope Atomic Swing will continue to play forever"
Atomic Swing's Tomoko Sukenobu talks to Roppongi Rocks about her musical and personal journey from Japan to Stockholm.

Stockholm-based Japanese musician Tomoko Sukenobu is currently the bass player of Atomic Swing and "Demons". Having had initial success and a record deal in Japan in the 1990s, she wanted to take her music and herself out into the world. Her love for Swedish rock led her to move to Sweden.
Tell us about your early music career in Japan. You were the bassist for Macaroni, a Japanese band that opened for The Hellacopters in Japan in 1999. "Yes, first, I have had a big dream of becoming a professional bassist since I was 11 years old. I played in a band in my home town when I was a teenager but I was kicked out of my band. The band might have wanted a male bassist or something else. I moved alone to Tokyo after graduating from high school as I had planned. At the beginning in Tokyo, I had only one friend who was from the same high school. I was looking for a band while working at Hard Rock Cafe in Tokyo. People usually think it is crazy if you want to be a professional musician. I met the members of Macaroni around 1996 after playing in some bands. We rehearsed a lot, like three or four times a week and played around Tokyo, We didn't have that many fans. But people from some major record labels liked us. We signed a contract with Kitty (Universal Japan) before long. Another major record label paid for our demo before Kitty. We played together for only a few years, but it was a very useful experience for me even now as a professional musician. Our A&R knew a guy at the promoter and we talked about how much I love The Hellacopters and other Swedish rock bands too. My band and The Hellacopters miraculously had contracts with the same record label. After a while, Macaroni got a chance to be the support act for The Hellacopters' Japan tour in 1999."
How did you end up moving to Sweden? "One day I realised I had mostly Swedish bands and artists in my CD collection. At the same time, my desire to tour foreign countries became bigger and bigger. There are many 'imitate' Japanese bands which long for Western music. OK, then I thought it'd be 'real' music that I love if I moved there to play with people there. After Macaroni broke up, I went back and forth between Tokyo and Stockholm a few times and went to Los Angeles once. Once I stayed in Stockholm for half a year on a six-month student visa. I didn't study so much Swedish then… Haha! My friend who had a company helped me to get a work permit. I wanted to move to Los Angeles too but it seemed to be more complicated to get a US visa without romance. But it seems to be less impossible to play around the world nowadays. There are many bands with members that live in different countries or different states in the US. You'd get more exciting inspiration if you are an artist and bring different cultures to your music life. Why don't you try?! I am always very open to the world and always want to play in other cultures!"
You saw Swedish rockers Atomic Swing perform in Japan in the 90s. Then a few years ago, you joined the reformed Atomic Swing fronted by Niclas Frisk. How did you land that gig? "I have been a big Atomic Swing fan since the early 90s. I also saw Niclas Frisk's solo project Atomic Wings in 2018 and Atomic Swing in 2006 and 2019 here in Sweden. Niclas recognised me in the audience and on Instagram. We also have some common music friends. He sent me a message via Instagram while"Demons" toured in Japan in early 2020. He always likes to experiment with new chemicals with music and musicians. As you know, all concerts were cancelled after the corona pandemic started. Artists had to perform in reduced band settings or streaming during the Covid19 period. He was looking for any instrument player who would be suitable for such gigs under 2020. He and Micke Lohse tried to play with me on electric contrabass in the studio. I wouldn't play the contrabass first, but he asked me 'By the way, you play the contrabass too, right? If you want to, bring it and we will try!'.I had only practised a lot at home but never played the contrabass in such a high-level situation before. The basslines of Atomic Swing are actually very crazy high-level, detailed nuance, the ways of tone-use, etc. He told me that all bassists who got involved in the band, have been shocked by Atomic bass things. Ear-copy doesn't work. I think Niclas is a kind of space alien! I analysed Atomic's sound and performance as much as possible from YouTube and all the material I have. I consider – still now – what can I do that is best for the band and the fans. I asked a lot about the sound and the band's concept for the future and we discussed it many times. I had to learn those basslines on a professional level with contrabass quickly. I never wanted to make them or the fans disappointed with me. If you are a professional and get paid, you have a responsibility to entertain the audience. Even if you are highly skilled at playing an instrument, it'd not be called 'professional' if you are out of harmony in music with others or the audience gets bored. Anyway, I try my best and hope Atomic Swing will continue to play forever."
In addition to Atomic Swing, you are part of "Demons", a great Swedish punk rock band. Tell us about it. "I already knew of "Demons" while I was still living in Tokyo. Their music was in my Swedish music collection. When my friends and I came to Sweden, we happened to meet Mathias Carlsson on the street. My friend said 'Oh! He might be in "Demons"!' In the beginning, we hung out often but after a while, we hadn't seen each other for ten years or more. They changed their band line-up to become a trio when their original bass player left. When their second bassist quit after 15 years, they called me. I had just quit Crash Nomada and was looking for a band, but there were no responses. I had actually started to think of moving back to Tokyo. I didn't want to waste my time. I appreciated the offer from the "Demons" but I had no idea what to do for the band. The timing was maybe not actually right for what I could do. At the time of the first bassist quitting, I might have been able to do something better for the band. It was no problem to learn their songs because I already knew most of the songs. I also thought I could do music in a 'dual-life' in both Sweden and Japan. "Demons" did try a Japan tour in early 2020, but after that the corona pandemic attacked. Everything stopped after that. We recorded new material in September 2020 and it will finally be released in December. Stay tuned!"
What's the thinking behind the unusual quotation marks in the band name? Is it to stand out and get noticed? Isn't it a pain in the ass having to explain "No, it's not Demons, it's "Demons", OK?" "Yes, that is okay and right. It seems that there are some bands which are named Demons in the world. "Demons" have added the quotations because it distinguishes us from other Demons."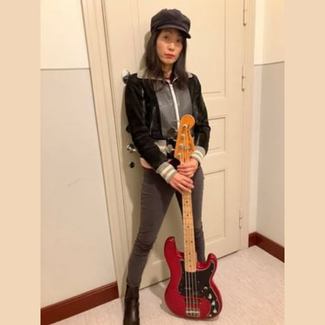 You are also a past member of the Stockholm-based folk-punk band Crash Nomada. Both Sweden and Japan have great folk music traditions. What has folk music meant for you as a rock musician? "I am not so deeply interested in folk music, though I listen to things like Emir Kusturica and his band sometimes. I am also a percussionist in a brass band and think all things which sound are instruments. One day when I watched TV, I fell in love with the Norwegian band Kaizers Orchestra. They play oil drums and car wheels! They might not be called a folk band, but it doesn't matter. Their records and performances are always excellent! So, they made my dream become reality – to learn contrabass! Kaizers Orchestra actually announced their revival just a few days ago! What exciting news! I also have had a dream of playing the contrabass with such music for a long time. At the same time, I was fortunate to work in a café at the music college and could practice the contrabass in the instrument warehouse after finishing work. And I found my contrabass teacher there too! I bought an electric contrabass in Japan and brought it here. When I joined Crash Nomada, I thought I could play the contrabass but they didn't want a contrabass sound. But I recorded one song with contrabass on the first album a week after I started to play. I sometimes played gigs even though they didn't want me to anymore. Haha! So, I don't know exactly what folk music means to me. Maybe I am getting new inspiration?"
What are the major differences between being a rock musician in Sweden compared to how it is in Japan? "Japanese musicians rehearse much more and have a manager from a management company in each band that follows them to all events including interviews, recordings, gigs and tours. They often start to work around 3 pm at the recording studio and work through the night and into the next morning. There are more female musicians in the music industry. Swedish musicians, even famous musicians, do administration and management themselves, there is almost no staff to organise the artists' schedules. There are many talented people, mostly on the production side, especially Swedish composers who are awesome in the international music industry. They often work only during daytime in the recording studio, like between 11 am and 6 pm and they rarely venture out to play with people they are unfamiliar with."
Who are the players that have inspired and influenced you the most as a bass player? "Ummm… It is very difficult to choose only one bass player. Maybe my master, Toshihiro Nara. I often followed him around and tried to be in professional settings like his recordings, gigs, afterparties, whatever! I wanted to learn how professional musicians worked. But I hate the seniority system in Japan. He and I had a big quarrel once and we haven't seen each other for a few years. Haha! But he taught me how important it is for a band and an artist to get a contract with a major record label and experience the 'real' professional music industry – professionalism. I finally understood this much later."
At the beginning of 2020, "Demons" toured Japan and Atomic Swing did a few successful Japan tours in the 90s. Are there any plans for future Japan shows with either of your bands? "Why not!? We are always eager to do Japan tours, of course! Henrik Berglund, the drummer of Atomic Swing, often asks me when we can tour Japan. But I didn't see any Scandinavian bands at Japanese rock festivals in 2022. I am very curious about which Swedish bands are popular in Japan. I tried to reach booking agents in Japan but I haven't reached any yet. Maybe artists are not supposed to do that kind of job? Haha!"