Interview: Marco Mendoza in Tokyo with Viva La Rock | "I love to entertain!"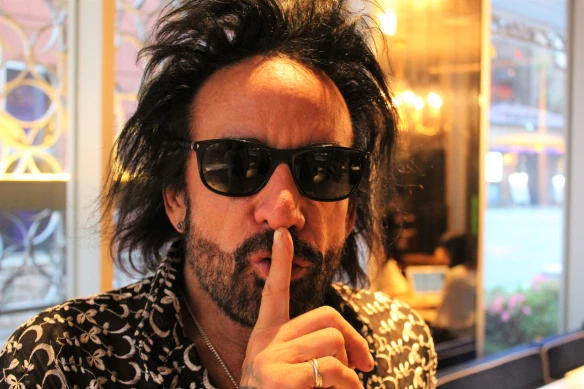 Marco Mendoza is best known for his work as a bassist with bands such as Whitesnake, Thin Lizzy and The Dead Daisies. But he's also a very active solo artist. When he recently visited Japan with his "Viva La Rock" solo trio consisting of drummer Kyle Hughes and guitarist Conrado Pesinato, Roppongi Rocks sat down with Marco Mendoza at his hotel in Roppongi for a chat.
This is the third time within a year you're visiting Japan – you did a The Dead Daisies Japan tour last year, a gig with Nozomu Wakai's Destinia in January and now a couple of shows with your own trio. "Now I'm here with my thing and we are going to go to the moon, man. To the moon! I love Japan. I've been coming here since…1991, I'd say, maybe. So, it's been part of my career for a long time. We definitely have a lot of friends here and we get a lot of support. A lot of love. Even though they are so far away and it's a small island, there's a lot of music lovers here, so it's good to come back." 
You have been here in Japan many times over the years with different bands, but this time it's the first time for you as a solo artist. Does it feel different? "It's always special when I'm doing my own music. I love it! I can't wait to share my stuff with the folks. I don't want to sound pretentious, but I think the sign of a true artist is somebody that's constantly opening new doors of creativity and testing yourself. And you keep pushing yourself. I'm not one to be, my career would attest to it, I'm not one to settle down and enjoy the fruits of my labour, because there's so much going on. There are so many directions you can go. I'm one of those guys who have dabbled in quite a few. When I get back, I am playing at the Big Potato with my jazz thing, a Latin jazz funk band. I love it, man. Music – you can say I'm addicted to it. Addicted to performing. I'm looking for the next best show, always trying to improve, always trying to reach a new high. When you're fronting your own band, of course, for me it's more rewarding. There can also be a little pressure, but I don't let it. I'm very lucky that I have a lot of things going on. My career doesn't have to depend on what happens with my solo stuff. My solo stuff is just a side thing that I do for the love of it. And if it flies and it's well accepted – beautiful! And if it's not, that's OK too. I'll try again whenever I get another chance."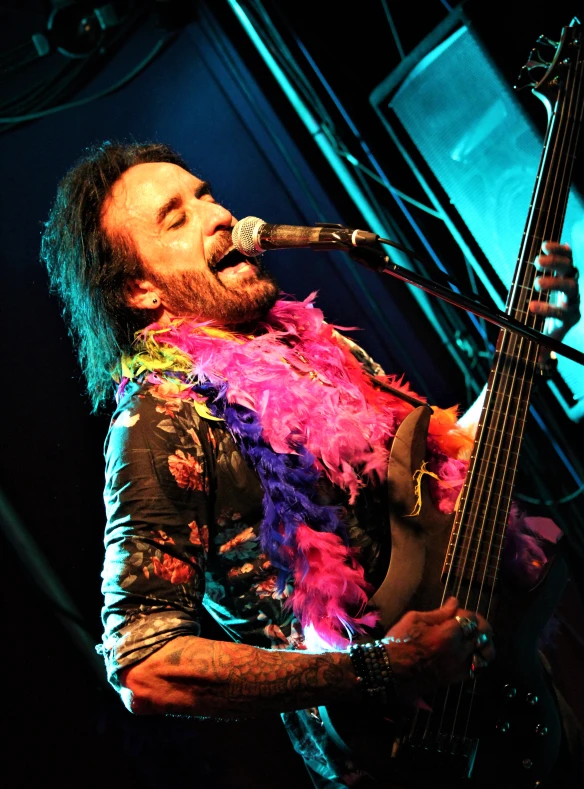 Drummer Kyle Hughes (of Bumblefoot fame) has been playing with you for some time, but these shows in Japan are the first-ever with guitarist Conrado Pesinato (Out Of The Woods, ex-Graham Bonnet Band, Alcatrazz, Hardly Dangerous). "I'm very lucky that I get to play with the best players I can possibly get my hands on. In the past with my solo project, I've used quite a few players. My friend from Italy, Nicola Costa. Micky McCrystal from Tygers of Pan Tang, I've used him for quite a while. But my main guitar player was Soren Andersen. I brought him to LA and I introduced him to the LA scene and a lot of people there, including Glenn Hughes. I told Glenn; 'This is your cat, man. You're gonna love this guy.' He's very talented. He's a sweetheart, he's a good guy. A lovely person to hang out with. An amazing talent – singer, songwriter, producer. I knew that was going to happen – so he's gone, real busy with Glenn. So, Micky McCrystal came in. Again, the guys that I choose are guys that are busy, they're in demand. They have other projects like I do. It becomes a bit of a juggling thing. On this last tour, we started March 20th, I believe, in Portugal, in Lisbon, and my main guy right now is Tommy Gentry from Gun. Tommy was tied up with this other project for a week. And the dates were coming in, so I either let them go and wait until Tommy is available, but I decided to go. The way I look at my project is this: if I sell me and my music, if I show up, then I'm fulfilling the contract. For me, the players matter a lot. For the promoters, as long as I show up, I play my music, they're happy. So, I booked shows based on that. He came with me for a week, then he went back, Micky flew back, Tommy came out. And we did that twice, kind of flipping. When the opportunity came to play in Japan, neither of the guys were available. They're both tied up. Tommy is right now working with this artist in Sweden. It was a prior commitment for a long time. And Michael is in the studio with Tygers of Pan Tang. So, Kyle introduced me to Conrado. They're good friends. I looked him up and he's an amazing player. He lives in LA, so I'm like opening another door because my next step was… Right now, I'm getting offers to do some gigs in the US. I'm hoping that everything is good and everything works well. He's a sweetheart. He's really dying to play. He loves the music. For me, that's where it's got to start. When we get together, we play the songs together and it gels, it sounds great and I see him enjoying himself, and he really loves what he's doing, then it's a go. Now that gives me another option in the US for future dates. I'm getting a bunch of offers for the US, South America, Australia. The other thing that has to be part of who I bring on stage, who I play music with, they have to sing. That's one of the requirements. Kyle sings great. Micky McCrystal sang great. Tommy Gentry sang great. And now Conrado sings. I'm a big vocal guy. My recordings have a lot of background vocals. I love that colour. I'm looking forward to it. We are going to play, for the first time, tomorrow, at soundcheck. We're gonna rehearse the set."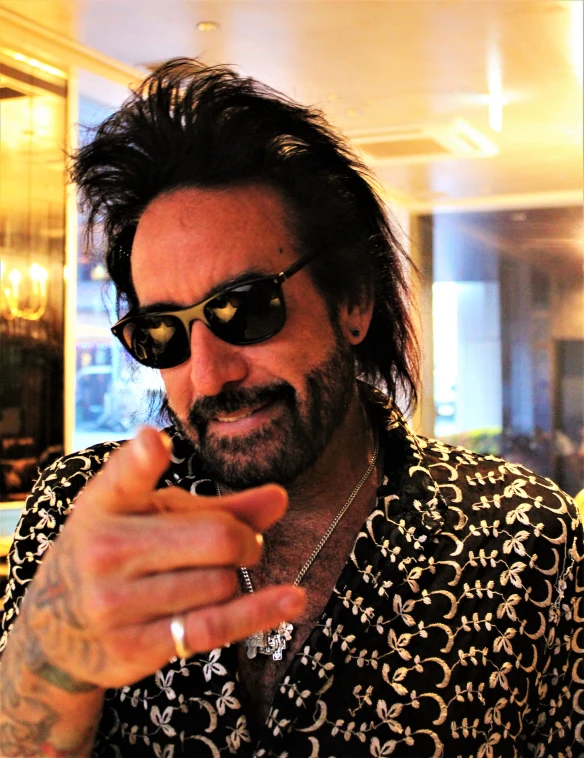 The "Viva La Rock" album was released last year and you have done quite a few solo gigs since then. Did you expect it to turn out this way or is the success a pleasant surprise? "It's a pleasant surprise. This is my third album. I think, with the first album, I realised I didn't do any live gigs. I did not support that album until a year and a half later, two years later actually. I realised I can't do that. I gotta make time. With 'Casa Mendoza', it came at a time when I was really tied up with Thin Lizzy and really tied up with The Dead Daisies, making that transition. Black Star Riders and all that stuff. I really didn't have time to support that album. Out of the three, it's not my favourite. Oops, I said it! But this one is very special. I can listen to it now and I dig it. It sounds pretentious of me to say that, but I think the writing is getting better. I think the production is getting better, the playing, the lyrics… Everything about it is growing, it's maturing. I'm excited about it and I want to play it. The next album, I'm having the same expectations. I'm hoping we're taking it to the next step. Me and Soren were talking yesterday actually, to get our schedules together to do that."
With your setlist now, do you focus a lot on "Viva La Rock" or is it more a mixture of your albums? "It's definitely a mixture. But the main focus, I'd say 70%, if not 80%, is 'Viva'. Because, again, the songs played live really work well. To the point where, if you've never heard these songs, when you hear them live, there's the energy there, there's something going on there. You see the people bopping. We haven't got a lot of radio support and we haven't got a lot of promo and marketing. Unfortunately, that's just the way it is. I've changed the set based on that – what works live? If I show up in front of, I don't know, a couple hundred people that don't know the music, and you play for the first time and you look at the reaction, you feel the reaction. You hold on to those songs. When you play some songs, you can tell when it's clicking or not. You hold onto the ones that click and you kind of discard the other ones or have them on the back burner. One thing that I do insist on doing is not only just play the music. I love to entertain. I love to play with the audience. I'm a big believer in audience participation. I think that's when it becomes special. When the audience becomes part of the performance in one way or another. So, people walk away with a smile on their face and they go: 'Wow! We were snapping our fingers, we were singing, we were chanting, we were jumping!' You know, it becomes a party."
It seems you are already planning for the next studio solo album with producer Soren Andersen. "Yes. He's an extremely busy cat. Not only playing wise, but he's become, in the industry, a big name as a producer and as a mixer. Like big time. The projects that are going to him are unbelievable. So, we're juggling things. I have this other project, Journey Through Time, so we're looking at each other's schedules and it's looking like December right now. Things are changing as we speak, so him and I are going to stay in touch and I have been sketching out some songs. He's been doing the same. He knows what works for me. We decided – and I hope we go that way – that we are going to strip things down even more and go smaller production and go for like the Faces sound, go for like the Free sound, Aerosmith, Alice Cooper… Go for the generic five-piece band, four-piece band."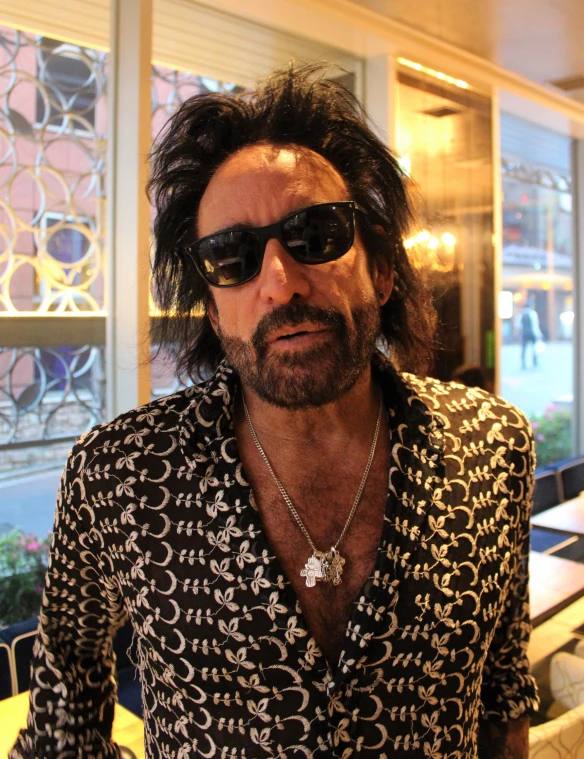 Will you record in Denmark again? "Yes, right now, that's the plan. I told him I had a great time getting away from… As much as I love being home and my family, my wife, my kids, I like the idea of getting out of the scene and being out there in Copenhagen and being very focused. That's what we did, the whole day – I would wake up, have breakfast, go to the studio and we would spend six, seven, eight hours every day. And the product was great, man! It was very productive. I think there are three or four songs left from that. We did everything in twelve days! I have, I shouldn't say this, I have the ballad, man! Oh my gosh! I have the ballad that is a radio-friendly AOR, stab-me-in-the-heart kind of, what do we call them? Torch! The torch pop song! I have it! It's ready to roll and I can't wait to record it and put it out there. 'Leah', the one that I dedicated to my wife, that was given a great response, so much that we decided to do a video." 
Do you still have recording deal with Target/Mighty Music? "Yes, we have an option. If both parties agree we move forward. We just have to iron out a couple of things, but I think that they did well. What's good these days? I don't know anymore. What's left? What are the other labels that are left?"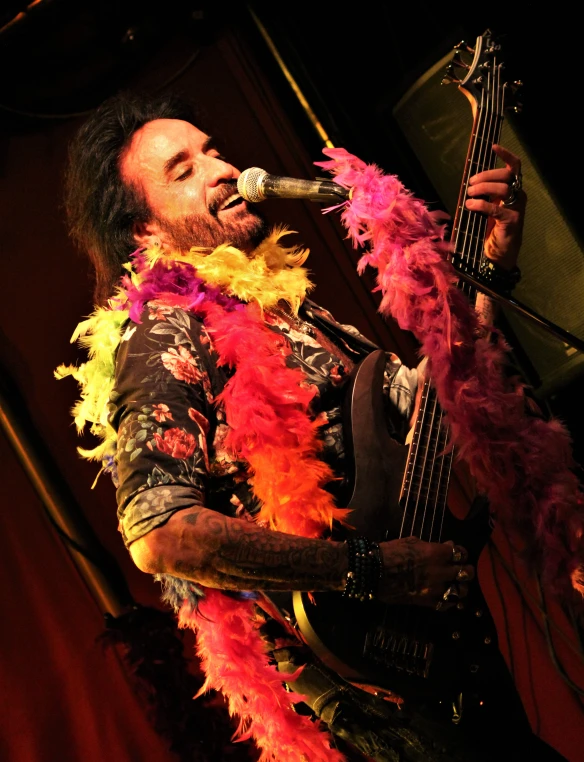 Being involved in so many different things, how do you prioritise? Does The Dead Daisies always come first or is it more complicated than that? "No, it's not. It's very clear. The Daisies are my first priority. Absolutely! The reason why you see me working a lot now on other things is because we are taking a break until further notice. We will make an announcement of things to come for the future of The Dead Daisies. Some changes coming, but I think for the best. But it's definitely my first priority until it's not, you know what I mean? This is the music business, so I don't know what to tell you. I move forward. I am very lucky, very blessed that I have so many options at any given moment. My solo thing right now is bopping. It's just hot! I am getting invited everywhere." 
You've been doing some things with Neal Schon in Journey Through Time which The Dead Daisies drummer Deen Castronovo is also part of. Will you do more things with them? "Yes. Right now, it is looking like the end of October, November into the first week of December. Deen is part of The Daisies too and I think that was part of the reason why The Daisies realised: 'OK, let's take a break. Let's get something together for next year.' But it's good. I think we did everything we could. I think we covered a lot of ground. We've done a lot of shows. We went to, probably, everywhere we got invited to, including Japan. We've been here three times. Wow! Within four years, three times. That's a lot. With a new album every time. We did four albums and one EP in five years. I think for projects like that, that big and at that level, you need to step back a little bit, let it breathe. Let it simmer if you will, and then come up. I'm like, alright, everything I had on the back burner comes up and I'm like, let's do this and let's do this." 
How do you keep the energy levels up with such a punishing schedule? "I take a beating. Right now, you can tell, I'm a little down. I don't know, man. I'm healthy, I guess. It's just the thought of getting on stage here in Japan tomorrow, I'm excited! That gets me excited. You could say I'm addicted to music. I'm addicted to the next performance, the next album, the next recording. And I'm sober now, for 31 years. September will be 32 years of sobriety. I don't do any drugs, I don't do any alcohol, I don't do any tobacco, I do a little bit of sugar. I take care of myself. I love what I do! It's important."
Marco Mendoza is taking part of the summer off to spend time with his family, but from August he's busy again with gigs and other commitments in Europe and North America before it is time to get into the studio again. This hardworking cat is seemingly unstoppable.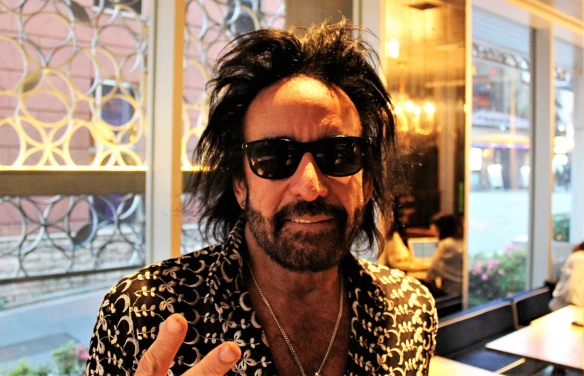 www.facebook.com/marcomendozaofficial
www.facebook.com/marcomendozajapan