Charlie Granberg of Hellsingland Underground: "This album is rowdy, in-your-face rock"
Roppongi Rocks checks in with Charlie Granberg, the lead vocalist of our favourite Swedish rock band Hellsingland Underground, for an update from Hellquarters, the band's own studio in Järvsö, Hellsingland, Sweden. The band is working on its sixth studio album!
Hellsingland Underground was founded in Ljusdal, Hellsingland, Sweden in 2006. The band quickly became known as a terrific live band. They released their self-titled debut album in 2008 and are now working on their sixth studio album. Hellsingland Underground is a dusty old-school rock band with plenty of influences from folk-rock, roots, blues, hard rock, Southern Americana and much more. It's down to earth rock'n'roll – with a layer of Nordic melancholy – by a band that loves to perform and is great at storytelling.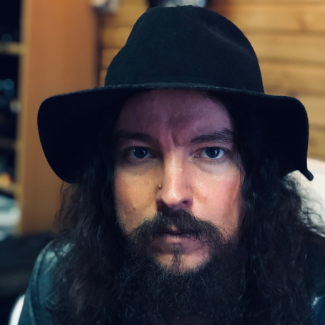 The pandemic forced you to cancel your Spanish tour earlier this year. Instead, you started work on Hellsingland Underground's sixth studio album. Did this unexpected start to the work on your new album have any impact on the creative process? "The work on the album actually first began in 2020, when the first Spanish tour got cancelled. But we didn't have our own studio then as we do now. And we couldn't meet up either because of the plague. So, we began sending files to each other and tried to work separately, which was something we had never done. But it was such a long and weary process. Boring. Everything that had to be changed took days instead of minutes, so we scrapped those sessions. The way it influenced the album was perhaps that we had really good demos of most songs. But we re-recorded everything from scratch once we bought the studio."
The band's sound evolved a fair bit on your last album, 2019's fab "A Hundred Years Is Nothing". What can we expect musically from the new album? "Yeah, it was a step that I felt we needed to take with the last album. I'm a pretty restless person who easily gets bored. I started to feel like we were writing the same songs over and over. This album is a much more rowdy, in-your-face rock album than anything we've done earlier. More up-tempo songs."
Do you yet know when the album will be released? "Hopefully this coming fall."
You are recording the album in your own studio, Hellquarters in Järvsö at the very heart of Hellsingland. What does it mean as a band to be able to create new music, rehearse and record it in your own studio? "It's perhaps the best thing we have ever done. A dream comes true. It also means that we don't need to care about the clock ticking because good studios cost a lot of money to rent. I watched the 'Get Back' series with The Beatles, and it struck me how nice it must have been that they didn't need to care about money issues in the creative process, because, well, they were The Beatles. And millionaires. But then it struck me that we are sort of in the same situation now, just by having our own studio. We don't need to care about time and money either. Which is a very free feeling. It's never a good thing letting money be an obstacle when creating art."
Hellquarters has also been used by other artists, such as The Hives. Are there creative spillover effects of being a studio owner? Does having other artists in your studio create new opportunities for Hellsingland Underground? "It's too early to say, I think. But one great thing about having The Hives in the studio is that they brought some great gear that we could use as much as we wanted. First and foremost, we bought the studio for ourselves, but if other bands like to come and record or rehearse they are welcome!"
www.facebook.com/hellsinglandunderground
www.hellsinglandunderground.com
www.instagram.com/hellsingland_underground