Album review: The Babes "Dive Bars and Muscle Cars"
The Babes, some of the nicest and hardest working people in Australian rock, are back with a full-length studio album packed with good-fun rock'n'roll.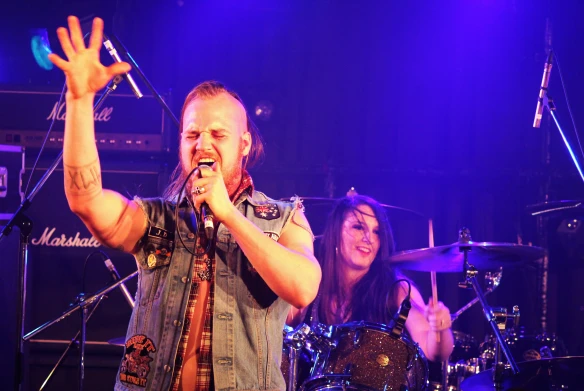 The Babes is good fun, meat-and-potatoes rock'n'roll. It's dusty, catchy and its shout-along friendly. It's music to drink beer to and, in a best-case scenario, get laid to. It's underdog rock somewhere between AC/DC and Mötley Crüe if that makes sense (it does to me). It has the guts and foundation of AC/DC but also the sexiness and glitz of bands like Mötley Crüe. It's full-frontal, good-fun hard rock performed by some of Australia's nicest people. Some bands are dreaming of big things happening and getting a break. The members of The Babes don't dream. They plan, work hard and get it done whether it comes to gigs, album releases or touring internationally. The Babes is a hardworking band not afraid of getting some dirt under their nails. The Adelaide-based band consists of the three siblings Moni Lashes on drums, Donna Dimasi on guitar and Corey Stone on bass plus the unstoppable vocalist J.D. Ryan. Earlier this year they toured Japan for the first time and proved to me and many other new Japanese fans that this band is able to deliver live as well as in the studio. After the successful Japan tour, they toured Australia and also went to the Middle East to perform for the Australian troops. A national service of rock'n'roll! The title track of the new album, "Dive Bars and Muscle Cars", is nothing short of an anthem for the band. It sums things up nicely. Most of the songs on the album are high-energy songs. It's sweaty rock'n'roll meant to be performed live on stage in a club. "Doghouse" is my immediate favourite song on the album. It's hard not shouting along, headbanging and doing some air-guitar playing when this song comes on. Brilliant stuff! Another great track is "Riding Home" which has a somewhat different sound and some slower parts to it but is no less great. It's like an early 90s power rock music video on MTV. But this is a solid hard rock album with twelve great tracks.
The Babes' album "Dive Bars and Muscle Cars" is out now. Buy the album and catch this great band live.