Album review: Yes featuring Jon Anderson – Trevor Rabin – Rick Wakeman "Live at the Apollo"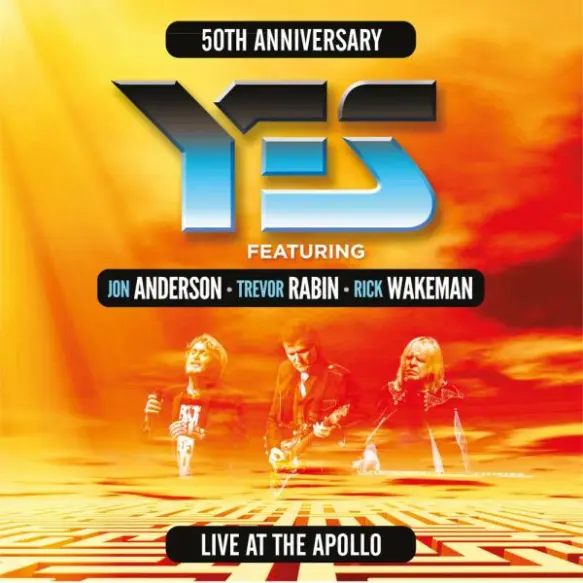 Jon Anderson, Trevor Rabin and Rick Wakeman mark 50 years of Yes with a splendid progressive rock live album.
Legend has it (I don't know if it is true, but never let the truth ruin a great story), that back in the day there was a one-word review of a Yes album and it read: No. Listening to "Live at the Apollo", I am pleased to say yes to Yes. Maybe it is an age thing, but as the years go by, I find myself increasingly listening to progressive rock music and Yes is up there among the absolute best.
Yes featuring Jon Anderson – Trevor Rabin – Rick Wakeman's new live album "Live at the Apollo" was recorded in Manchester, England in 2017 and being released now to mark the 50th anniversary since Yes was originally formed. With two different versions of Yes currently in existence, things are bit confusing. The other version is led by Steve Howe and Alan White. This version of the band – led by Jon Anderson on vocals, Trevor Rabin on guitar and Rick Wakeman on keyboards – is in great shape. They call themselves "The definitive lineup of the greatest progressive rock band ever". That's a big claim, but I'd say they're not far off the truth. This is top-notch stuff, not just some former members of a band getting together for fun or cash. They do more than justice to the old Yes material while not sounding dated or tired at all. The result is nothing short of progressive rock brilliance.
On this live album we get quite a lot of Yes material is from the 1980s, but we also get plenty of good stuff from the 70s, including "And You and I", "Awaken", "Roundabout", "Heart of the Sunrise", "Perpetual Change", "Long Distance Runaround" and "I've Seen All Good People". Anderson's voice is as good as ever. Rabin is on fire with his guitar – just listen to his terrific work on "Lift Me Up" – while Wakeman remains the keyboard wizard he has always been (not least on "Rhythm of Love" and "Heart of the Sunrise" he gets to shine). Yes, there is still a future for the band Yes.
"Live at the Apollo" by Yes featuring Jon Anderson – Trevor Rabin – Rick Wakeman is out today in Japan via Ward Records. It is being released in multiple formats, including LP, DVD and Blu-ray.