Interview: Graham Gouldman of 10cc
10cc frontman Graham Gouldman, one of the best songwriters in the history of British pop and rock, sat down with Roppongi Rocks' Stefan Nilsson in Tokyo to talk about songwriting, 10cc and working with The Ramones and Ringo Starr.
"Roppongi Rocks, eh?" says Graham Gouldman as we sit down backstage at Billboard Live in Tokyo's Roppongi Midtown district. Best known as the frontman and the only remaining original member of British rock group 10cc, Gouldman has also written songs for the likes of The Hollies and The Yardbirds, produced other artists such as The Ramones and toured as a member of Ringo Starr's All Starr Band.
How would you describe 10cc musically? "I just say it is 10cc music. It's so eclectic really. I think we always did what is best for the songs. So, we would have different singers playing on different songs and there might be different lead guitarists on different songs because your style is better than mine for this particular song. That's what we've always done. I think in that way we almost have different bands on different tracks, whereas other bands, say Queen, are a prime example of…it's always Freddie's voice, it's always Brian's guitar. That guitar sound is very identifiable. But with us, less so."
Every member of the classic 10cc line-up was a multi-instrumentalist, singer, writer and producer. Was this an asset or something that caused arguments? "How could it be a bad thing? We had so many hits…Hehe!! We never fought over songs, because we never rejected a song. Whoever wrote it… The principle was: if you think it's good, OK, but I can make it better. So, allow me to do that. Or rearrange things, or suggest a different chord here, a slight melody change or sometimes we'd change the rhythm a bit. It was a really positive thing. The ownership of the song was the four of us. Normally we wrote in pairs. Whoever wrote it, we all took ownership of it and treated it like our own. I think that was one of the most positive aspects of the band, a really important part of what we were."
Even prior to founding 10cc, you were a songwriter for bands such as The Yardbirds and The Hollies. Is it a big difference to compose for other artists than for your solo albums or 10cc? "I generally just write songs. Although I have written specifically… Like for The Hollies, I did 'Bus Stop'. I had them in my head when I was writing because I knew I wanted to… I can't say I was… I was just thinking about them rather than going 'I'd better do this, I'd better do that.' You can't write with that sort of burden. But that was a rare occasion really. Generally, when you're writing, you're just writing. Not thinking, just writing."
You've been a professional songwriter since the 1960s. How do you keep coming up with new song ideas? "I know. It's a long time. I go through periods of not writing. Like I've been on the road a lot recently, so I haven't been doing that much. But now I'm itching to get back in the studio. And the only way I can get back in the studio is to write some songs. So, I've got to write some songs! It's in my head now."
Let's talk setlists. You now have quite a large drawer full of great songs you have written. How do you approach putting together a setlist? "With setlists, I always think of the beginning and the end first and then fill it in. However much I plan a setlist, when you play it live, you can find a glaringly obvious mistake. Not a mistake in what you're playing, in that this song should not be there, it needs to be somewhere else. That's just an instinctive feeling you get. But actually, this set that we are doing tonight, although we have changed it slightly… Tonight's set will be slightly different because one of the boys that are here, who's our singer, has got a throat problem and we're gonna adapt the set to suit him. But normally the set that we do is pretty much unchanged for the last, I'd say, about two years. We do a much longer set than we're doing tonight, normally. Normally it wouldn't be like completely hits and nothing else. But we're going to change things tonight, because of Iain. We've got like a 70-minute setlist, just non-stop hits. But normally we'd do an hour and fifty and have album tracks and all sorts of stuff."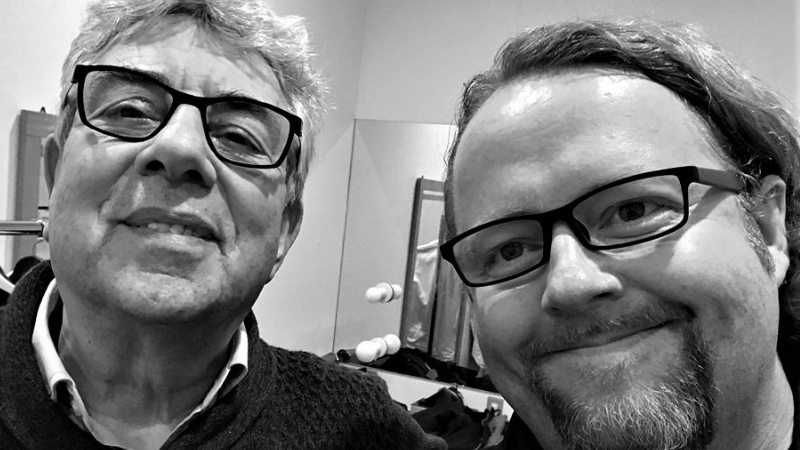 You produced the Ramones album "Pleasant Dreams" in 1981. How did this come about and was it an easy yes for you? "I know! Weird! They approached me. I thought I was the last person in the world that The Ramones would want. I said to them: Why did they want me to do it? It was nothing to do with 10cc, it was all to do with the 60s. The British Invasion, my connection with that. I said, well, I will give it a shot. But rather than commit ourselves to a whole album, let's do two or three tracks and see how it works out and then make a decision. It went OK."
How were those weeks in the studio in March-April 1981? Reportedly the band had a lot of internal conflicts at that time. "I was actually surprised how… Johnny, bless him and God rest his soul, is a miserable bastard, I'd have to say. Joey was delightful and very conscientious of what I was doing. And the other boys were great. I know he didn't like the album that we did. He said so. He never said it to me, but he told everybody else. It was an interesting project. I loved being with Joey. I thought he was great. We did all the tracks in New York, but we did a lot of the vocals at our studio in the UK. I used to take him out for dinner to different places. Everybody sort of fell in love with him. He's a sweet guy!"
The Ramones namechecked 10cc in the song "It's Not My Place (in the 9 to 5 World)". Did you have anything to do with this? "Alright! I didn't know that! Wow! They knew my connection with The Yardbirds, that was more their thing. Although their music was very different, they loved guitar bands."
You and Debbie Harry sang background vocals on some of the tracks on that Ramones album. Was this done to add some mainstream star power to a punk band? "Yeah, I did a few things. I just did what I thought was good for the record. Johnny thought it was a bit clean. He should have said something!"
Last year you toured as part of Ringo Starr's All Starr Band. How did you end up there? "Yeah, I did two tours with him. I loved it. It was great. I got a call from their production manager. Do you fancy working with Ringo? No, why would I? I said yeah! That's it, I don't need to know anything else. Yes! And then it all went quiet. Then it came back. A journalist friend of mine phoned me from New York. He said: Can you give me a quote? I said: What for? That you're joining Ringo Starr and the All Starr Band! I said: Are you sure? I hadn't heard anything officially. And there it was. It was on Ringo's website or something. I loved it. It was great. Working with Steve Lukather and Colin Hay, Gregg Rolie, Gregg Bissonette, Warren Ham. Fantastic! I really enjoyed it. They asked me to do this year but I have other commitments. It's a lot of fun. Ringo is like a real showman. He loves it! He loves playing. He loves jamming. He's very enthusiastic. It was great to spend time with him. To just stand next to him on stage. A lot of times when he played the drums, I'd sort of look over sometimes. There's Ringo Starr! Haha!!"
You have released solo records in recent years, but it's been a long time since 10cc released a new studio album. Any such plans? "No! I won't do that. It's one thing to go out as 10cc, we're playing the music of 10cc. We do it right up 'til the last single that was ever released by 10cc. But I won't record under the name 10cc. It's a line I can't cross. I don't want to. I don't think it's right."
But can we expect more solo material from you? "Yeah, definitely. I really enjoy writing and recording. I put an EP out. It was called 'Play Nicely and Share', an EP, six tracks. I'll probably do another one whenever I can. Probably not 'til the middle of the year. There's so much work to do."
What's next for you? "I do a thing called Heart Full of Songs which is an acoustic show I do. I am doing that. We're going to Holland, we're doing some dates there, and we've got a Scandinavian tour with 10cc and then a UK tour with 10cc. So, busy time coming up."
Do you write songs all the time and anywhere, or do you need to be in the studio? "I don't need to be anywhere. But the only thing that happens on the road, it's not actually writing songs, but sometimes if you're jamming, you come up with a riff or chord sequence and I make a note of it if it's interesting. If it is good, I usually remember it. That's one of the sort of tests. But I might have a tape, a recording of it, as a bit of insurance!"
Do you mainly write alone now or in collaboration with others? "I collaborate as well. Both, really. I like both processes. If I am writing on my own, it might take me… I might get the bulk of a song and then it might take me quite a long time to actually finish the lyric. If I am working with someone else, it's a much quicker process. I don't mind as long as it produces something good! Occasionally I go and watch what's the top 20 downloads or streams or whatever it is. Most of the time I don't get it at all. Another time I go: 'Oh, that's good'. But, generally, I'm just listening to what's sort of in the air."