Gig review: Matt Heafy made a triumphant return with Trivium to his native Japan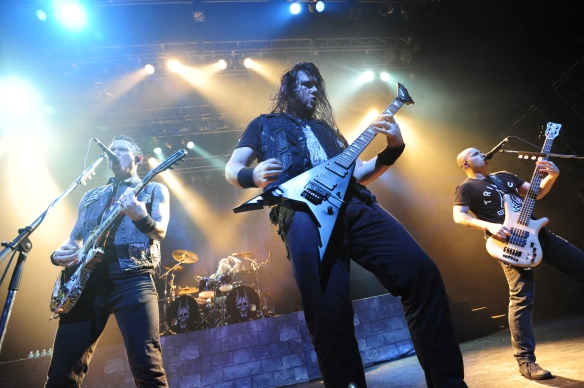 On 5th April, Trivium gave its Japanese fans a dose of its powerful American hard rock when they once again played Tokyo as part of their Japan tour. It was a great night for headbanging and a warm welcome home for Japan-born frontman Matt Heafy.
Japanese thrash metal outfit Her Name In Blood opens the evening with an energetic show. They are a great live act who knows how to entertain a crowd. The band's constant gigging is paying off as the band is tight and in great form. Keep an eye on this great Japanese band who always deliver.
The evening's main act, the Florida-based American heavy metal band Trivium, opens strongly with "Silence In The Snow", the title track from the band's latest album.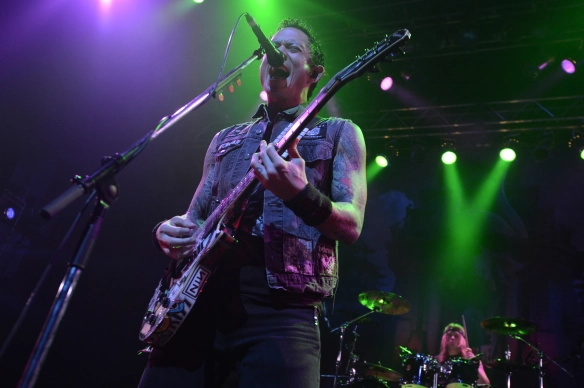 Japan-born frontman Matt Heafy knows how to hold a crowd in his hands. The fact that he is Japanese doesn't hurt and the Japanese crowd is with him all the way through the gig. Trivium has played Japan many times and it shows this evening as the audience members know the songs and they love Trivium. The first time I saw Trivium in Japan – in 2007 when they supported Heaven & Hell (Black Sabbath with Ronnie James Dio on vocals) – they did a fine job warming up the audience. The year after I saw them play at the major Summer Sonic festival with Sex Pistols and again they impressed. But this time, doing a headline tour and doing a full set, they are magnificent. An opening act they are no more.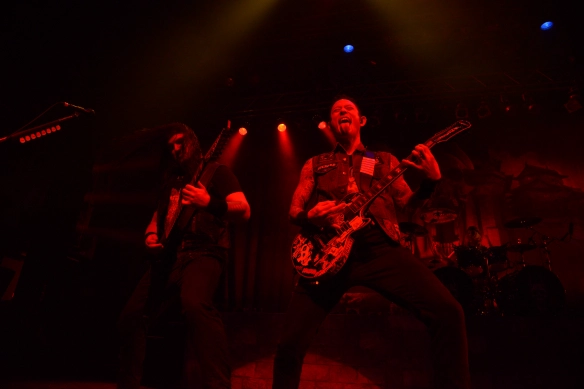 Trivium have been touring since they released their latest album "Silence In The Snow" in October last year. It shows. They are tight and organised and yet the band looks like they are having lots of fun up on stage. Their sound has developed from the early days of thrash-inspired Metallica-like heavy metal to more varied and melodic, but still quite heavy, rock on the latest album. With seven studio albums under their belt, Trivium's members have a great back catalogue of music to choose songs from. This evening we get a bit of everything and it works well. Matt Heafy's vocals sound great. He has made a major effort with the development of his voice and, as a result, he is using more clean singing on many of the newer songs.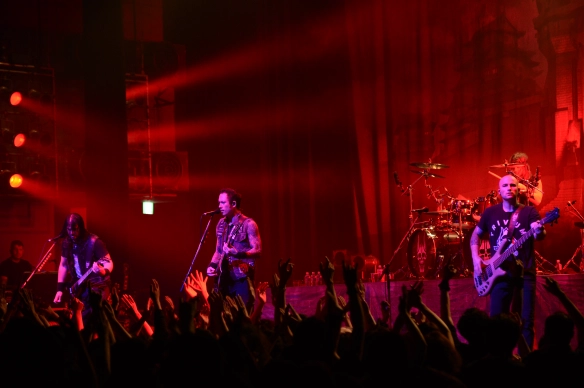 From the classic "Shogun" album, released in 2008, we get "Kirisute Gomen", "Down From The Sky" and "Into The Mouth Of Hell We March". One of the set's best songs this evening is without doubt "Anthem (We Are The Fire)", a Trivium classic.
They finish a great night with playing the fantastic "In Waves" from 2011 as an encore.
Trivium set list – Tsutaya O-East, Shibuya, Tokyo, 5th April 2016
Silence In The Snow
Into The Mouth Of Hell We March
Strife
Rain
The Ghost That's Haunting You
Anthem (We Are The Fire)
Watch The World Burn
Like Light To The Flies
Dying In Your Arms
Requiem
Dead And Gone
Kirisute Gomen
Down From The Sky
Until The World Goes Cold
Pull Harder On The Strings Of Your Martyr
Drum solo
In Waves
Trivium – band members
Matt Heafy – vocals and guitar
Corey Beaulieu – guitar
Paolo Gregoletto – bass
Paul Wandtke – drums
Studio albums
Ember To Inferno (2003)
Ascendancy (2005)
The Crusade (2006)
Shogun (2008)
In Waves (2011)
Vengeance Falls (2013)
Silence In The Snow (2015)
www.trivium.org / www.facebook.com/trivium