Evil Invaders and Unleash The Archers destroy Tokyo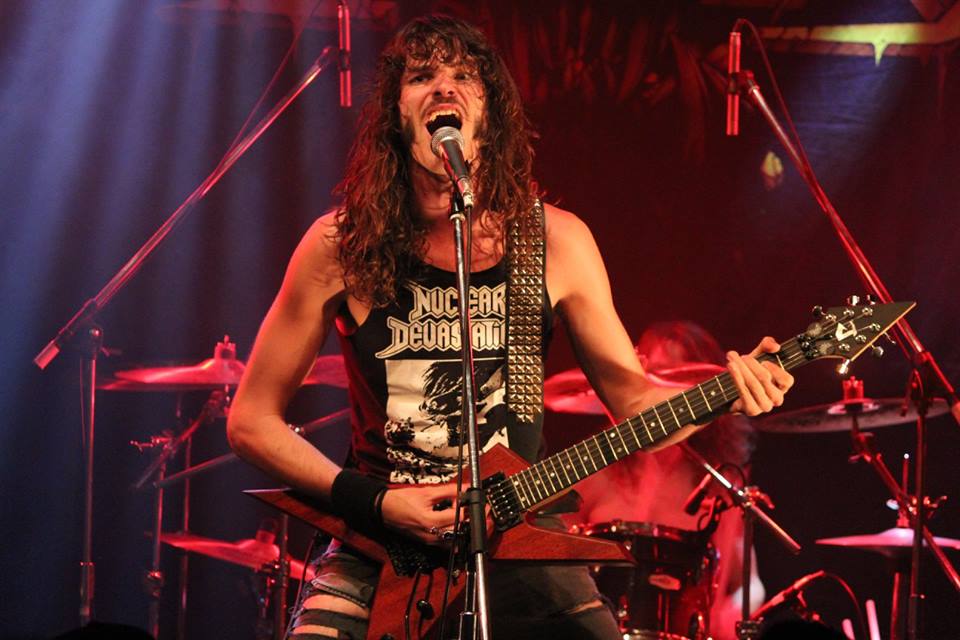 On Sunday 23rd August, Japanese record company and promoter Spiritual Beast turned the Koenji High club in Tokyo into a great celebration of heavy metal with Belgian speed metal kings Evil Invaders and Canadian heavy metal band Unleash The Archers performing for their Japanese fans.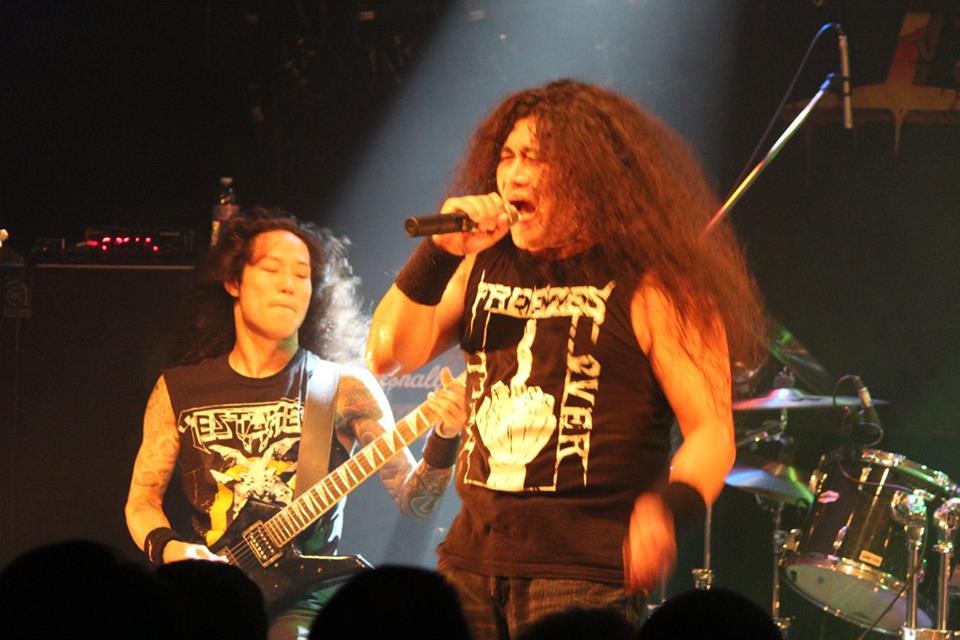 Hell Freezes Over
The evening kicks off with opening act Hell Freezes Over, a local Tokyo thrash metal band. They're a new band formed in 2013 who gives us some old-school Bay Area thrash metal with a touch of the heavier side of British heavy metal. This band is all about the 80s despite the fact that all band members were born in the 1990s. The band looks the part too: like a mix of Kirk Hammett, Cliff Burton and Chuck Billy in the 80s. This evening they give us a great set of thrash metal and that we get a cover of Exodus' "Bonded by Blood" doesn't come as a surprise. It fits nicely in what this band is all about. Hell Freezes Over does a great job of warming up the crowd this evening.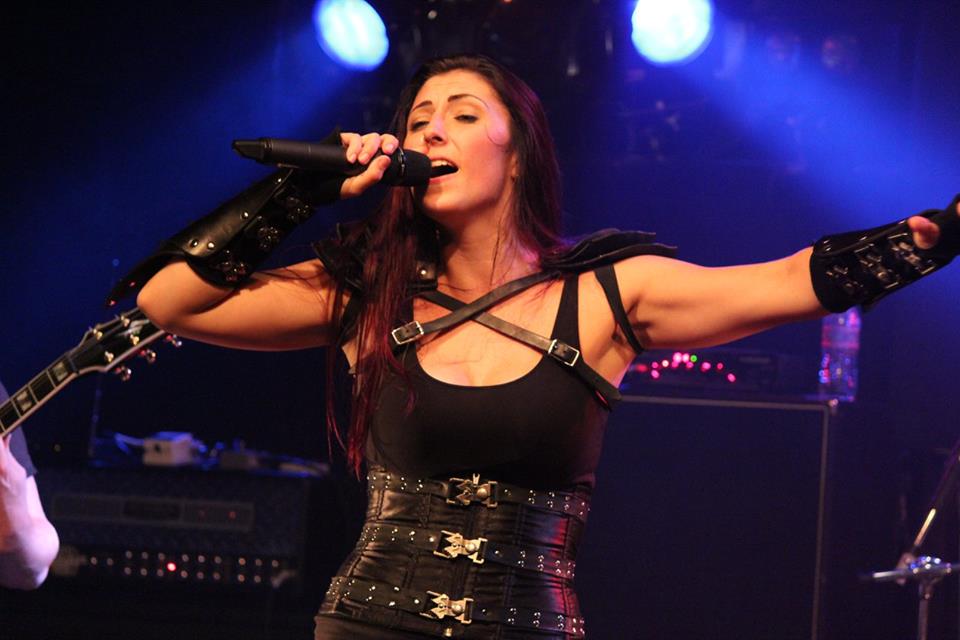 Unleash The Archers
Canadian heavy metal band Unleash The Archers follows. This is absolutely great heavy metal that lives somewhere near power metal land with frequent visits to England's NWOBHM. There is also some death metal growling in the mix and a bit of proper German heavy metal in there as well. It works a treat. Warlock's Doro Pesch obviously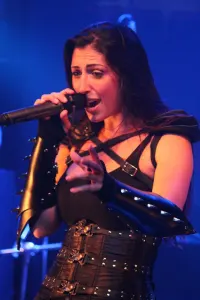 comes to mind, but Unleash The Archers front woman Brittney Slayes is a better singer than Doro. Musically, lyrically and visually there are also some strong echoes of Manowar which is certainly not a bad thing. Unleash The Archers is a solid band but it is the vocalist Brittney Slayes that stands out and makes this special. She has the voice of a metal goddess and she has a stage presence to match it. She is extraordinary and quite a bit more than what you'd normally find in a heavy metal band. There is something special about the sound of her voice. She can belt out great heavy metal anthems and, for the sake of the future of heavy metal, I hope she does. Having released a couple of albums independently, they earlier this year released the "Time Stands Still" album on Napalm Records. If Unleash The Archers continues to develop on its current path it won't be long before they will join a bigger league, playing to bigger audiences around the world. This evening Brittney and the rest of the band are in a great mood and they deliver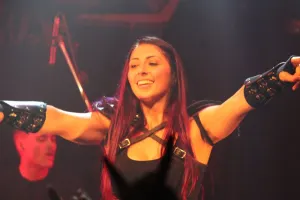 an energy-filled and rocking heavy-metal set made up of the band's best songs. They start their set with the guitar-chasing heavy "Frozen Steel" followed by "Hail of the Tide" and keep delivering until a very strong finish with "Tonight We Ride" and "General of the Dark Army". I have no doubt that this band will be back in Japan and continue to win over new fans.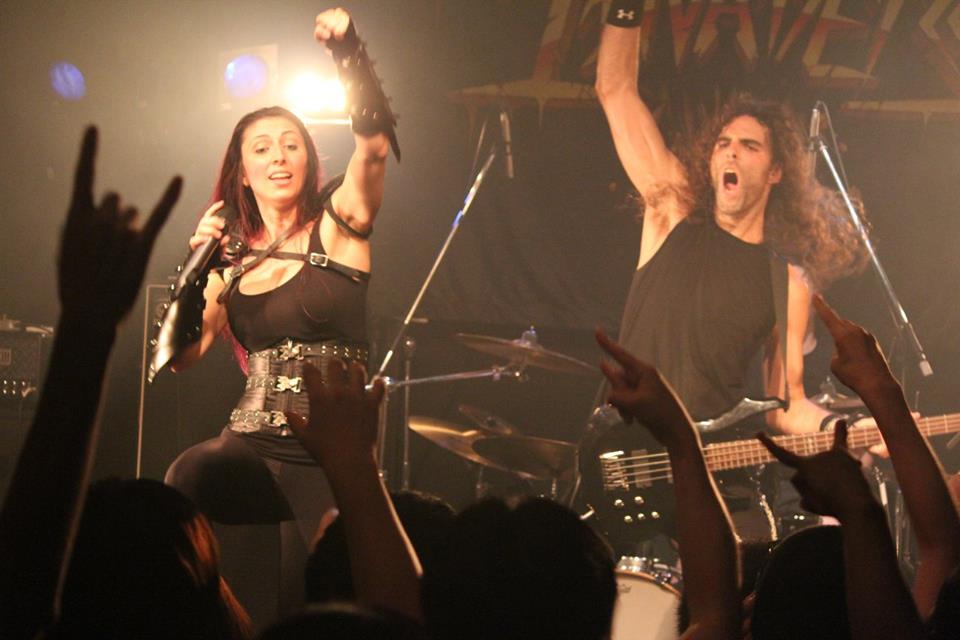 Evil Invaders
The evening's headliner is Belgian speed metal kings Evil Invaders. The band gets onto stage and kicks off a frenetic speed metal set with "Fast, Loud 'n' Rude" and they never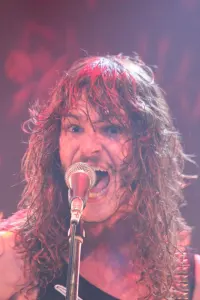 slow down. This is fast and technical speed metal. This is furious speed metal so fast that I think even Yngwie Malmsteen would scratch his head and wonder how they do it. There's a hint of Overkill in there without sounding old. While the band's sound is firmly based in 1980s speed metal, they still manage to make it sound fresh, new and relevant. The vocalist sings in a high-pitched voice that goes perfectly with the music. In addition to their own great songs (including the fabulous "Pulses of Pleasure" and "Stairway to Insanity") they give us two great covers, "Fabulous Disaster" (Exodus) and Exciter's "Violence and Force". Evil Invaders is a band that is a pure celebration of fast and furious speed metal. They're not trying to reinvent the wheel here – just give great, and very fast, heavy metal to the world. It works.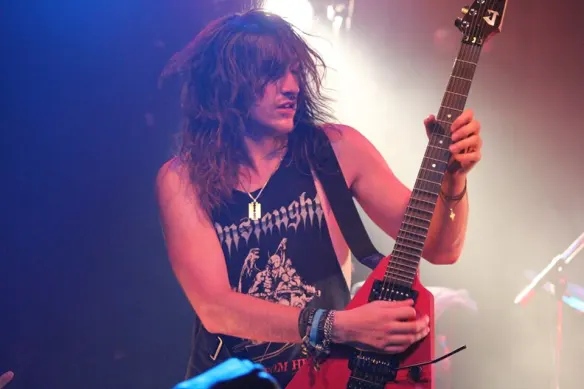 www.evilinvaders.be / www.unleashthearchers.com / www.hfo-web.tumblr.com