Album review: Frost Giant "The Harlot Star"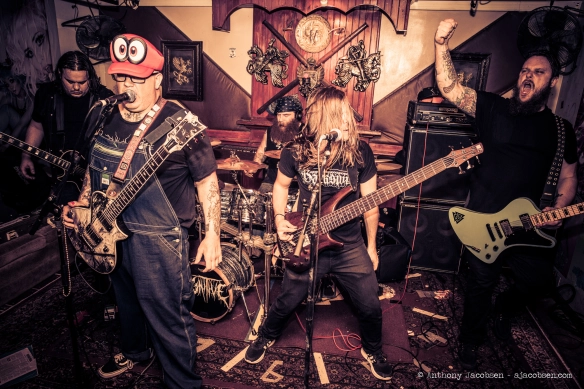 Frost Giant combines folk metal with extreme metal in a splendid way.
"The Harlot Star" is the Philadelphia-based band Frost Giant's third full-length studio album since they formed in 2005. The current line-up of the band consists of Matti Frost on lead vocals and rhythm guitar, Scott Breustedt on rhythm and lead guitars, Brook Duer on bass and Armen Koroghlian on drums.
The album "The Harlot Star" is a rather interesting melting pot and genre-bending experience. We get thrash metal and speed metal guitars blended in with Nordic-style folk metal and some death metal influences as well. The result? Bloody great. There is some serious songwriting talent here. On songs such as "Forgive Me Not" they sound similar to folk metal bands such as Moonsorrow, whereas on other songs they sound more extreme. There are also breathers from the mayhem, such as "Apostasis", a beautiful little acoustic guitar piece, and "An Exile in Storm", a medieval-sounding a cappella song of the kind that is not too uncommon in folk metal.
The album's best track, "Prisoner of the Past", kicks off with an innocent but energetic piano piece before the folk metal takes over with a shout-along chorus, accordion, aggressive guitars and growling.
Frost Giant's album "The Harlot Star" is out now via Transcending Records.