EP review: Hell Freezes Over "Speed Metal Assault"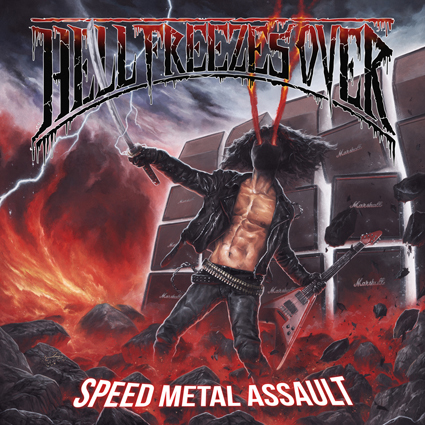 Japan's Hell Freezes Over releases debut EP full of NWOBHM-influenced old-school speed and thrash metal.
One of Japan's more interesting new metal bands is Hell Freezes Over. They formed in 2013 and since I saw them live for the first time two years ago (opening for Evil Invaders and Unleash The Archers in Tokyo), I have been eagerly waiting for this: their debut EP.
While they're young (the four band embers are all born between 1992 and 1994), they know their early 80s heavy metal history and use it as a foundation for the band's music. Their debut EP certainly doesn't disappoint. The four-track EP kicks off with "Burn Your Life" which quickly establishes what this band is all about. Hell Freezes Over plays speed metal blended with Bay Area thrash metal and a big chunk of early NWOBHM. It's old-school speed metal with a kind of underground feel to the songs and the recording. Love it. The following track, "Hawkeye", raises the bar with some fabulous variations and twists and turns. "Writing on the Wall" gives us splendid heavy metal, before the EP closes with "Overwhelm" which is my favourite track. Here the band combines speed metal with early, punky Iron Maiden (think Paul DiAnno on "The Soundhouse Tapes"). Great stuff. For being a speed metal band, some of their songs are unusually long, with three songs clocking in at over five minutes each. But that's OK as long as there's quality music to assist with the headbanging.
Well done, lads. Great EP. Now I am looking forward to seeing you live again and to get your first full-length album in the not too distant future.
Hell Freezes Over's debut EP "Speed Metal Assault" is out now via Spiritual Beast. Hell Freezes Over will be the opening act for Lechery's Tokyo gig on 27th July.
www.facebook.com/hellfreezesover.hfo