Album review: Bewitcher – speed metal meets dirty hard rock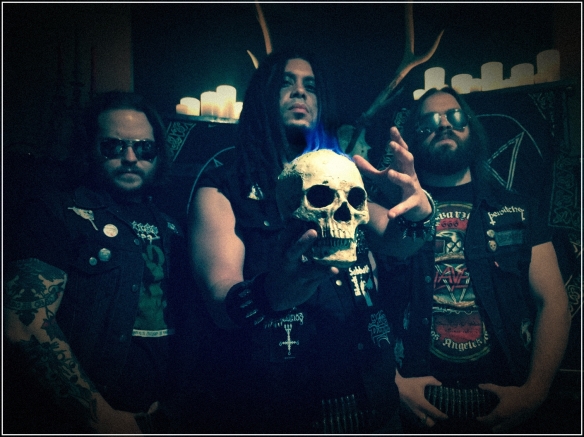 Bewitcher is a great metal trio from Portland, Oregon in the US, whose self-titled debut album mixes dirty hard rock with speed metal in a great and unusual combination.
Bewitcher refers to its music as old-school blackened thrash/speed metal and there are certainly some hints of all that, but I would describe this a bit differently as they have created their own unique sound. They play a form of hard rock which they perform as if it were speed metal. It's a bit like a bastard child of AC/DC and Pantera, or Tribulation and Judas Priest, or Motörhead and Testament, or Girlschool and Megadeth. With Venom as its ugly stepsister. It's a fabulous non-stop attack of great riffs delivered at the speed of light over a foundation of classic hard rock. There is a NWOBHM foundation here upon which a furiously fast ride is launched.
The album opens with "Bewitcher", a great track that kicks off with some kind of late 70s synthesizer spiel before the band makes this song into an 80s speed metal track. With song titles such as "Speed 'Til You Bleed", "Hot Nights, Red Lights" and "Black Speed Delirium", this is a bunch of rockers with much love for 80s heavy metal.
The trio's stage names are in line with their tongue-in-cheek song titles: Unholy Weaver of Shadows & Incantations (guitar and vocals), Infernal Magus of Nocturnal Alchemy (bass and vocals) and Diabolic Crusher of Hallowed Light (drums).
I really like this rather different take on hard rock meets speed metal. They have created something that is different in a good way and it makes them stand out from the ever-flowing stream of releases by new metal bands. Who knows where this wild ride will end? Buckle up and enjoy the ride!
The LP version of "Bewitcher" is out now on Diabolic Might Records and the CD version will be released on 9th September on Divebomb Records.
www.facebook.com/bewitcherofficial / www.cultofthebewitcher.com