Album review: Sabaton "The Last Stand"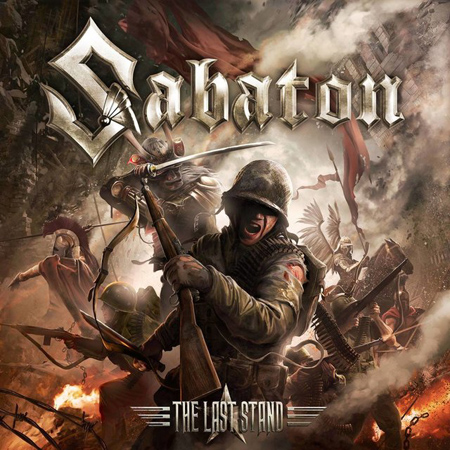 Cargo pants-clad and battle-obsessed Swedish rockers Sabaton are back with a new album, "The Last Stand". I don't get it at all. Not my kind of metal.
Oh, no. I just can't. Sabaton has new album out and the big promotion machine has been switched on to promote the album and the band's upcoming US tour with Trivium. I gave the album a listen and then listened again and again. It somewhat reminds me of those random low-budget truck-stop compilation cassettes one could find in the 1980s. I always wondered who bought those? And more importantly, who listened to them and why? The same questions pop up as I listen to Sabaton. 
When I interviewed Gary Holt of Exodus and Slayer last year, he pointed out the fact that I only write about music I like. This time I have really tried to listen to something with an open mind. I wanted to give Sabaton a proper chance as they clearly are a very successful act. But it didn't work. I don't get Sabaton at all. I find this music incredibly boring. There is nothing about Sabaton that appeals to me. I just don't get it. I saw them live here in Tokyo at last year's Loud Park festival and wondered what separated me from the many thousands of people in the audience who actually enjoyed the performance. Maybe it's me? Sitting here listening to their brand new album I still don't get it.
I like all kinds of heavy metal and hard rock, from melodic rock to the darkest and most brutal extreme metal. But nothing in this package called Sabaton – the fascination with battle and war stories, the camouflage cargo pants, the bombastic, pompous and keyboard-drenched metal music, the consistently poor-quality vocals, and so on – appeals to me. They are clearly very competent musicians (the guitar solo on "Rorke's Drift" is very good), but a band needs more than that. Well, at least Sabaton is a consistent band. They do what they do and some, actually many, people like this. I have no idea why. What is it about this band that I don't understand? I guess it's just not my cup of tea. I'm just gonna shut up now and go and listen to something else as I am clearly not getting this.
Sabaton's "The Last Stand" is out now on Nuclear Blast.