Album review: New England "Live at the Regent Theatre"
New England gives us classic American rock on their new live album.
In the late 70s and early 80s there were some great classic rock bands in the US. New England was one of the best bands. They released some great albums and toured as opening act for bands such as KISS, AC/DC, Rush, Thin Lizzy and Journey. They were very promising and had a minor hit with "Don't Ever Wanna Lose Ya", but unfortunately never made it big.
When John Fannon left the band, the other three members of New England (Hirsh Gardner on drums and backing vocals, Jimmy Waldo on keyboards and backing vocals and Gary Shea on bass) went on to play much harder, rawer rock in the band Warrior with Vinnie Vincent as its new singer and guitarist. When Vincent joined KISS, Shea and Waldo went on to form Alcatrazz where they played with Graham Bonnet, Yngwie Malmsteen and Steve Vai. Waldo later ended up in Quiet Riot and Blackthorne and is currently in Graham Bonnet Band.
The original line-up of New England reunited a few years ago and nowadays play occasional gigs in North America. In November they will perform in Japan for the first time. This new live album showcases the band at its best. It's a scaled back production, leaving the band and its songs bare. When the quality of the music is this good, you don't need any smoke and mirrors.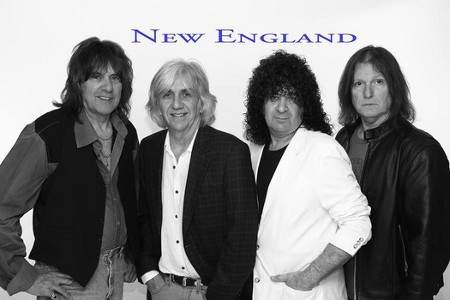 Back in the day, the songwriting of this band was above and beyond most of the competition. They still write new material and it is equally good. "Live at the Regent Theatre", was recorded at the Regent Theatre in Arlington, Massachusetts in August 2014. The melodies, the vocals, the musicianship, New England has it all. For lovers of AOR and classic rock, this is it. It's grown-up rock in a fine American tradition. But New England can also rock it out, as they do on this album on "Holdin' Out on Me", which basically is an AC/DC-style rocker.
There is plenty of good stuff on this live album. One of my favourites is the version here of the hit single "Don't Ever Wanna Lose Ya" which is simply splendid.
New England's album "Live at the Regent Theatre" will be released on 15th November on King Records in Japan and GB Music/Sony Megaforce in the US and Europe.
New England will perform at Club Citta in Kawasaki, Japan on 18th and 20th November. Get your tickets here: http://clubcitta.co.jp/001/newengland-2016/
Read Roppongi Rocks' recent interview with Gary Shea of New England here.