Album review: John Norum "Gone to Stay"
Europe guitarist John Norum returns with a new solo album full of bluesy hard rock.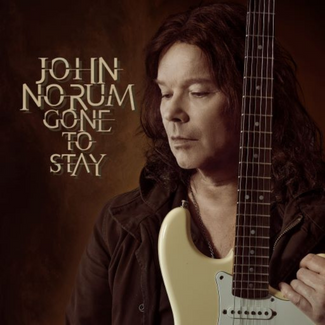 Norwegian-born Swedish guitarist John Norum is best known as the co-founder and lead guitarist of the band Europe. He continues to deliver the goods together with his bandmates in Europe but John has accomplished quite a bit outside of the band too. He started his career when he, as a teenager, recorded and toured with the Swedish cult artist Eddie Meduza in the late 70s and early 80s. Then he fully focused on Europe until he, shortly after the release of the "The Final Countdown" album in 1986, left the band. He released his first solo album "Total Control" in 1987. Since then, he has continued his solo career while also doing other projects. Having played with Don Dokken's solo band, John then, for a short time, became a member of Dokken when the classic band reformed. He rejoined Europe when the band reunited its classic line-up two decades ago and has remained in the band ever since. "Gone to Stay", his new solo album, is his first solo album since 2010's "Play Yard Blues". Overall, the new album is filled with excellent bluesy hard rock with hard-hitting guitar riffs. This is classic music created in the musical tradition of bands like Deep Purple, Whitesnake, UFO and Rainbow. John Norum is a true guitar hero, but he is also an excellent songwriter and a good singer. Immediate favourite tracks on this excellent album include the riff-happy "Sail On", "Voices of Silence" and "Norma" (perhaps the most Europe-sounding track on the album). But there are some more modern-sounding songs as well, such as the excellent track "Calling". There is a power ballad ("One by One") and "Face the Truth (Revisited)", a remake of the title track from the 1992 album "Face the Truth" that John did with Glenn Hughes. While John is a phenomenal songwriter, he has a tradition of including the odd cover here and there on his albums. This time is no exception and we get a beautiful version of David Bowie's "Lady Grinning Soul". As has been the case on many of John's solo albums, on the new album, he takes on lead vocals himself on some songs as well as bringing in guest vocalists on other songs. This time he has taken help from Norwegian vocalist Åge Sten Nilsen (Wig Wam) as well as a past collaborator, American Kelly Keeling (ex-Michael Schenker Group) who has sung with John on several occasions. Some of the familiar guests appearing on the album include Europe keyboardist Mic Michaeli, Fredrik Åkesson (Opeth, ex-Arch Enemy, Talisman, Southpaw, Krux), Joakim Svalberg (Opeth) and Staffan Astner (Eddie Meduza, Joey Tempest). Somewhat more unexpected collaborators on the album are Mats Schubert from Bo Kaspers Orkester and the Royal Stockholm Philharmonic Orchestra. The Japanese edition comes with the bonus track "Magnetic Soul", a great instrumental piece.
John Norum's new solo album "Gone to Stay" will be released on 28th October via Gain/Fifth Island Music internationally and JVC in Japan.
www.facebook.com/officialjohnnorum