EP review: Evil Invaders "In For The Kill"
Belgian speed metal lunatics Evil Invaders are back with a gloriously fast EP.
Evil Invaders, my favourite speed metal band, is back with a fast and furious EP, "In For The Kill". The band's sound is firmly based in 1980s speed metal and Bay Area thrash metal with some Overkill thrown in for good measure.
On this EP, our favourite evil Belgian bastards give us two new studio tracks – "As Life Slowly Fades" and "Raising Hell" – as well as live versions of two songs – "Pulses of Pleasure" and "Victim of Sacrifice" – from their debut album.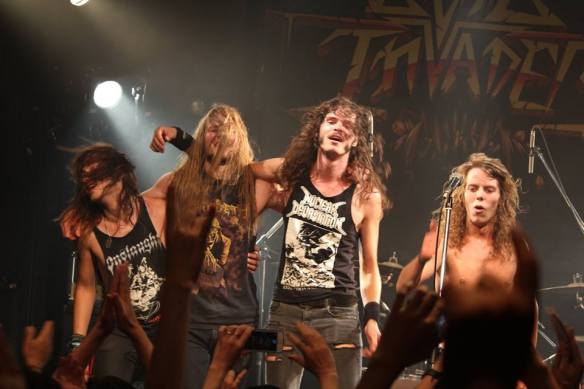 The two new tracks are up there among the best of Evil Invaders' back catalogue, while the two live tracks remind us that this is a great hardworking live act. The relentless energy of the band is fabulous. Live Evil Invaders is a force to be reckoned with. I think they should always include a couple of live tracks on their records.
If you like your heavy metal fast, this is for you. Metal EP of the year? So far, probably yes. This is so much headbanging and air guitar playing fun that it is hard to sit down to write this review.
Evil Invaders' "In For The Kill" will be released by Napalm Records on 30th September.
www.facebook.com/evilinvaders / www.evilinvaders.be