Report: Heavy Metal Night in Roppongi
Great fun socialising with metalheads in person at UPP-tone Music's heavy metal DJ event.
Heavy Metal Night at Maharaja, Roppongi, Tokyo on 19th March 2022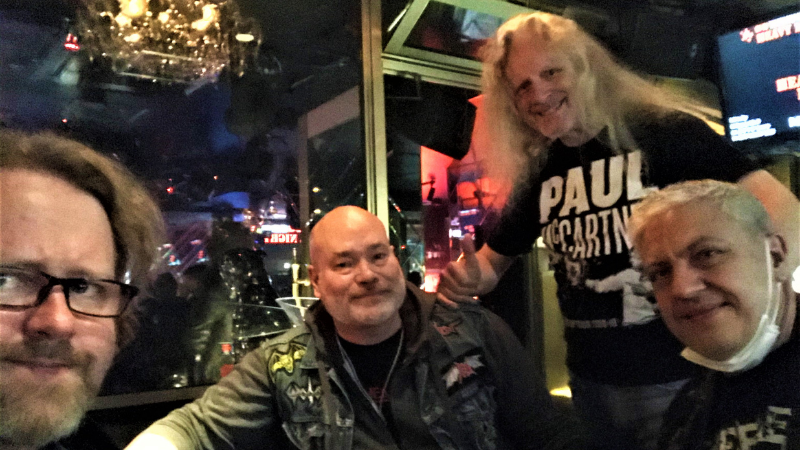 This Saturday at Maharaja, a "discotheque saloon" located at the very heart of Roppongi, it was obvious that metalheads and hard rockers from Tokyo and beyond have been missing the socialising that comes with attending sweaty rock gigs. With very few gigs and more or less closed borders for the past two years, these fans have not had a chance to shake their booties with their friends for too long. With the pandemic-related restrictions starting to ease, rockers are eager to get back to rock out properly again. UPP-tone Music's Heavy Metal Night takes the form of guest DJs playing their favourite metal and hard rock tunes for a loyal group of metalheads and rockers dressed up in band shirts and patched battle vests. It was wonderful to see the joy that the combination of great music and socialising in person with terrific people brought to Tokyo's metal community. Sure, this was not a concert with a live band, but it certainly was a very enjoyable stepping stone on the way to having proper rock concerts again.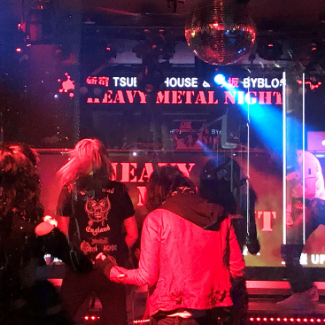 The DJs playing at the event were local cult heroes Eggey Black, Hiroki Muramatsu, Takenori "Ruzer" Minemura and 80s legend DJ Punky. The records spun at the event were quite diverse within the hard rock and heavy metal genres, but with a clear dominance by shout-along-friendly 80s anthems. The audience loved it and we got plenty of headbanging, air guitar solos and ugly dancing. Most importantly, we got an opportunity to catch up with fellow metalheads over beers with Mötley Crüe's "Looks That Kill" and Quiet Riot's "Cum on Feel the Noize" as a background soundtrack.
Husband and wife team Yasukazu Takahashi and Hiromi Sugou and their staff at UPP-tone Music (a great team that has previously organised Tokyo shows for artists such as Girlschool, Venom Inc, Raven, Anvil, Oliver/Dawson Saxon and Bullet) do a fantastic job of putting on events for Tokyo's music fans. What sets the UPP-tone team members apart from some of the other promoters is their obvious love for hard rock and metal. They just want to put on great shows for the Japanese fans rather than do events to make loads of money. For those about to rock, we salute you! Metal we bleed! UPP tone music (アップトーンミュージック) (upp-tone-music.com)