Destiny: old-school Gothenburg metal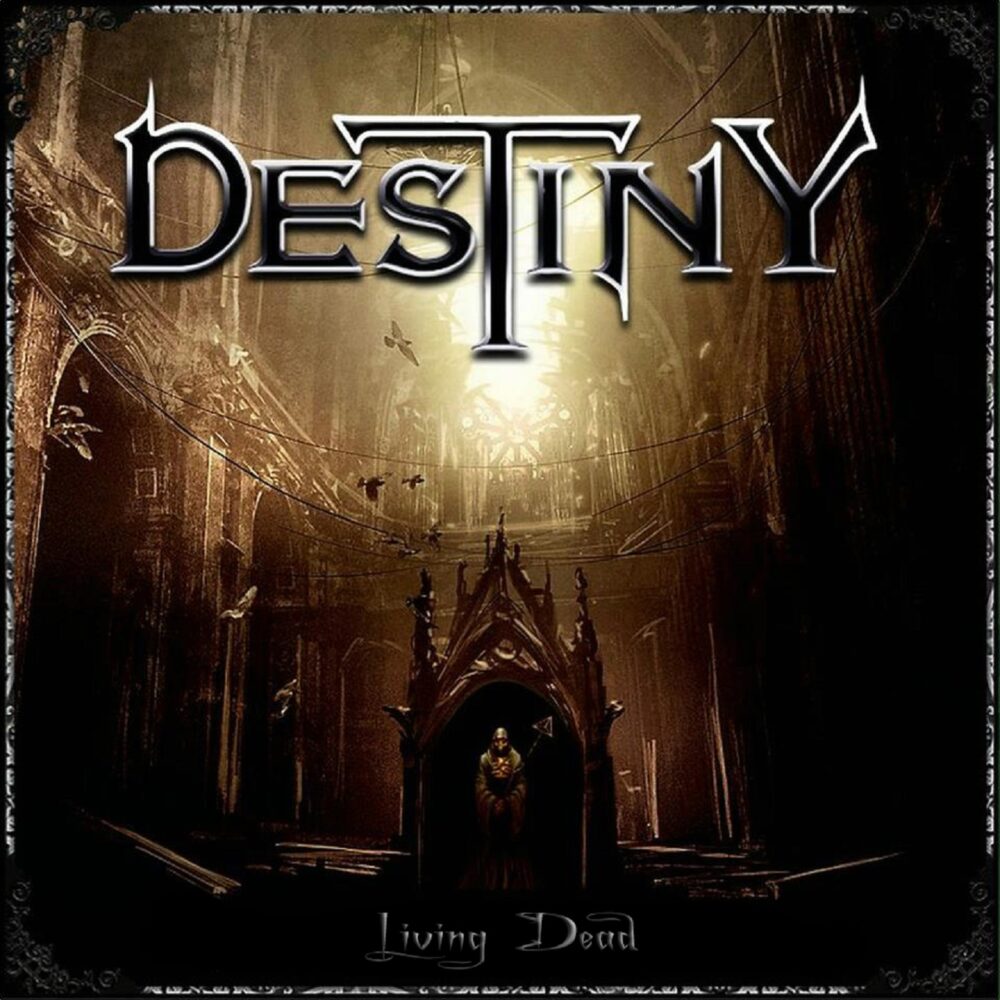 Destiny, the veteran lords of dark metal from Gothenburg, are back in full swing and have two albums in the making.
In the early 1990s, melodic death metal bands like In Flames, At the Gates and Dark Tranquillity put Swedish west coast town Gothenburg firmly on the heavy metal map with the emergence of the legendary Gothenburg Sound. But heavy metal existed in Gothenburg long before that. Among the veterans from Gothenburg's 1980s metal scene that are still active today are Motörhead drummer Mikkey Dee (ex-King Diamond, Don Dokken), Andy LaRocque (King Diamond) and the lords of dark metal, Destiny – one of Sweden's first proper heavy metal bands.
The Gothenburg Sound explosion in the 1990s didn't really have any impact on Destiny. "We had already established our sound and band identity before that. But perhaps some international fans got interested in Destiny because we are from Gothenburg," says Destiny's band leader Stefan Björnshög.
Formed in 1982, Destiny released its debut album "Beyond All Sense" in 1985. A few years later, in 1988, I went to one of their gigs and was immediately drawn to Destiny's dark metal. They were very different to the hair metal bands of the day. They didn't use hairspray, they wore black rather than pink or green and they sounded the way they looked. I loved it.
The band kept touring and released more albums, but in recent years we haven't heard much from Destiny. Earlier this year they released a great new track, "Living Dead", and a video to go with it. When the press release landed in my inbox it brought back great memories. I decided to have a chat with Stefan Björnshög about Destiny's career and what we can expect from the band in the coming years.
"It is rather difficult to describe our music other than 'dark rock'. In many reviews it is mentioned that it is difficult to put us into a specific category. From the very beginning it was very important to me that the music was complicated and interesting, not just hard-hitting rock. Nowadays I think it is equally important that it has some kind of groove, which I think we have managed to achieve more and more. We don't want to make the same album twice. That's why our albums sound quite different when compared to each other. But they still have a distinct Destiny sound and style," explains Björnshög.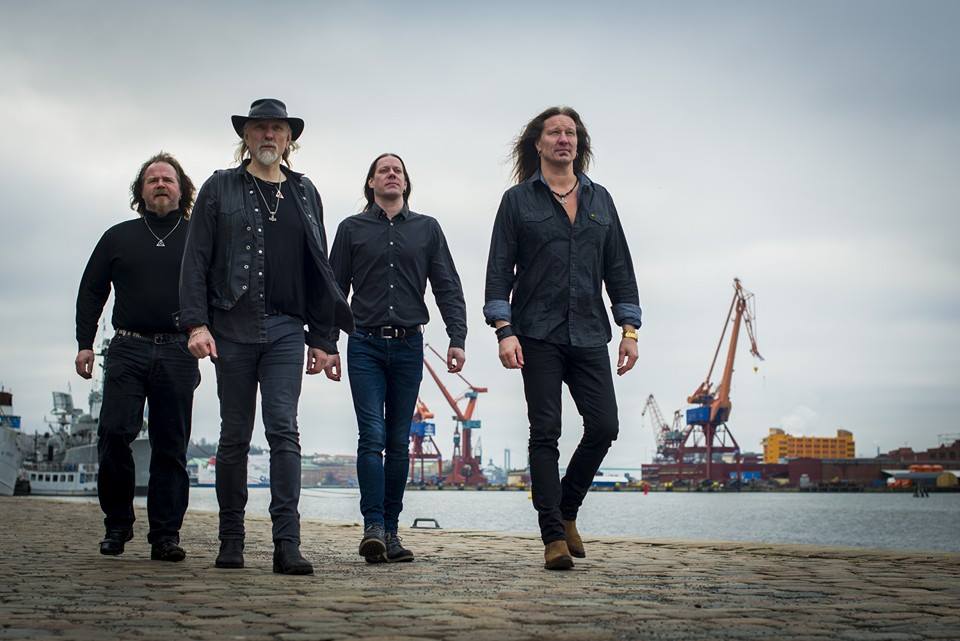 Destiny is indeed a band that is difficult to put a label on. There are echoes of NWOBHM and at times it sounds power metal-ish. There's some Black Sabbath and Ozzy Osbourne in there, a pinch of doom, a hint of King Diamond and Mercyful Fate (former King Diamond guitarist Floyd Constantin was a member of Destiny for a few years), some thrash metal guitar shredding, some old German Accept-vibes and a lot of other stuff. It's Destiny and they call what they do dark metal.
"Personally i listened to Black Sabbath, Rush and many of the bands that were part of the New Wave of British Heavy Metal. But it was also Mercyful Fate and American bands such as Savatage and Metal Church that influenced us. The whole idea behind dark metal, as we called it, was that the music should be suggestive and interesting in a similar way to music scores in films, but still be heavy metal. The band wearing all black clothes was an idea that came from our then guitarist Magnus Österman. At that time there weren't many bands in Sweden that dressed in black. Thus we did something different and stood out from the rest."
Destiny has been around for 33 years. What are the career highlights so far? "That we are still around. Hahaha!! Jokes aside, to open for Savatage is hard to beat. Also when we played with In Flames in 1999 and the tour we did with Tony Martin (of Black Sabbath fame) in 2006 are highlights. Our creative process when we write new music is always a highlight as well as any gig we do where we get a positive response from the audience."
The band's line-up has seen some changes over the years. The current line-up seems rather strong and it'll be interesting to see what they can do both live and in the studio. "Already when we released the second album 'Atomic Winter' I was the only remaining original member in the band," says Björnshög. "It's difficult to know how long a line-up will last. Several of our earlier line-ups have lasted longer than many contemporary bands. We are about to enter our 34th year and thus I guess it's not so surprising that we have had some member changes over the years. When one can't live off music alone there are many other things that come into the equation. Sometimes people have to opt out of being in a band because of their day jobs or family commitments. However, over the years, as far as I can remember, we have only ever fired one person. Everyone else has left for various reasons. I am still on good terms with all ex-members, so we have not had any splits on bad terms. Everybody who has played in Destiny has contributed something. In the current line-up we have Jonas Heidgert (Dragonland) on vocals who joined us in 2012. He'll sing on both the two forthcoming albums. Guitarist Michael Åberg (ex-Nostradameus) joined us already back in 2005. Drummer Kane Svantesson was originally a member of Destiny in 1994-1997. He plays drums on 'The Undiscovered Country' (1998). He rejoined the band in 2013. And I've been here since 1982. I am not aware of anyone planning to leave but we are likely to expand the line-up with a keyboard player or another guitarist."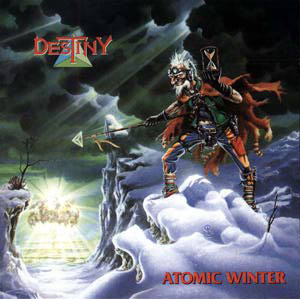 When it was time to release Destiny's second album, "Atomic Winter", in 1988 they managed to get legendary artist Derek Riggs, famous for making many of Iron Maiden's classic album covers, to agree to do the cover art. "We weren't really satisfied with the cover for 'Beyond All Sense'. We wanted to have a more powerful cover for 'Atomic Winter'. I contacted Rodney Matthews but he didn't seem to like our lyrics. Earlier we had sent a demo to Rod Smallwood's management company and I still had their contact details. I called up and got to talk to some secretary. I told her I wanted to talk to Derek Riggs because he was going to make an album cover for us. I must have sounded rather convincing because she gave me his details. When I called Riggs the first thing he said was 'How did you get my number?' I told him and then asked him if he would consider doing our next album cover. He asked me to send him some music and lyrics before he would make up his mind. After a while he came back to me and said he wanted to do the cover. We discussed how we wanted the cover and then he sent a couple of drafts that I approved. In 1990 I visited him in London and I asked him what it was that made him to agree to do the cover. He said he liked the name Destiny. It made him curious and when he then liked both the music and the lyrics it was easy for him to say yes. During my visit he gave me the original artwork as a gift. To this day it still hangs framed on my wall. The idea was that Derek would also do the cover for 'Nothing Left to Fear' but unfortunately the record company Active didn't want to pay what he asked. I still have the drafts for the proposed cover artwork," says Björnshög proudly.
What's next on the agenda for Destiny? "The plan is to release our much-delayed anniversary album 'Climate Change' later this year. We have recorded 14 songs of which five are old Destiny songs from the 80s that have never before been released on any record. Håkan Ring, who sang on our debut album, has written new lyrics for the old songs as we have lost the original lyrics. We have, however, tried to retain as much as possible of the original ideas behind the songs. For one of the songs we only had a very rough recording of half the song from a rehearsal. I thus had to write some new music that we added to the old bits in order to get a complete song. That was a lot of fun. I am really pleased with how the new versions of these old songs, who have only been performed live a few times in the 80s, turned out. I have always thought that these songs were too good not to be released on record. The other nine songs are re-recordings of songs from Destiny's albums," explains Björnshög.
"Climate Change" features a number of guest appearances, including session drummer Adde Larsson and German guitarist Veith Offenbächer (Dawn of Destiny) as well as a number of former Destiny members such as Carl Dahlberg, Roger Christiansson, John Prodén, Håkan Ring, Knut Hassel and Anders Fagerstrand.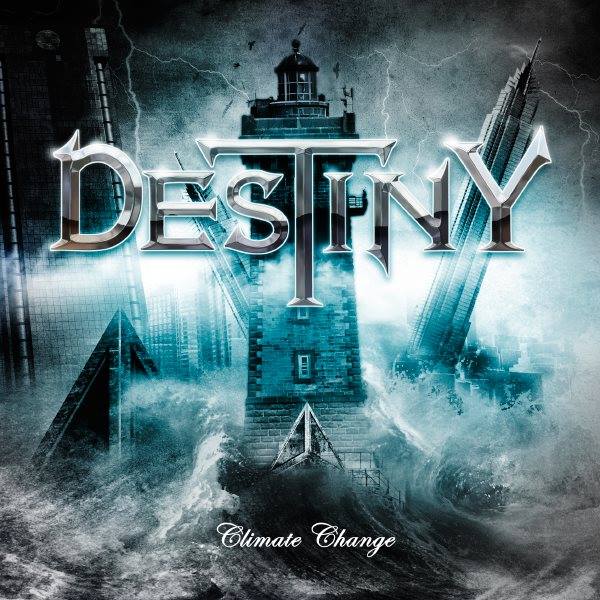 "We are planning to release a new full-length album with nine or ten new songs sometime in 2016. That album will be called 'Global Warming' and we have been recording it since 2007. It has taken a long time to complete mainly due to the fact that it took us a few years to find a suitably good singer after Kristoffer Göbel left Destiny, but also because my fiancée passed away in 2012," explains Björnshög. Therese Hanserot was not only Stefan Björnshög's fiancée, she was also Destiny's original vocalist who sang on their very first demo.
"But now we are ready for a comeback. All band members are keen on playing live so we hope to get up on stage as soon as possible. Hopefully we can start with some club gigs and then some festival gigs in 2016. But first we need to finish the last recordings and release the 'Climate Change' album. We have also received some offers to release our entire back catalogue as limited special editions on CD but nothing has been decided on this yet."
Destiny's dark metal is alive and well and it seems we will get a lot more of it.
Destiny – the band
Stefan Björnshög – bass
Jonas Heidgert – vocals
Michael Åberg – guitar
Kane Svantesson – drums
The albums
Beyond All Sense (1985)
Atomic Winter (1988)
Nothing Left to Fear (1991)
The Undiscovered Country (1998)
Future of the Past (2004)
Beyond All Sense 2005 (2005)