Album review: Angeline "Shadowlands"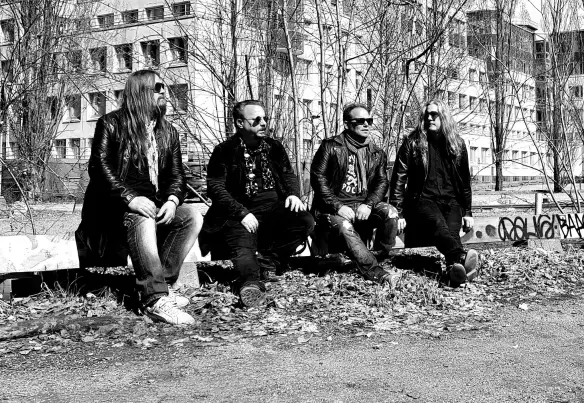 Swedish melodic rockers Angeline are back with a fab new AOR album with some twists.
I have followed Swedish melodic rockers Angeline for more than three decades now. I saw many of the band's first gigs in 1987-88 and the following years. I immediately liked them. Ever since their first demo cassette, "The Legend" in 1988, they have lived in the melodic rock world. Sometimes they are very much AOR, sometimes a bit heavier, but always melodic. Angeline's current line-up consists of Jocke Nilsson (vocals, guitar), Janne Arkegren (guitar), Uffe Nilsson (bass) and Tobbe Jonsson (drums). They are all founding members of the band which was formed in 1987. The band released its debut album "Don't Settle For Second Best" in 1990. In 1995, Angeline's original vocalist Sigge Sigvardsson passed away at age 29. The band soldiered on but split up in 2001. In 2007, the remaining original members reunited and in 2010 they released the comeback album "Confessions". They have been active since then with some studio releases and gigs. Now they have a new 11-track studio album out and in 2018, Angeline's music is, unsurprisingly, melodic rock for grown-ups. The album opens strongly with the rather catchy rocker "I Wanna Know" which is followed by another strong track with some fine guitar work, "Slow Down". "Nobody's Perfect" is one of my favourite tracks on the album. It somehow manages to combine melodic rock with parts that almost sound like Red Hot Chili Peppers. In "The Devil You Know" we get a bit of blues-tinged hard rock as if Angeline were a rock band from Nashville and not Ljusdal in the deep forests of Sweden. In "Enemy Within" we get a more modern rock, not too far from the sound of Alter Bridge. In "Believe" and "I'm Here For You" we get the obligatory ballad-type songs that we expect on an AOR album. But most of this album is well-crafted middle-of-the-road AOR music as can be heard on songs like "Live Life Like You Mean It", "Higher Than Love" and "Better Than The Real Thing". I might have called it radio-friendly rock if anyone still listened to the radio.
Angeline's album "Shadowlands" is out now via Blow Your Fez Off Music.
www.facebook.com/angelinetheband