The Crown: riff-heavy Swedish death metal legends celebrate 25 years in the business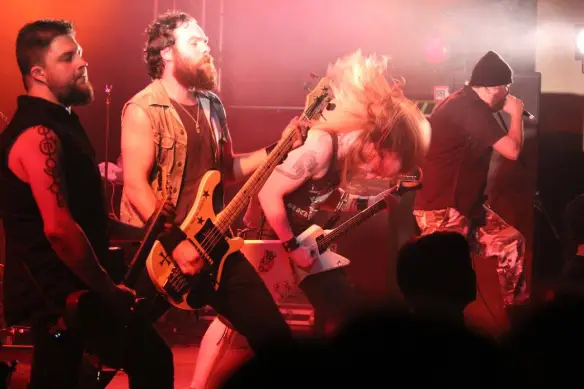 Stefan Nilsson of Roppongi Rocks recently met with Swedish death metal band The Crown's Marko Tervonen to talk about the band's 25-year career. The Crown's latest album, "Death is not dead", was released in January 2015. In Japan, the band headlined the Extreme Death Feast 2015 festival in Osaka and Tokyo during its second Japan tour.
The Crown formed in a small Swedish town called Trolllhattan around the same time as the "Gothenburg Sound" scene got hot in nearby Gothenburg. "We were never really part of that proper 'Gothenburg' scene. That was more bands like In Flames, Dark Tranquillity and At the Gates. But we absolutely got a dose of that scene in our blood. We really felt it when that scene exploded," explains Marko Tervonen, The Crown's guitarist and songwriter as we sit down for a coffee in the Shibuya district of Tokyo.
Following a few demos and the debut album "The Burning" (1995), the band got a lot of attention for its version of death metal based which is perhaps best described as melodic death metal with some thrash metal vibes. "We got labelled as a band with American-style heavy riffs coupled with Swedish melodies. It felt quite natural. I loved Edge of Sanity and bands with proper structures and melodies. That was important to us from day one. Now everyone does it but back then it wasn't that obvious. Older bands such as Bolt Thrower – they didn't even have any arrangements in their songs at all. Just riffs," says Marko.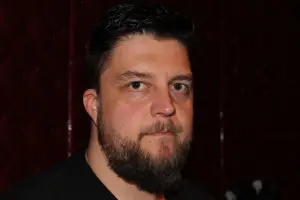 Following quite a few years of releasing albums and constant touring, The Crown called it quits in 2004. "We weren't hungry anymore, we got pretty full. Magnus was about to become a dad and we decided that this wasn't working anymore. This was right after the 'Possessed 13' album and the remake of 'Crowned in Terror' that we did. We gave everything for the band. We didn't turn down a single gig. We did everything and we felt that we sacrificed too much. Reality came knocking on our door. We decided to call it quits, calm down and start families," explains Marko.
Once the Crown members' kids started to grow up, bassist and songwriter Magnus Olsfelt got in touch with his old bandmates and told them that he had written a whole new album that he intended to record as a project called Doberman. His old Crown friends started to pitch in with the recordings. "Suddenly the old Crown gang sat there with an album and we recruited Jonas Stalhammar on vocals. It dawned on us that we were sitting in the Crown boat again and we decided to use the tiny bit of cred we previously had by using the name The Crown and got signed with Century Media. We are really committed to this but at the same time we have no problem with saying no to certain things. That is the big difference from our earlier days. We're grown up, old men who are a bit more comfortable," says Marko.
Former Crown members Tomas Lindberg (At the Gates) and Marcus Sunesson (Engel) have sold records and successfully toured in Japan which probably has helped many Japanese fans to also discover The Crown. In 2013, The Crown toured Japan for the first time which paved the way for this year's headline gigs in Osaka and Tokyo. "Japanese fans are so dedicated. We saw the first Japan tour in 2013 as an investment and we're now seeing the results with people from all over Japan at the gigs. It's great being back and seeing so many familiar faces."
The Crown's original singer, Johan Lindstrand, returned to the band in 2011. The latest album, "Death is not dead", perhaps the band's best effort so far, was released in January 2015. "Musically, we keep doing things the way we always do them" explains Marko. "But we try to expand our limits a bit, although outsiders might not realise it. I would have gotten bored if we just relied on some old album from the 90s and just performing old favourites at the gigs. The latest album has achieved some '10 out 10' reviews. That's proof that the old men can still do it. It's cool," says a very proud Marko.
An oddity with the latest album is that guitarist Marko Tervonen also plays the drums on most tracks as The Crown's original drummer Janne Saarenpaa left the band to relocate to California for a job with Apple. "I was scared. I've been drumming before but not this kind of super-fast stuff. But I felt that I could pull it off with a bit of practice. I was covering up the fact I was doing the drumming for a long time. I didn't want to tell the record company as I was afraid it could be seen as we're not serious. I mean, no one wants to learn that Kirk Hammett is dong the drumming on Metallica's records. It wouldn't be fun and couldn't be taken seriously." Once Marko sent a track to the record company and they liked it and did not mention anything about the drumming he felt it was safe. Towards the end of the recording sessions, new drummer Henrik Axelsson (from Implode) joined the band and he can be heard playing on the bonus tracks on the album.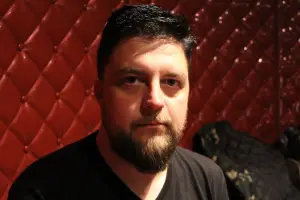 To mark the band's 25th anniversary the band hopes to release a special DVD for its fans. "We've started recording things. We have a film guy documenting everything on this Japan tour. A 25th anniversary DVD featuring the year's highlights such as the gig at Sticky Fingers in Gothenburg, the Japan tour, Hellfest in France and so on, would be great. We are trying to record as much as possible. Then we will have to see if we have some good material for a DVD."
This summer The Crown will do some European festivals, such as Hellfest in France and Vicious Rock Festival in Sweden. Then it might already be time to start work on the next album. "Magnus has seven songs written and I have completed five. We're 'all in', ready to keep going!" says Marko proudly of The Crown. Twenty-five years and better than ever. Death is certainly not dead.
The Crown
Johan Lindstrand – vocals
Marko Tervonen – guitar
Magnus Olsfelt – bass
Robin Sorqvist – guitar
Henrik Axelsson – drums
Albums
The Burning (1995), as Crown of Thorns
Eternal Death (1997), as Crown of Thorns
Hell Is Here (1999)
Deathrace King (2000)
Crowned in Terror (2002)
Possessed 13 (2003)
Crowned Unholy (2004)
Doomsday King (2010)
Death Is Not Dead (2015)