Album review: Xentrix "Bury the Pain"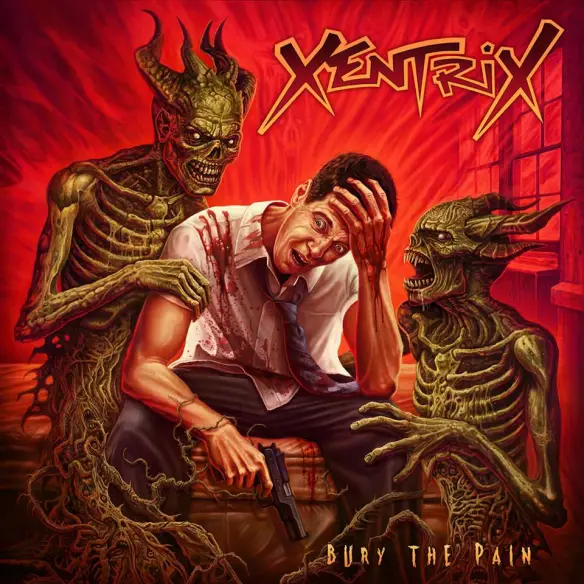 British band Xentrix is back with a new line-up and a terrific album of excellent thrash metal.
British thrash metal band Xentrix may not be known to the masses, but they formed already back in 1985. They are perhaps best known for their tongue-in-cheek thrash metal version of the "Ghostbusters" theme song. But gimmicks aside, it is very evident on their new album "Bury the Pain" that this is a quality thrash metal band. They have both the musical skills and the songs to be real contenders. Xentrix's music is firmly rooted in old-school thrash metal, but they do not sound dated at all. They have brought the classic thrash metal sound with them to here and now. 
New vocalist Jay Walsh's voice reminds me a lot about how Dee Snider sounds on his latest album, 2018's "For the Love of Metal". The more I listen to Xentrix I realise that the music is also not miles away from the songs on Snider's album. Just listen to the fantastic song "There Will Be Consequences" and it oozes Dee Snider. It's as if someone has listened to Snider's album and decided to do a thrash metal version of it. I don't know if that is the case, I guess not, but the result is terrific. This is a hard-hitting thrash metal album with terrific guitars, great melodies and a vocalist that does this music justice. Bassist Chris Shires is another newcomer in the band which also includes Kristian Havard on guitar and Dennis Gasser on drums. The hard-hitting "Bleeding Out" is the highlight of the album, but there are also many more great tracks on this terrific album. In fact, there are no weak songs at all. This solid and modern thrash metal album has been produced by Judas Priest's Andy Sneap. I dig it.
Xentrix's album "Bury the Pain" will be released on 7th June by Listenable Records. The Japanese edition will be released by Spiritual Beast on 17th July with a bonus track.