A triumphant avant-garde black metal funeral in Tokyo.
Sigh at Wild Side, Shinjuku, Tokyo, Japan on 28th July 2023
In the Japanese metal scene. Sigh has always stood out from the pack. Over the decades, the band has constantly evolved, both musically and visually. They never seem to compromise. It is hard to pin down what this band is but I'd like to describe them as an avant-garde black metal act. The band was founded in 1989 by lead vocalist Mirai Kawashima, who now also plays bass. Dr Mikannibal on vocals and saxophone has been in the band since 2007. In the current version of the band, the powerful husband-and-wife team is joined by lead guitarist Nozomu Wakai (Destinia, Mari Hamada, Paul Shortino) and session drummer Masayoshi Tanaka.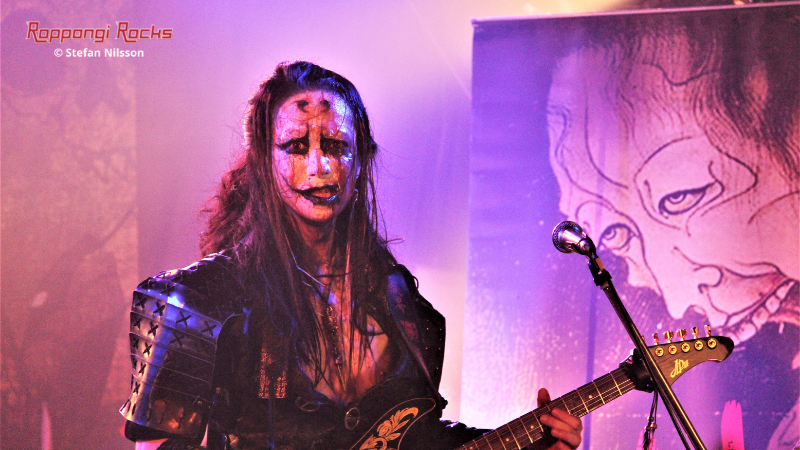 Nozomu, best known as a neoclassical hard rock guitarist, has brought some of that heritage into Sigh which has added another twist to the ever-changing Sigh sound. Masayoshi's training as a traditional taiko drummer is also shining through here and there. It was great to get a rare full headline set by the band. While I have seen them numerous times, they have often performed shorter sets at festivals or as an opening act. This evening in Shinjuku, it was only Sigh on the bill and they had the time to put on a terrific show to the audience's delight. The show was built around a funeral ritual theme. They even handed out Sigh-branded salt packets (salt plays an important role in Japanese funerals). The show kicked off with monk chanting before the band started its assault with the splendid "Kuroi Kage" followed by "Purgatorium".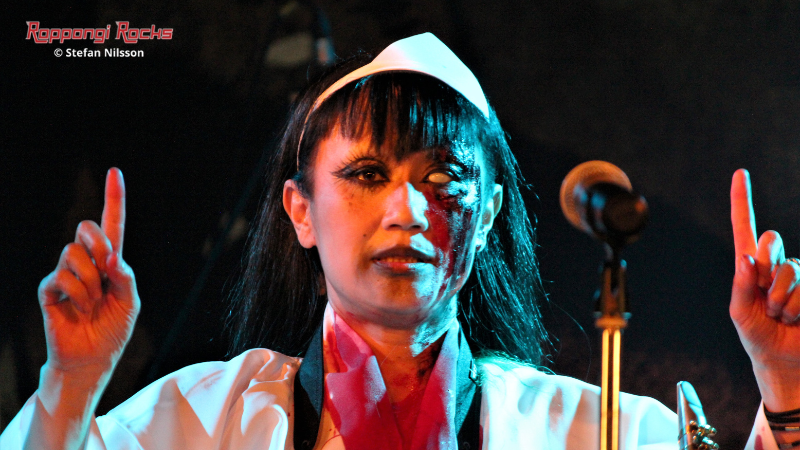 The brilliant music was matched by a gory stage show which featured plenty of fake blood, swords, fire, monk robes and much more. At one point, Dr Mikannibal wore a wedding dress that only briefly stayed white before it was covered in fake blood. Musically, old classics such as "At My Funeral", "Gundali", "The Knell" and "A Victory of Dakini" were splendid highlights in a solid and varied show. The music and the imagery were full-on. There are no compromises in Sigh's world. The evening's highlight for me was the fierce "Hail Horror Hail", the title track from the band's third studio album from 1997. An extended run-through of the band's varied back catalogue was topped off with a sinister cover of Venom classic "Black Metal". It was a fitting end to a dark, gory and excellent face-melting evening in the name of avant-garde black metal. As the band walked off stage the monk chanting started again.