Greyhaze Records reissues classic 1987 Mutilator thrash metal album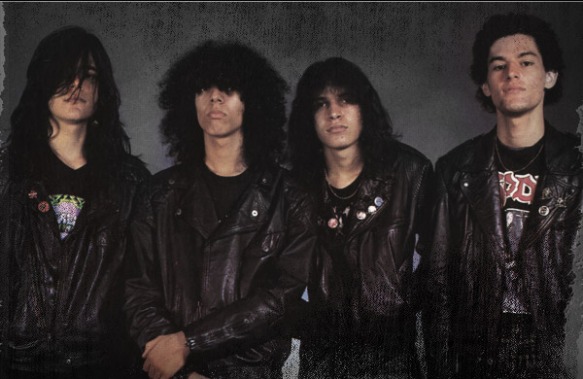 Brazilian thrash metal band Mutilator's classic "Immortal Force" album from 1987 has been reissued by Greyhaze Records. In short: It's a historical and influential masterpiece. Buy it.
Mutilator provides a masterclass in old-school thrash metal on their 1987 album "Immortal Force". There are no weaknesses here. No breathers, just in your face, relentless and brutal thrash metal.
Most albums do not need to be reissued because no one cares. This album is a brilliant exemption. When originally released it didn't get the recognition it deserves and it never reached the bigger international thrash metal community. Now Greyhaze Records, a terrific independent metal label in Florida, USA, is giving all the world's thrash metal fans a chance to hear this lost masterpiece. It is being released in multiple formats, including LP, CD and digital. Originally released by Brazil's Cogumelo Records, this cult classic has been remastered and reissued with a faithful reproduction of the original LP jacket. A collector's item? Sure, but more importantly, it is a masterpiece that needs to be heard, experienced and used as a headbanging soundtrack.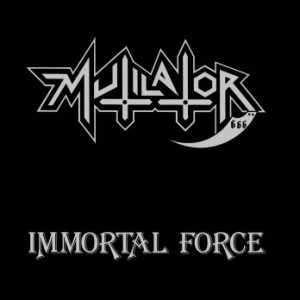 While Mutilator only released two records during their active years, they were at the forefront of the Brazilian thrash metal scene in the second half of the 80s.
Old-school thrash metal. Fast, furious, primitive at times, but there is also some fine guitar work on this album. Originally released in 1987, this album indeed sounds like 1980s thrash metal (unsurprisingly as that is what it is).
This is a gloriously great old-school thrash metal album. Simple and very basic production and bundles of energy from an eager but pissed-off sounding band. The songwriting is straightforward and typical of thrash metal from that area. Nothing fancy here, just great thrash metal the way it was originally intended to be performed. In other words, more "Kill 'Em All" than fancy chart-topping Metallica power ballads. This is hardcore, down in the basement, thrash metal. Fantastic stuff. The guitars! The distorted guitars on this album are near perfection. Whoever invented thrash metal, this is what that person intended the guitars to sound like. No doubt about it.
Normally I wouldn't pay too much attention to reissues, but this is bloody good and deserves to be brought to the masses. If you like proper thrash metal, you need this album. Someone please award Greyhaze Records a medal of some sort for cultural preservation and serving mankind. Thank you.
www.facebook.com/greyhazerecords