Album review: Dusk "The Relic"
Awesome hopelessness on the new album by industrial black metal band Dusk from Costa Rica.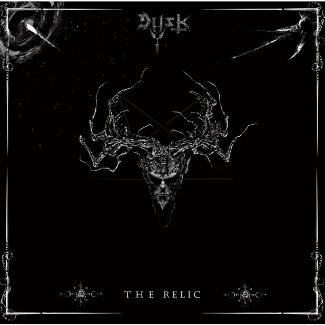 The combination of black metal and industrial music has never occurred to me as a good idea earlier. But listening to Dusk makes me realise that this is a genius move. This music is very tasty. I love it. It's bleak, dark and cold. The industrial elements of the music really set this apart. The liberal use of synths and sound effects normally not heard in black metal, makes Dusk's music stand out. Dusk was formed in Costa Rica in 2016 and released its first EP soon thereafter. In the band's early days, Dusk played industrial metal. The band's sound then evolved into industrial black metal. The basis of the band's sound is atmospheric black metal married with hard bass industrial music. We get gloriously uncompromising blast beats and intriguing vocals and it's all melted down into a stew with modern influences such as darkstep and electronic music. Some gothic and darkwave acts have been trying to get to this musical point, but without really getting there. Dusk gets the job done. The music on "The Relic", the band's new five-track album, is haunting and sinister. There is a feeling of hopelessness. It's as if all life on earth has been obliterated and this is the soundtrack to the intentional destruction of mankind. "Relic 2" with its medieval-sounding male choir in the intro is the best song on this terrific album. The band's line-up consists of Dusk (programming synthesizers and effects), Shaman (vocals), Implacable (guitar) and Pàlak (bass). The music is intriguing and disturbing. It's awesome in more ways than one.
Dusk's "The Relic" is out now.