Gig review: Graham Bonnet Band/Alcatrazz: Night of the Shooting Star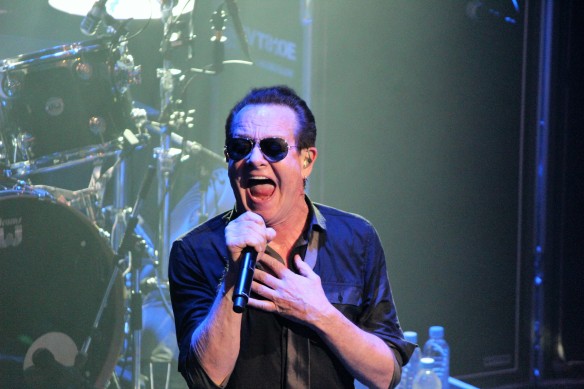 Graham Bonnet returned to Japan for a headline tour with a difference. A magical night with Graham Bonnet Band and Alcatrazz in Tokyo.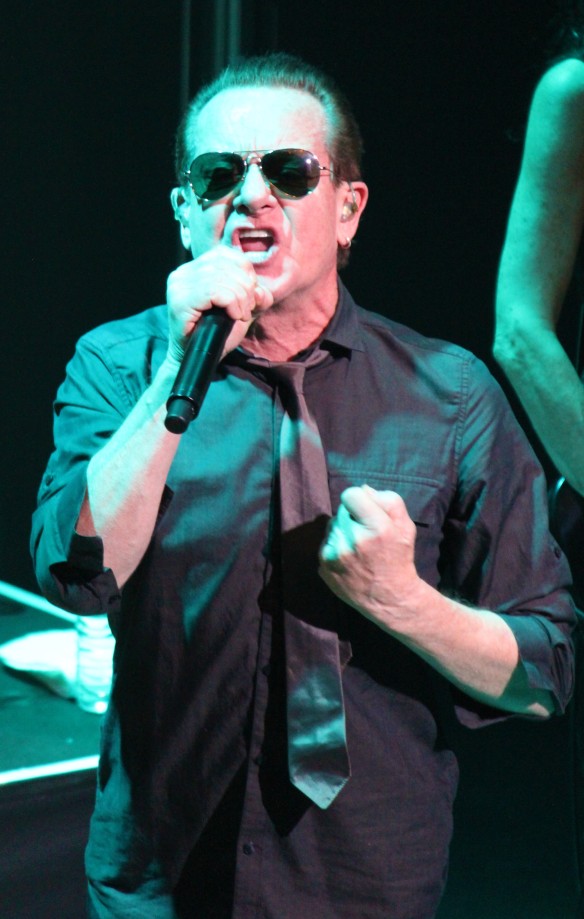 What a gig! Having seen Graham Bonnet perform in Japan with Michael Schenker in 2015 and 2016, it was finally time for Bonnet to come back to Japan with a headline show. With a great new album, "The Book", out and – finally – a proper band line-up, Graham Bonnet returns to Japan as a king holding court. This evening he gives his loyal fans nearly two hours of greatness up on stage.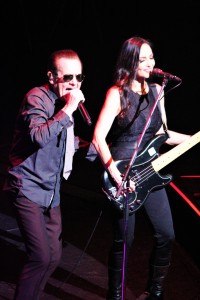 As the Graham Bonnet Band walks on stage, the sold out venue is already overexcited and ready to rock and be rocked. The band opens the gig with an immediate knockout, the Rainbow classic "Eyes of the World". Bonnet is as excited as the audience and the band is in top form. This evening quickly becomes a major love fest between a band and its audience. Expectations are sky high but Bonnet and his band deliver. They exceed expectations. Bonnet's characteristic voice sounds better than ever. He's 69 years old, but he still has the voice and the stage performance to delight his old fans and attract new ones. Most 25-year old hopefuls don't have even half the energy that this seasoned veteran displays on stage. The band continues with "California Eyes" from the new album and then they move on with Bonnet's old solo hit "S.O.S.". The crowd loves it and the evening is off to the best possible start.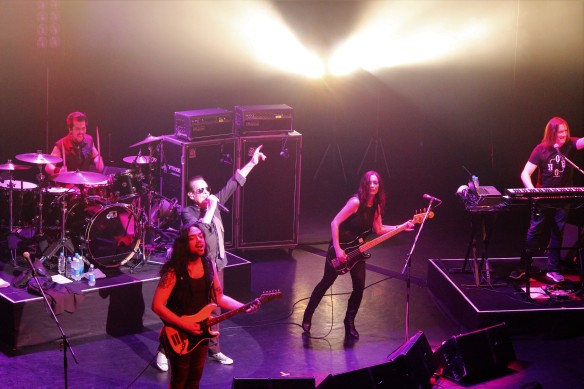 The set continues with a mix of new and old Graham Bonnet songs mixed with Rainbow and MSG classics. It's a faultless set list covering a big chunk of Bonnet's career. As is often the case when Bonnet is in Japan, he offers something very special to his fans. This time the regular set is expanded with a special Alcatrazz section to the delight of the fans. Japan was one of the countries where Alcatrazz was most successful back in the mid-80s. For the Alcatrazz section of the gig, bassist Gary Shea joins his Alcatrazz co-founders Graham Bonnet and Jimmy Waldo on stage. They rock it out in front of a sea of Japanese fans wearing Alcatrazz t-shirts. Seeing the three Alcatrazz founders reunited on stage in Japan brings back memories of the splendid live concert videos  "Metallic Live '84" and "Power Live", both recorded in Japan. The set includes a couple of great Alcatrazz nods to Japan, in the form of "Ohayo Tokyo" and "Hiroshima Mon Amour". They finish a powerful set with "Island in the Sun".
Following the terrific Alcatrazz part of the show, Beth-Ami Heavenstone again takes over bass duty to finish a fantastic night with another Rainbow classic, "Lost in Hollywood". It's been a delight to see Graham Bonnet make special appearances with Michael Schenker in Japan over the past couple of years (and it certainly hasn't hurt his popularity in Japan), but to see him as a headline act with almost two hours on stage is bloody brilliant. But as the new songs performed in this evening's set proves, there is also a future for Bonnet. This man is not stuck in the past. He now has a band and new material to go on creating and performing fabulous music.
We already knew that his old Alcatrazz mates Shea and Waldo would deliver, but the rest of the Graham Bonnet Band is also fantastic. Bonnet's partner Beth-Ami Heavenstone has been part of the foundation of the Graham Bonnet Band from the beginning. She brought in phenomenal guitarist Conrado Pesinato (who previously played with Heavenstone in Hardly Dangerous). Pesinato has big shoes to fill as he follows in the footsteps of Ritchie Blackmore, Michael Schenker, Yngwie Malmsteen and Steve Vai. But he pulls it off and adds his own style to it. The latest addition to the band is new drummer Mark Benquechea. He's an animal behind the kit and seems to fit the band like a glove. Graham told me the day before the gig that Mark asked for his autograph when he auditioned. Well, he's a mere fanboy no more. Now he's a colleague and the way he delivered on stage in Japan, Graham will not want to lose this one. He's found his drummer.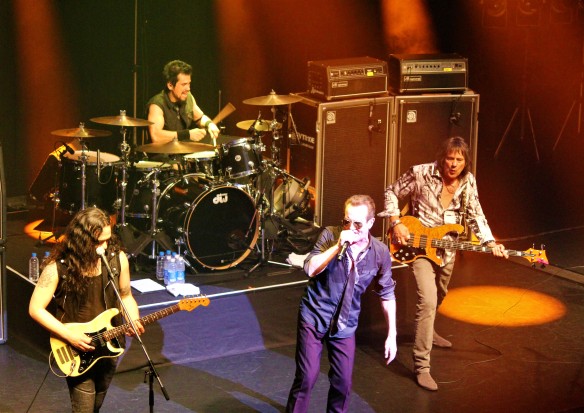 Thank you Graham for bringing both Graham Bonnet Band and Alcatrazz back to Japan. Now the question is, how can you top this? Japan has now come to expect something special every time Bonnet turns up in Japan. A Blackthorne session perhaps coupled with Anthem and Uli Jon Roth? I don't know. We'll see.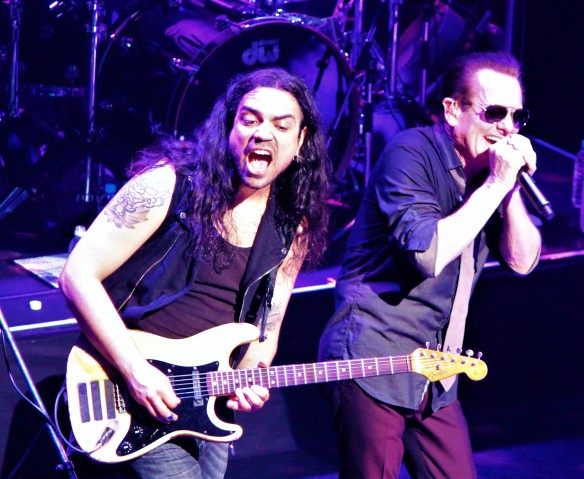 Graham Bonnet Band / Alcatrazz – Tsutaya O-East, Shibuya, Tokyo, Japan – 16th March 2017 – set list
Graham Bonnet Band
Eyes Of The World
California Air
S.O.S.
Night Games
Stand In Line
Into The Night
Dancer
Samurai
Desert Song
Rider
Since You Been Gone
Assault Attack
All Night Long
Alcatrazz
Night Of The Shooting Star (intro)
Ohayo Tokyo
Too Young To Die, Too Drunk To Live
Suffer Me
God Blessed Video
Will You Be Home Tonight
Jet To Jet
The Witchwood
Skyfire
Hiroshima Mon Amour
Island In The Sun
Graham Bonnet Band
Lost In Hollywood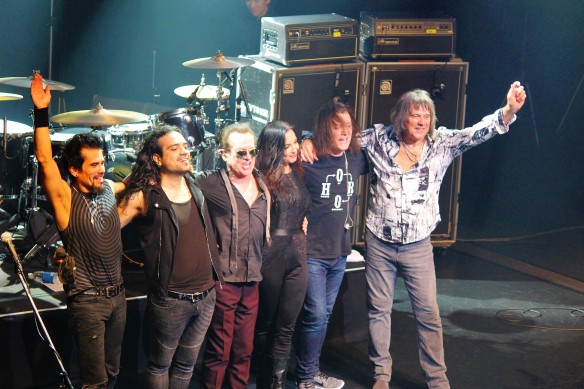 www.facebook.com/grahambonnetmusic