Review: Evoken Fest with Alestorm, Grave Digger, Bloodbound, Epidemia and Victorius
What a splendid night in the name of metal we got at Evoken Fest. Three power metal bands, an old-school true German metal band and a bunch of good-fun Scottish rockers proved to be a great mix of music that kept the audience entertained.
Evoken Fest with Alestorm, Grave Digger, Bloodbound, Epidemia and Victorius at Duo Music Exchange, Shibuya, Tokyo on 30th August 2019 
Victorius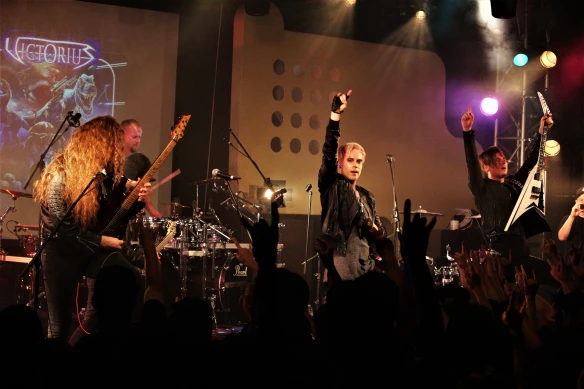 German power metal band Victorius open this evening of Evoken Fest with a great set. Their take on European-style power metal is good and it works well to get this party going. Their latest album, 2018's "Dinosaur Warfare – Legend of the Power Saurus", is European power metal in a nutshell: tongue-in-cheek fantasy/folklore/fairytale themes delivered by a great bunch of musicians.
Epidemia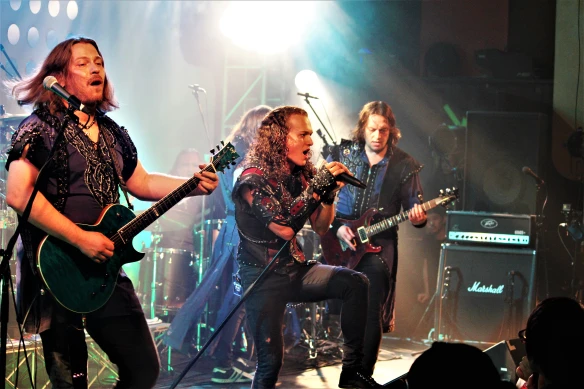 Ever since I saw the splendid Russian band Kruiz perform on Swedish TV in the mid-80s, there is something exotic and appealing about Russian heavy metal bands. You just gotta love that combination of trying to look like a cross of Manowar and Judas Priest, straightforward and melodic metal and lyrics sung in Russian. Epidemia is a great power metal band with good musicians and songs. But it is vocalist Evgeny Egorov that makes them stand out from the pack. What a voice and stage presence! Brilliant stuff! I want to see and hear more of this terrific band.
Bloodbound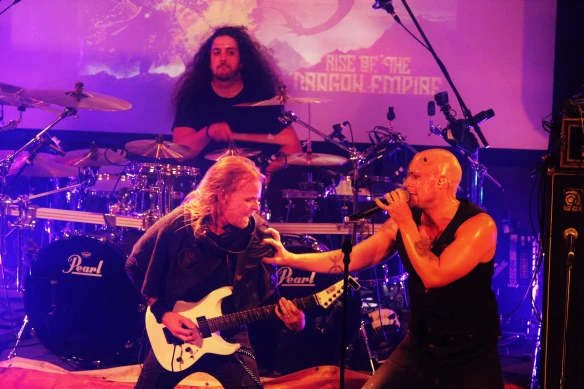 Their set is only seven songs plus an intro, but the members of Swedish power metal band Bloodbound make the most of it. It is power metal at its best. Plenty of guitar riffing, keyboard soundscapes and melodic metal songs. Vocalist Patrik Selleby is terrific. He has a voice made to sing this kind of material and he also knows how to put on a show. His dragon mask and horn make him stand out as much visually as his voice does musically. But behind him, there is also a terrific band of musicians and songwriters led by co-founders Fredrik Bergh on keyboards and lead guitarist Tomas Olsson. They open strongly with "Battle in the Sky", manage to squeeze in favourites such as "In the Name of Metal" and "Dragons are Forever" before they finish a flawless set with the splendid "Nosferatu", a song that would not be out of place on an Iron Maiden album. Bloodbound was founded in 2004 and the band has since released eight studio albums, most recently "Rise of the Dragon Empire" earlier this year. But this is their very first Japan visit. Hopefully, we will see them return for some headline gigs with a full-length show.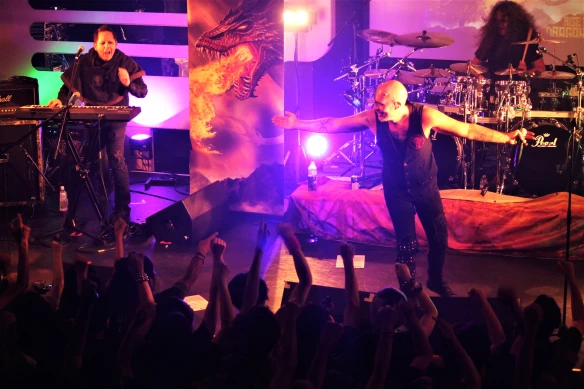 Grave Digger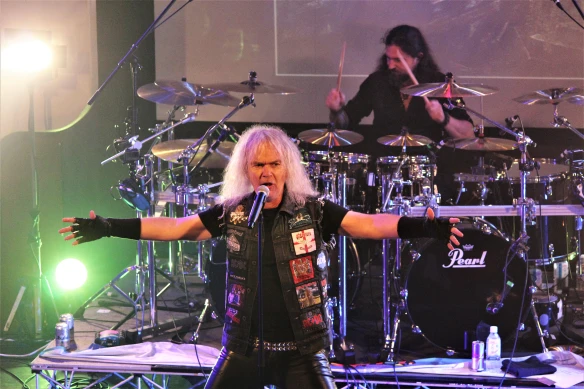 German heavy metal veterans Grave Digger are still going. Original frontman Chris Boltendahl's long hair has turned white with age, but his voice is as good as it ever was. The current line-up of the band is terrific, where especially lead guitarist Axel Ritt stands out. Germany has a proud metal tradition and while less known to the masses than bands such as Accept, Scorpions and Helloween, quality-wise Grave Digger is right there in the leading pack. They put on a great heavy metal show at Evoken Fest. We get straightforward proper heavy metal and the band proves that there is clearly still a present and a future for this veteran band, something evident in the band's setlist which this evening only contains one song from the 1980s, "Heavy Metal Breakdown".
Alestorm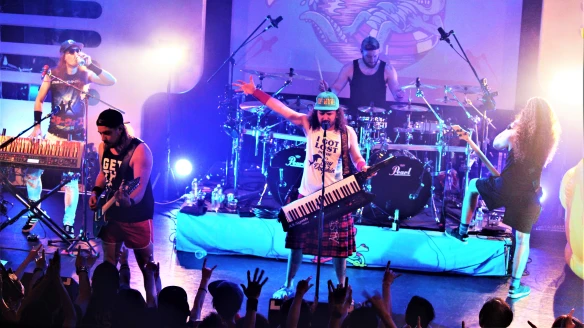 Evoken Fest headliners Alestorm are different from most things out there. Despite all the gimmicks with a giant inflatable duck, kilts, sandals and all the other crazy stuff this band wears and does, they are great musicians with great songs. They are entertainers and they're great at what they do. Between songs, we get crude and boozy jokes and colourful comments by frontman Christopher Bowes. They entertain us with their very own brand of melodic metal with folk metal touches. Jokey kind of bands are perhaps not my thing (it really isn't), but these jolly men are very good and they certainly know how to entertain a crowd. Their tour shirts say "We came to drink your beer" and that sums it up quite nicely.