Album review: Riot "Live in Japan 2018"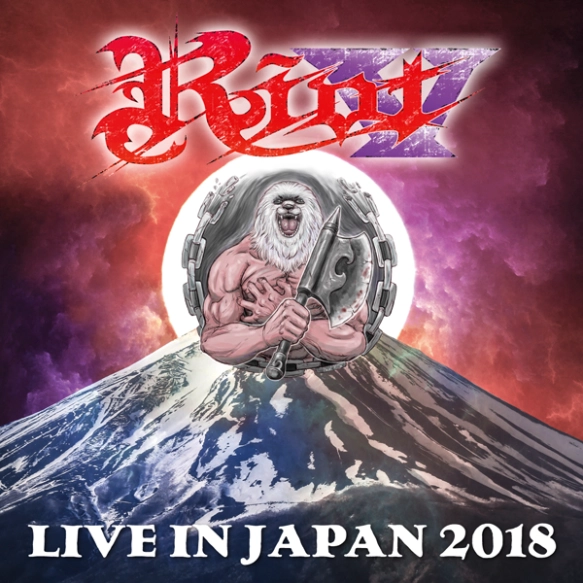 American metal band Riot's love story with Japan continues with a new live release and upcoming Japan shows.
Riot has a long and proud tradition as one of the best American heavy metal bands. They have also had a great relationship with their Japanese fans and they always seem to come up with great things for the Japanese fans. In 2018 they toured Japan twice. This year we get a new Japanese live release (the band's third) as well as two special shows in Kawasaki in October.
Riot, founded in New York in 1975, has seen its line-up evolve continuously over the years. Leading the current line-up of Riot (or Riot V as the band is now called outside of Japan) are guitarist Mike Flyntz and bassist Don Van Stavern who both joined the band in the 1980s. They are joined by Frank Gilchriest on drums, Nick Lee on guitar and vocalist Todd Michael Hall. While the band has no original members left, the current members deliver and are worthy of carrying on with the band name. Most importantly, they play the back catalogue very well, but they are also creating great new music in the Riot tradition, such as the terrific 2018 studio album "Armor of Light".
This double live album, "Live in Japan 2018", recorded at Club Citta in Kawasaki in March 2018, gives us all the good stuff from throughout the band's long career. In 1990, the band recorded the live album "Riot in Japan – Live!!" and in 1998 they recorded "Shine On" during a Japan tour. Only Mike Flyntz was part of those earlier live albums and the setlist is very different on this new live album. Of course, we get some of the obvious classics, including "Thundersteel", "Warrior" (with Loudness' Masayoshi Yamashita as a guest) and "Swords and Tequila". But we also get fab newer songs such as "Messiah", "Armor of Light", "Ride Hard Live Free", "Fall from the Sky", "Take Me Back", "Metal Warrior" and "Land of the Rising Sun". The 23-track live release is a great showcase of Riot's past and present. It's a great band that is still relevant and still delivering at a top-level.
Riot's "Live in Japan 2018", released both as a live album and a live DVD/Blu-ray, is out now in Japan via Ward Records and internationally via AFM Records. On 5th and 6th October, Riot will be back at Club Citta for two special shows to celebrate the release of the new live release. Get your concert tickets here: www.clubcitta.co.jp/001/riot-2019/
Here's Roppongi Rocks live review of one of the two Japan shows in March 2018: https://roppongirocks.com/2018/03/17/gig-review-riot-celebrates-30-years-of-thundersteel-at-club-citta/