Album review: The Good The Bad and The Zugly "The Worst Four Years"

The Good The Bad and The Zugly (GBZ) is high-energy, good-fun Norwegian punk rock of the best kind.
I may be a Swedish metal guy in Japan, but going back a few generations, Roppongi Rocks has deep and proud Norwegian roots. Thus a Norwegian punk rock band singing about heavy metal kids is right up my alley.
The Good The Bad and The Zugly (GBZ) gives us terrific, high-energy and good-fun punk rock on their new album. Because of the never-ending energy, some of the music gets close to being hardcore, but mainly this is fast and very catchy punk rock, the kind you shout along to. The kind of music that works a treat as a soundtrack to your pre-party rituals at home on a Friday night. The kind that wins new fans at summer festivals. The kind that is so full of energy it spills over and you just can't sit still while listening to it.
"The Worst Four Years" is a compilation album consisting of the band's early vinyl singles as well as the Bransjvelter compilation track "I'm Fucked Up" and "It's a Burning Hell" (a previously unreleased cover of a song by Swedish noise rockers Brainbombs). The material on this album all predates the band's earlier full-length albums "Anti-World Music" (2013) and "Hadeland Hardcore" (2015).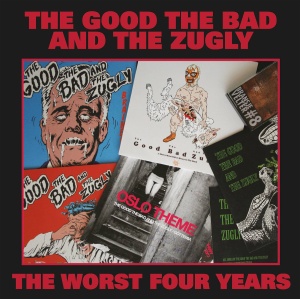 Being a metal guy at heart, GBZ's great track "Heavy Metal Kid" makes me laugh out loud of pure joy. Sometimes music doesn't have to solve all the problems of mankind. Sometimes music can be less serious and just about a bunch of punk rockers playing to entertain themselves and their audience.
The song "Fucking is Awesome", a live favourite among the band's fans, says it all, really, about GBZ and what they are focused on.
The Good The Bad and The Zugly's "The Worst Four Years" is out now via the Fysisk Format label in Norway.