Gig report: Accept at Nakano Sun Plaza | A lesson in how heavy metal is done
German-American veterans Accept give Japanese fans a lesson in classic heavy metal at a classic Tokyo venue.
Accept live at Nakano Sun Plaza. A classic band at a classic venue. Accept is a heavy metal band still at the top of the game. Perhaps they have never been better than now. At Nakano Sun Plaza in Tokyo several important  live albums and films have been recorded, most notably Scorpions' "Tokyo Tapes". It is a fitting venue for Accept to once again show their fans how it's done when they returned to Tokyo on 14th September.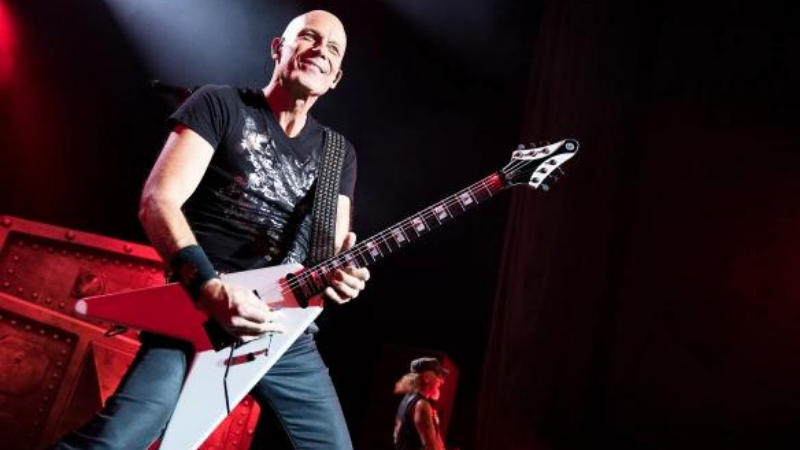 When I grew up listening to heavy metal during the 1980s, Accept was one of my favourite bands. Their classic album "Balls to the Wall" from 1983 was what I measured most other artists against. In 2017, I am still listening to Accept. Things have changed, but Accept is still a touring band that is also releasing new material. There is some room for nostalgia, but this is very much a heavy metal band that  is here and now, still winning new fans while also keeping their old ones.
Still in the band, for more than forty years, is the core duo of Wolf Hoffmann on guitar and bassist Peter Baltes. American frontman Mark Tornillo has been in the band since 2009 and has sung on the band's past four studio albums. He has firmly established himself in the band and it is now rather difficult to imagine Accept without him. His voice and vocal style work great with both the new and old songs. Drummer Christopher Williams and guitarist Uwe Lulis are more recent additions to the band who only last month released a great new record, "The Rise of Chaos". The current line-up is musically probably the band's best ever. They're tight, they're having fun and they deliver.
They open strongly with the new track "Die by the Sword", followed by 2012's "Stalingrad". This evening in Tokyo we get a two-hour show at the highest level. Accept is a world-class metal act and they live up to, and exceed, my expectations. They're better now than they ever were. They put on an awesome metal show which clearly shows that their newer material is as good as their classic albums from the 80s. Of course we do get some of the old classics, such as "London Leatherboys", "Neon Nights", "Restless and Wild", "Princess of the Dawn" and "Fast as a Shark". But much of the set is filled with newer songs. Many of the newer songs are actually better than much of the material that the band created in the 80s.
They close a great evening of heavy metal with the 1985 classic "Metal Heart", their 2010 comeback single "Teutonic Terror", and, of course, "Balls to the Wall". Wow! What a great evening of proper heavy metal performed by a bunch of professionals. They may have debuted more than four decades ago, but clearly this is a vital band that will keep going for quite some time yet.
Accept – thank you for the heavy metal lesson. This is how it's done, kids.
Text by Stefan Nilsson. Photos by Mikio Ariga.
www.facebook.com/accepttheband