Gig review: Whitesnake "The Purple Tour" in Tokyo
On Monday 2nd November, David Coverdale and his latest incarnation of Whitesnake finished off yet another successful Japan tour with a great gig at Tokyo International Forum.
Earlier this year, Whitesnake vocalist David Coverdale released "The Purple Album", a Whitesnake album made up entirely of re-recordings of classic songs he originally performed with his former band Deep Purple in the 70s. The release has been followed by yet another major tour around the world, including six gigs in Japan.
The last time I saw Whitesnake live was at Budokan in Tokyo in 2008 when they co-headlined a Japan tour with Def Leppard. This evening at Tokyo International Forum there is no support act and no co-headliner. This is an evening focused on Whitesnake and it works a treat.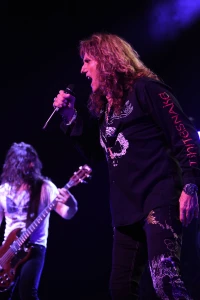 The current Whitesnake line-up – David Coverdale on vocals, Tommy Aldridge (Ozzy Osbourne, Gary Moore, Thin Lizzy) on drums, Reb Beach (Winger, Alice Cooper, Dokken) and Joel Hoekstra (Night Ranger, Jeff Scott Soto, Trans-Siberian Orchestra) on guitars, Michael Devin (Lynch Mob) on bass and the latest edition, keyboardist Michele Luppi (Secret Sphere) – is great. Obviously, over the years many great musicians have played in Whitesnake (Jon Lord, Ian Paice, Cozy Powell, John Sykes, Steve Vai, Neil Murray, Rudy Sarzo, Micky Moody, Adrian Vandenberg, Vivian Campbell and Doug Aldrich, to name a few), but the current line-up stands up nicely to the rest of them.
Drummer Aldridge is back for a third stint in Whitesnake and is a great anchor that sets the rhythm for the younger additions to the band. The current band members seem to give Coverdale energy to keep going. Amazingly, some forty years after he fronted Deep Purple, his voice is still great and he can still deliver.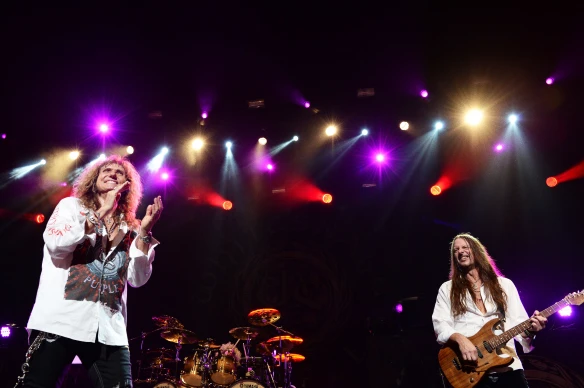 They open the set strongly with Purple's "Burn" and "Stormbringer". This evening we get no less than seven Deep Purple songs, including a fantastic, almost angry, version of "Mistreated", the evening's highlight. But we also get Whitesnake favourites such as "Love Ain't No Stranger" and "Fool for Your Loving" as well as the old R&B song "Ain't No Love in the Heart of the City", always a highlight of a Whitesnake gig.
Whitesnake was founded in England in 1978 as a melodic hard rock band with a big dose of blues influences. That is what they still are today. In the mid- to late 80s they became a bit more Americanised and polished in order to capitalise on the MTV boom. Some echoes of that can still be heard on this tour, but make no mistake about it, Whitesnake is a blues based, melodic hard rock band. The band is alive and kicking, not just some nostalgia act.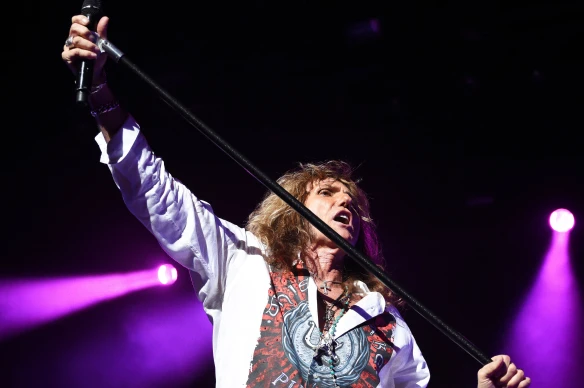 While David Coverdale is the only constant member of the band and the big star, he gives his band members the chance to shine during the show. We get a bunch of clever guitar solos, bassist Devin does his best on the harmonica and Tommy Aldridge gives us his trademark drum solo played with his bare hands.
They finish a great night with an encore consisting of "Still of the Night" and "Bad Boys". Whitesnake will be back. Japan still loves Whitesnake and Whitesnake can still deliver. Cheers for an enjoyable evening.
Set list – Whitesnake – The Purple Tour – Tokyo International Forum, Japan, 2nd November 2015
Burn
Stormbringer
Love Ain't No Stranger
The Gypsy
Give Me All Your Love
You Keep on Moving
Ain't No Love in the Heart of the City
Reb Beach & Joel Hoekstra guitar solos
Mistreated
You Fool No One
Tommy Aldridge drum solo
Soldier of Fortune
Is This Love
Fool for Your Loving
Here I Go Again
Still of the Night
Bad Boys