Single review: The Lightbringer of Sweden "Strike Back"
The Lightbringer of Sweden serves up some terrific heavy metal on the second single from the band's forthcoming album.
Swedish musician Lars Eng, the brain behind The Lightbringer of Sweden, keeps on delivering terrific melodic metal. Lars is a very skilled songwriter with a love for heavy metal. The quality of his songs has meant that he has been able to attract German powerhouse vocalist Herbie Langhans (Firewind, Avantasia) to sing for the band. "Strike Back" is the second single from the band's forthcoming album "The New World Order", which is due out later this year. This follows the band's debut album "Rise of the Beast" which was released in 2020.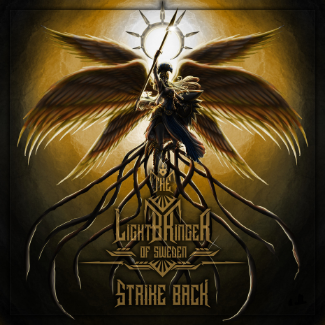 The forthcoming album's first single, "Free the Angels", was released in September last year. The new single, "Strike Back", is a terrific riff-happy and catchy heavy metal song clocking in at over five and a half minutes. Musically it continues along the path that we have come to know via the band's earlier songs – heavy metal bursting with energy, always guitar-driven in an Accept kind of way and very catchy and melodic. Lars Eng plays rhythm guitar as well as having written the music and lyrics for the song (in addition to producing and doing the covert art together with Isabell Sarstedt). The rest of the band is made up of drummer Tobbe Jonsson (of Angeline fame), bassist Johan Bergqvist (from Trail of Murder) and German lead guitarist Carsten Stepanowicz. Some of you will recognise Carsten from the bands Radiant and Sonic Haven where he has been performing together with Herbie. The sweet combination of Lars' songs, a reliable Swedish rhythm section, Carsten's guitar wizardry and the characteristic voice of Herbie is better than a cold beer and a sausage with proper mustard at a beach barbeque party. I just hope that The Lightbringer of Sweden at some stage will be able to perform with this band line-up live. This is simply too good to "just" be a studio project.
The Lightbringer of Sweden's new single "Strike Back" will be released on 4th March.