EP review: Tygers of Pan Tang "A New Heartbeat"
Tygers of Pan Tang can still roar as they prove on the new EP.
NWOBHM band Tygers of Pan Tang are still at it. Not being able to tour during the pandemic has given the band a chance to recruit a couple of new members, record an EP and start working on demos for the next full-length studio album. The four-track EP features two new songs, "A New Heartbeat" and "Red Mist", as well as two re-recorded tracks, "Fireclown" and "Killers", that originally appeared on "Wild Cat", the band's 1980 debut album.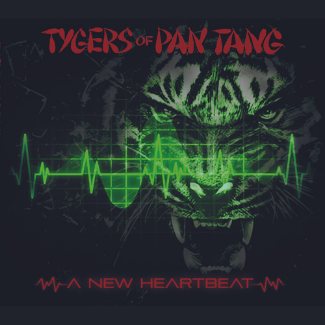 The band was originally formed in northern England in 1978. Tygers co-founder and guitarist Robb Weir is still leading the band after all these years. Vocalist Jack Meille and drummer Craig Ellis have been in the band for quite a few years now. New members are guitarist Francesco Marras (Screaming Shadows) and bassist Huw Holding (ex-Blitzkrieg, Avenger), although former Tygers bassist Gavin Gray is the one playing the bass on the EP. This very English metal band may nowadays have two Italian members, but they have still succeeded at keeping the old Tygers sound. Both the new and the old songs follow the proud Tygers tradition of combining great melodies and terrific guitar riffs. New guitarist Francesco Marras has managed to bring his own game into the band. Filling the shoes of past Tygers guitarists such as John Sykes, Fred Purser and Micky Crystal isn't easy. One might as well bring one's own game in order to get the job done. That's what Francesco has done and he has brought new energy and some fresh air into a band with a lot of history and high fan expectations.
Tygers of Pan Tang's new EP "A New Heartbeat" will be out on 25th February via Mighty Music.