Album review: Spellcaster "Night Hides the World"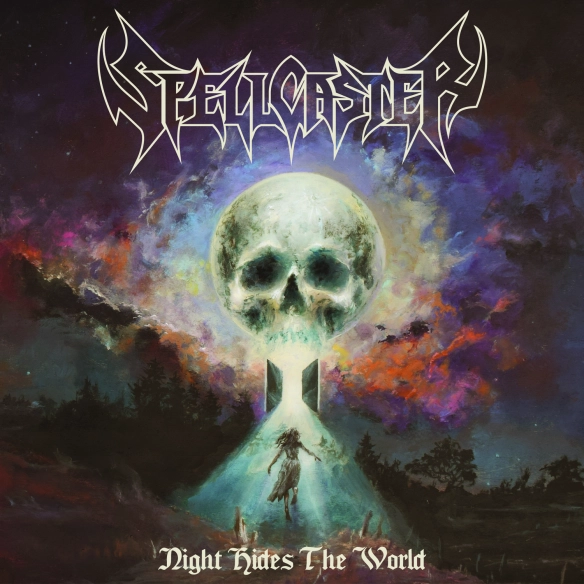 The album cover has a traditional heavy metal band logo and skull on it and the record label calls this "classic heavy metal". I wouldn't call this heavy metal but it's good rock with some great guitars.
Spellcaster's music is different from what I would normally call classic heavy metal. This is more of a mix of melodic hard rock and American alternative rock. There are some faster parts that are a bit heavy metal-like, but much of this is more rock than metal. Nonetheless, this is good music which is very easy to listen to. There is nothing dark or dangerous about this music (sometimes some of us perhaps need a break from all the dark and heavy stuff we listen to most of the time?). This is simply good contemporary rock with some great guitar riffs. We do get treated to some fine twin guitars by Cory Boyd and Bryce VanHoosen and a few great rock tracks. On many of the songs we get some Iron Maiden guitars in the mix, but it's really more rock songs dressed up with some metal guitars.
Spellcaster, from Portland, Oregon in the US, formed in 2009. Originally called Leatherwitch, they have released a few records and has seen some member changes over these years. This is their third full-length album and it is being backed up by some serous touring in America. A promising band that has a chance to take this further by playing it less safe and perhaps adding some more heaviness and darkness to the great foundation they have built.
Spellcaster's "Night Hides the World" will be released on Prosthetic Records on 8th July.
Spellcaster – band members
Tyler Loney – vocals
Cory Boyd – guitar
Bryce R. VanHoosen – guitar
Gabe Franco – bass
Colin Vranizan – drums