Album review: Barb Wire Dolls "Desperate"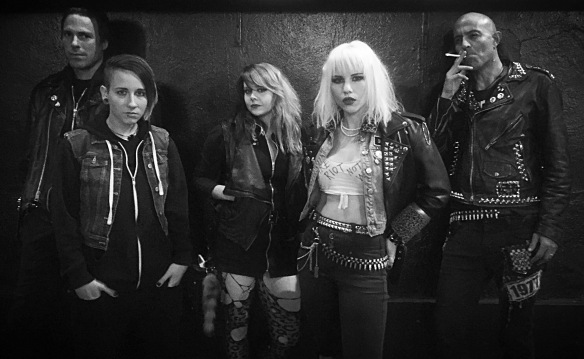 LA-based Greek punk rockers Barb Wire Dolls release new album through Motörhead Music.
Barb Wire Dolls plays good old punk rock but without sounding dated. With a foundation in the genre-defining style of the Ramones, Barb Wire Dolls has created a modern and catchy punk rock sound.
Like most of the American punk rock acts from the 70s that inspired Barb Wire Dolls, this album is quite melodic and catchy yet still quite edgy. The heaviness is more in the attitude than the music. Overall this is more related to the early wave of American punk rock than the often edgier and grittier British punk. Having said that, I still hear some faint echoes of the sound of the British pop punk band Transvision Vamp in Barb Wire Dolls and there's the odd bit of Sex Pistols in the mix as well.
Essentially this is straightforward, dirty rock'n'roll with a punk attitude. It works, I like it. Live this is no doubt an explosive experience. This material works very well in the studio, but I suspect that this is even better in a live setting. Since the beginning, the band has toured extensively in North America and Europe. Later this week they will play at Germany's massive Wacken Open Air, billed as the largest metal festival in the world.
Vocalist Isis Queen has a voice that was made for this kind of music. It's a perfect fit, up there with the best in the punk rock genre.
The album opens strongly with "Drown". "I Will Sail" is a great, catchy rock tune that stands out and so does "Heart Attack", while "Rhythm Method" is a fabulously catchy rocker which finishes off the ten-track album in style.
With its roots on the island of Crete, Barb Wire Dolls left Greece in 2010 and made Los Angeles its home. It was in LA that the band met Lemmy of Motörhead who took them under his wing and signed them to the Motörhead Music label before he passed away.
"Desperate" was recorded at the Sonic Ranch and NRG studios. It is produced and mixed by Jay Baumgardner (Coal Chamber, Bush, Evanescence, Lacuna Coil) and mastered by engineer Howie Weinberg (Ramones, Slayer, Pantera, Iggy Pop, Garbage, The Clash, Sonic Youth, Smashing Pumpkins, Nirvana, Red Hot Chili Peppers).
Barb Wire Dolls is great fun, this is party music, perfect for club gigs and summer festivals.
The "Desperate" album is out now on Motörhead Music.
Barb Wire Dolls – band members
Isis Queen – vocals
Pyn Doll – lead guitar
Krash Doll – drums
Iriel Blaque – bass
Remmington – rhythm guitar