Gig review: Danko Jones at Crowbar in Sydney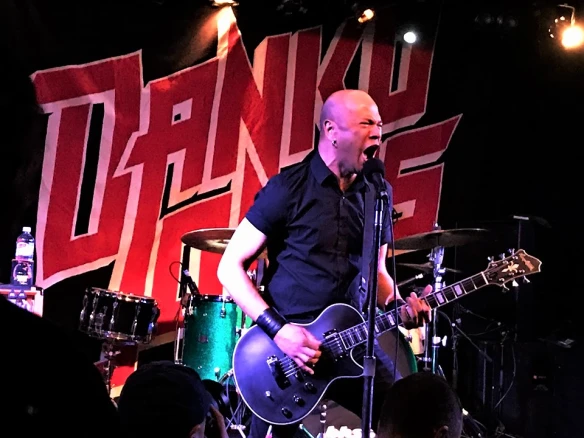 Canadian rocker Danko Jones made a triumphant return to Australia with his trio. Every song in the setlist is a hit. One of the greatest live rock shows this year. Punky rock'n'roll at its best.
Danko Jones, Black Heart Breakers and Screaming Eagle at Crowbar, Sydney, Australia on 7th September 2019 
Crowbar is a great music venue in the Sydney suburb Leichhardt. It is focused on serving beer and putting on heavy metal and hard rock performances. The Metallica and AC/DC pinball machines in the bar area set the tone for what kind of place this is. Local promoter Silverback Touring has become an important part of the Australian live scene as they keep bringing great international rock acts down under.
This evening, talented local Aussie bands Screaming Eagle and Black Heart Breakers did a great job of warming up the beer-fuelled Sydney audience at the Crowbar. The venue slowly filled up and by the time the evening's headline act Danko Jones walked on stage, the place was packed. It's been fifteen years since Danko's last headline tour in Australia. The wait was worth it. We got a proper lesson on how a rock show should be done.
Danko Jones and his trio – consisting of John Calabrese on bass, Rich Knox on drums and Danko Jones himself on guitar and vocals – were dressed all in black. They performed in front of a backdrop with just the Danko Jones logo. Visually there's nothing fancy here, but bloody 'ell, they did put on one helluva sweaty and fabulous rock show! Every song is a hit. I don't think Danko is capable of writing bad songs. At least there are none in the live show. They opened the show with the splendid "I Gotta Rock" from 2017's "Wild Cat" album. The bulk of the show was focused on newer material, including songs from Danko's latest album, "A Rock Supreme", which was released earlier this year. This evening most songs were played back-to-back. There was non-stop energy from the band. They were sweating buckets, but they never tired. They just kept going. On the few occasions when Danko spoke between songs, it was mainly a humorous and self-deprecating monologue. He looked rather aggressive and spoke angrily, but behind all that, he's a great artist who feeds off the love and admiration of his audience. He's in a band and he loves it as he sings in the autobiographical tune "I'm in a Band". Other highlights in what turned into a flawless rock show, included "First Date", "Dance, Dance, Dance" and "Burn in Hell". The show had everything I had hoped for. I couldn't possibly have put together a better setlist than what the band delivered this evening. At the end of the night, this had turned into one of the best shows I have seen this year. This is punky rock'n'roll at its best. Now let's get working on bringing Danko Jones back to Japan. It's been way too long since this explosive Canadian trio played in Japan.