Gig review: Symphonic Metallization – Majestica vs. Ayasa
Combining Swedish symphonic power metal band Majestica with Japan's crossover violinist Ayasa results in a great evening of modern melodic metal in Tokyo.
Symphonic Metallization – Majestica vs. Ayasa at Shibuya Stream Hall, Tokyo on 12th January 2020
The first of two nights in Shibuya for Symphonic Metallization – Majestica vs. Ayasa is a great, fun and good-natured evening of melodic symphonic metal. This Sunday evening, the Swedish symphonic power metal band Majestica, previously known as ReinXeed, performs its first-ever gig under its new name. Majestica's main man is vocalist and guitarist Tommy Johansson whose day job is as guitarist in Sabaton. The Sabaton connection no doubt sells a few more tickets to Majestica's gigs. Personally, I am no fan of Sabaton's music, but Majestica is very different and much more appealing to me. In Sabaton, Johansson is a guitarist doing his job. In Majestica, he is the main man – he's the lead singer, the lead guitarist and the main songwriter. Here he gets to shine and be himself.
A sub-genre called symphonic power metal is perhaps not for everyone. It's melodic, riff-happy, full of energy, fast and soaked in keyboards. Majestica is very good at it. One surprise this evening is that they are performing as a four-piece with no keyboard player on stage. In addition to Johansson, Majestica consists of Chris David on bass and Alex Oriz on guitar. For these Japan gigs, they have recruited drummer Joel Kollberg from Veonity to back them up. Majestica released its terrific studio album "Above the Sky" last year and this evening in Tokyo we get to hear six tracks from the album. They open the show with the title track and also perform "Rising Tide", "The Way to Redemption", "The Rat Pack", "Night Call Girl" and "Alliance Forever". Additionally, we get to hear the best bits of ReinXeed's past with songs such as "Welcome to the Theater", "No Fate", "Temple of the Crystal Skulls", "Magic Still Remains" and "We Must Go Faster" as well as a great version of "She's Gone", a Steelheart cover.
The evening's second act is crossover violin player Ayasa backed up by a metal band. They perform a terrific instrumental set which is a big step up from when I last saw Ayasa when she opened for Epica two years ago. Her music is dramatic, at times even bombastic, yet also often dreamy. Japanese guitarist Nozomu Wakai (Destinia, Paul Shortino Band) joins Ayasa and her band on a few songs (including a great version of Destinia's "Metal Souls") and shows us why he is a man with a reputation. But Ayasa is the one who shines the brightest. She's a star in the making and has a chance of taking her music beyond just her domestic Japanese fans. For the encore, Majestica's Tommy Johansson joins Ayasa and her band to perform the Gary Moore classic "Over the Hills and Far Away". It's a fun singalong ending to a great evening.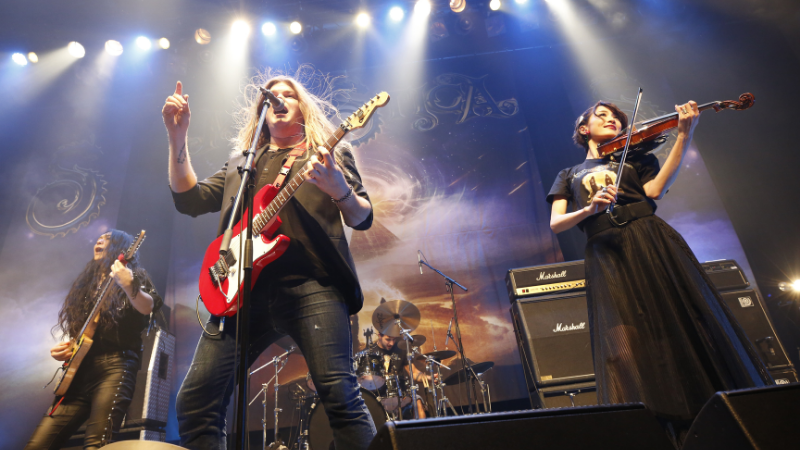 www.facebook.com/majesticametal