Album review: Corrosive Sweden "Blood and Panic"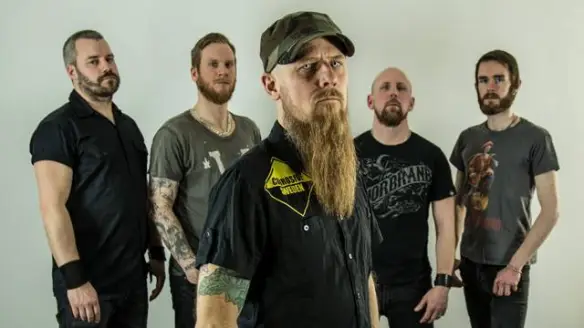 Corrosive Sweden has released a smashing new album filled with a modern Scandinavian mix of aggressive and melodic metal.
Corrosive Sweden's music is a modern mix of many things – some classic Megadeth-sounding riffing, a touch of The Haunted's aggression, a pinch of Amorphis' melodic heaviness as well as melodic parts in the proud Swedish tradition. This melting pot of musical influences has resulted in an interesting signature sound for the band. There's plenty of angst in Johan Bengtsson's angry vocals. His voice fits the music very well. Formed in Hudiksvall, Sweden in 1997, the band's debut album "Wanted" was released in 2006. Since then they have released a number of albums, but it is with this new album they are taking things to a new level. Lead guitarist Christer Ulander, who joined in 2000, seems to be a driving force for the band's evolving and guitar-happy sound. The new album opens with the fantastic "Fire from a Gun", which sets the tone and expectations for the whole album. The modern metal track "Parasite" shows that this is an ambitious band with some great songwriting skills. "Speed" and "Angry Me" are smashing tracks that show the potential of this band. They are clearly trying to do their own thing without worrying too much about how things are "supposed" to sound in order to fit into a specific sub-category.
Corrosive Sweden's album "Blood and Panic" is out now via BMP Records. 
www.facebook.com/corrosivesweden