Single review: Marco Mendoza "Take It to the Limit"
Ex-Whitesnake, Thin Lizzy and Journey bassist Marco Mendoza shines on his catchy new single.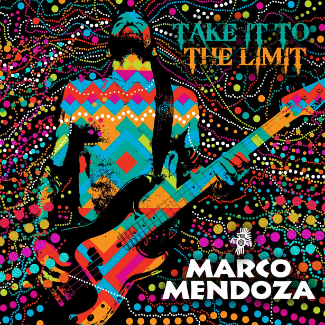 Marco Mendoza is well-known for his stints playing bass for acts such as Whitesnake, Thin Lizzy, Black Star Riders, Blue Murder, The Dead Daisies, Ted Nugent and many more. Most recently he got the call from the mighty Journey to fill in on tour when the band was a man short. He gets those calls because he is a reliable and solid bassist who will get the job done. But as a solo artist, when Marco both sings lead and plays bass, that's when he really gets to shine. I have seen Marco perform as a band member on numerous occasions and he has always been excellent. But seeing his two Tokyo gigs when he came to Tokyo in 2019 with his power trio on his "Viva La Rock" tour was something else. He is a showman extraordinaire. He knows how to play and entertain and he has the song material for a classy show. The new single, "Take It to the Limit", continues where "Viva La Rock" left off. It's a smashing high-energy rocker of a catchy song. It will be a crowd favourite for sure. It's catchy as hell. It immediately gets stuck in my head and my feet start to dance. This right here is what rock music is all about. Marco clearly has a love for creating and performing music and it shows in his music. Marco's fourth solo album is planned for release later this year. He has once again teamed up with Danish guitarist and producer Soren Andersen to create the follow-up to 2017's "Viva La Rock". The line-up for the new album is Marco Mendoza on bass and vocals, Soren Andersen on guitar and Morten Hellborn on drums. Soren and Morten have played together in the band Electric Guitars and with Mike Tramp. They both also played on Marco's last solo album. Tommy Gentry, from Scottish rockers Gun, who has done several tours playing the guitar for Marco, appears as a guest on the album as well. This terrific first single raises my expectations of the forthcoming album to sky-high.
Marco Mendoza's single "Take It to the Limit" will be released on 15th April via Mighty Music.
www.facebook.com/marcomendozaofficial
www.facebook.com/marcomendozajapan