Album review: Starchaser "Starchaser"
Ex-Tad Morose and Torch guitarist Kenneth Jonsson returns with his own band stuffed full of veteran Swedish rock musicians.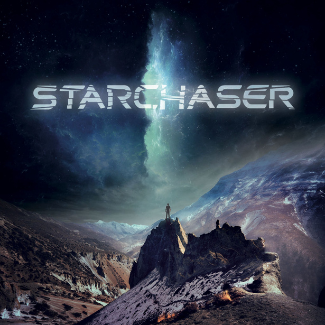 Starchaser is a new melodic heavy metal band from Sweden formed by former Tad Morose and Torch guitarist Kenneth Jonsson. Starchaser started out as a solo project but evolved into a band when Kenneth started to collaborate with other musicians in writing and recording his songs. The creative process led to the creation of the band Starchaser. Kenneth Jonsson has put together a band line-up consisting of seasoned Swedish musicians: vocalist Ulrich Carlsson (Shaggy, ex-M.ILL.ION), bassist Örjan Josefsson (Cibola Junction), drummer Johan Koleberg (Wolf, Therion, HammerFall, Zan Clan) and keyboardist Kay Backlund (Lion's Share, Nils Patrik Johansson, Johan Kihlberg's Impera). Much of the music that Starchaser performs is best described as melodic heavy metal in a proud Swedish tradition. The band's own anthem "Starchaser" is excellent power metal. While some songs are catchy and straightforward, we also get darker, heavier and less immediate but very strong songs, such as the terrific "Bringer of Evil", "Battleship" and "For a Dying World". This variation sets Starchaser apart from the busy field of Swedish melodic heavy metal acts. A song called "Tokyo" obviously gets my immediate attention. It has an appealing 80s vibe to it. "I'll Find a Way" has an excellent combination of guitar riffs and keyboards in what is basically a power ballad. The album is rounded off with the beautiful instrumental piece "The Nightingale Paradox" which sounds like an exquisite film score. It's great to hear yet another Swedish band delivering the goods on a debut album and doing so by adding some nuances to the traditional way of doing things. This is a band that dares to bring some new energy and heaviness to melodic heavy metal. Keyboards are strategically used throughout the album. Unlike many other bands that add some keyboards to their guitar-based songs, Kenneth Jonsson uses piano and keyboards to compose his songs. He has then further developed the importance of keyboards in the still very guitar-happy music of Starchaser together with Kay Backlund. The result is a terrific debut album.
Starchaser's self-titled debut album will be released on 6th May via Frontiers Music.