Album review: Cornucopia "The Seventh Seal"
New Swedish thrash metal band Cornucopia plays excellent basement thrash metal.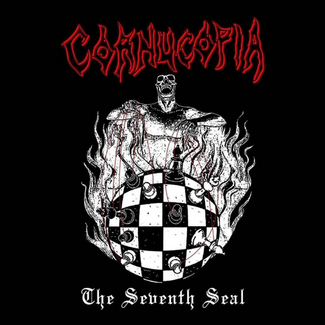 The sound coming out of the speakers as I listen to "The Seventh Seal" is raw. Like a demo cassette recorded in a rehearsal room in a California basement in the early 1980s. Love it. Cornucopia plays raw, unpolished and angry thrash metal. But they are not from the Bay Area and the band members were not even born in the 80s. Cornucopia was founded in Kungsbacka, Sweden in 2021 and "The Seventh Seal" is the band's debut full-length studio album. The Swedish thrash metal band consists of Alvin Roth (bass and vocals), Hannes Wersén (guitar), Albin Janflod (guitar) and new drummer Benjamin Roth. The quality of the song material is excellent and uncompromising and these lads certainly are riff-happy. The band's music has roots in both the Bay Area thrash and the German school of thrash. For those of us who love old-school thrash metal, this is a tasty dish served up by a new generation of metalheads. Clearly inspired by 80s thrash, they make their own version of what the pioneers did back then. On some tracks, such as the fantastic "Met Your End", there are blackened death metal influences shining through, while the excellently sinister track "Creator of Chaos" is thrash with what sounds like Black Sabbath-inspired riffs (presumably the band name might have been inspired by the Sabbath track "Cornucopia"). Overall, the album smells of traces of the early days of bands such as Possessed, Slayer, Kreator, Death Angel and Sodom. These young Swedish lads have listened to the past and used that as a foundation to create the future. Metal is alive and well in Kungsbacka.
Cornucopia's debut album "The Seventh Seal" is out now.
www.facebook.com/swebandcornucopia