Backstage with Elize Ryd in Japan
Elize Ryd talks to Roppongi Rocks about working with Gus G, the idea of a solo career and the possibility of Dynazty's Nils Molin joining Amaranthe.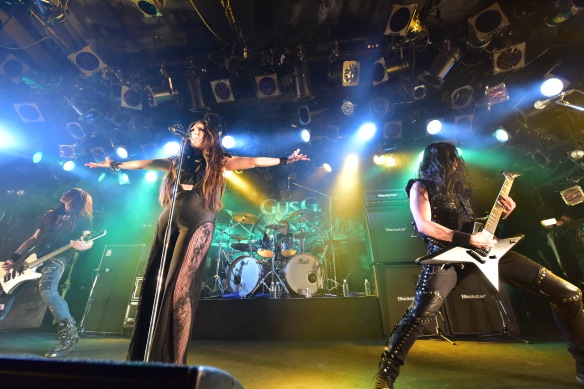 I have met and interviewed Elize Ryd on multiple occasions since her band Amaranthe first visited Japan in 2011. Amaranthe has not only had great success in Japan, they have done well globally with hit records and constant touring. This time Elize is in Japan as a special guest vocalist with Gus G's solo band. The Ozzy Osbourne and Firewind guitarist is performing two career retrospective shows in Japan covering his solo material but also music from Ozzy, Firewind and Dream Evil. On Gus G's latest solo album, 2015's "Brand New Revolution", Elize Ryd sang on the phenomenal track "What Lies Below", which Gus and Elize at these special Japan shows are performing live together for the first time.
Observing Elize during the soundcheck with Gus G and the band, it sounds great but it is obvious that she's not feeling great. All the travelling is taking its toll on the star, although she's a pro and shows no signs of not being all-in when she walks on stage that evening. After the soundcheck, we sit down with Elize backstage as she's getting ready for the gig.
Busy schedule for hardworking artist
Fresh off the plane from a major North American tour, Amaranthe did a string of gigs in Sweden before Elize boarded another flight to Japan. It is a tough schedule that she can't possibly keep up in the long term. "No, it has to stop," says Elize. "I think that I'll have to start making some demands. For example, it's not good to schedule Swedish gigs directly after we return home from the US tour. All of us in the band would have needed at least seven days off. Morten Løwe Sørensen looked like he was dying. All of us were completely destroyed. But somehow we managed. We did three gigs in Sweden but only had two days off during that time. We were laughing at how extremely worn out we were. But that is not something we show while on stage."
Cooperation with Gus G
Gus G has known Elize's Amaranthe co-founder Olof Mörck for many years, which is how he started to appreciate the Swedish singer's talent. "But I didn't know Gus. He wrote me and asked if I wanted co-write a song with him. But I was so busy that I never had time to participate in the songwriting process. Then Gus and his songwriters sent me a song that I thought was cool, just like I think that Gus is cool. Then, at the music video shoot, we met for the first time. We immediately clicked and became great friends there and then." Are we likely to see the duo do more things together sometime soon? "Not that I know. But it feels like we should do like a kind of Tina & Ike thing, do more things together. It would be so much fun. He is such a talented guitarist. We became such great friends and we had so much fun together during those two days," says Elize when she thinks back to the 2015 video shoot. "We felt that we need to play together more."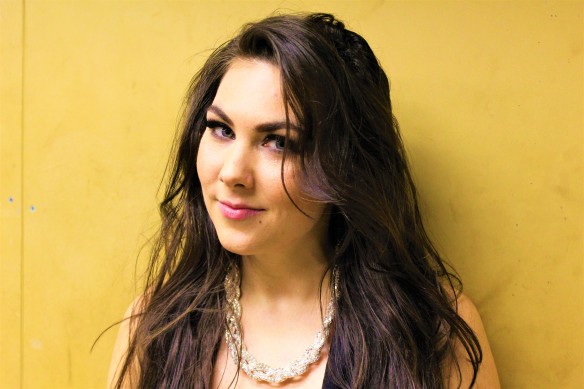 Thoughts on possible solo career
Last time I interviewed Elize in Japan (in September 2016 during the Helloween/Amaranthe tour), she said: "If the band at some point decides to take a year off, then I'll immediately make a solo album. No fucking question about it. Haha!" Where does she stand now on the thinking about a possible solo album? At the Gus G shows in Japan they sell Elize Ryd t-shirts at the merch booth, perhaps a sign that Elize is stepping up the game as an artist in her own right? "I am keen on it now that everyone seems to be doing solo stuff. I have been thinking about it for a long time. Even KISS did solo albums – all of them sounding very different which I thought was funny. Perhaps I should start my own band? I have been thinking about cool band names but then I thought that I should perhaps just use my own name, just like Gus is performing as Gus G. And now with Alissa White-Gluz too. That inspires me. She works as much as I do with Amaranthe. She's doing so much with Arch Enemy. I am thinking that if she has time to do it, then I should be able to find time somewhere to do it. And I want to get out and perform. I assume that I can't just release an album. I probably have to think about doing some gigs as well. I don't think I have to tour all the time, but perhaps do a few gigs depending on the demand. I have an unlimited supply of ideas for this."
Changes in Amaranthe's line-up: "Nils Molin is top of the list"
Recently Amaranthe co-founder Jake E decided to leave the band. Elize says she was not expecting Jake E's departure. "No! The way I feel for the band, this was shocking. I would never want to leave my baby. But I understand that if he has other musical ideas. It's up to him. No one's forcing anyone to do anything. It's like everything in life, you take risks. If you feel that you're prepared to go for it, then that's what you should do. If you feel that you have nothing to lose, then it is nothing to dwell on." Having earlier used Chris Adam from the band Smash Into Pieces as a stand in for Jake E, on the recent Sweden gigs, Dynazty's Nils Molin has stepped into that role. Based on the first three gigs in Sweden, Molin seems to be a great fit for the band. So, will he now join Amaranthe as Jake's replacement?
"I hope so!" says an excited Elize. "Nils is top of the list. We had fun with these gigs in Sweden. It was so much fun! He's a cool and great guy. Thus it would be great to have him in the band. Exciting! It's great with some new blood." As is the case with Chris Adam, Nils Molin has a permanent gig as frontman of another band. "That's the problem. He's awesome. It sounded really great. His voice fits us really well. He can even reach the high octaves together with me. That was cool! We want him! We obviously would like to have him. We'll see what happens. We'll find out. He's coming with us for the Finland tour."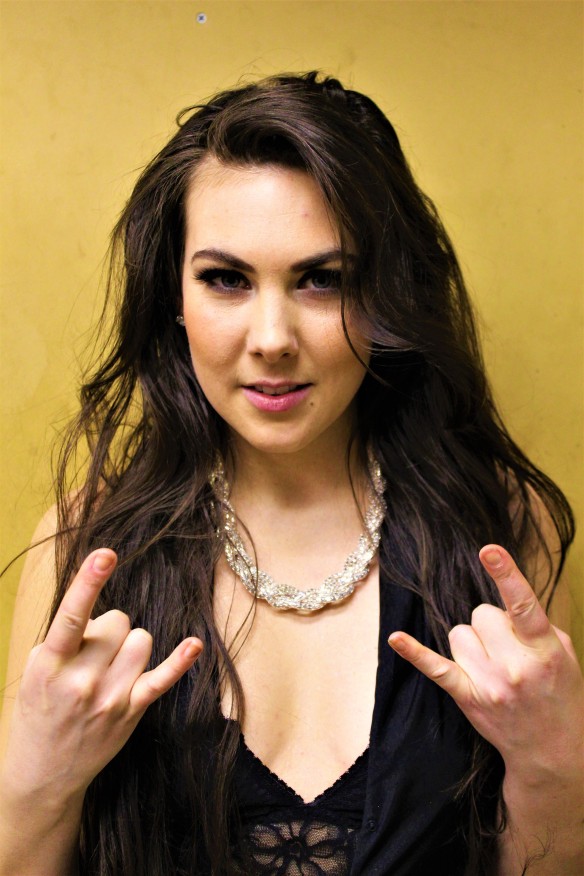 Amaranthe, who released their latest album "Maximalism" in October 2016, keeps on touring around the world. "I look forward to returning here to Japan to play our new songs. It's a bit more party like. It's a different mood on the new songs. It is a great feeling playing them live. They're supposed to be loud!" says Elize as she's starting to apply her stage make-up. Soon after our interview ends she walks on stage and delivers another great performance for her Japanese fans. She is a great fit for Gus G. Hopefully we will see more of this cooperation between two terrific artists.
No rest for the wicked. This talented artist will no doubt keep busy with Amaranthe and plenty of other projects. "I'm still young!" says Elize with a big smile.