Gig review: Venom Inc slays Tokyo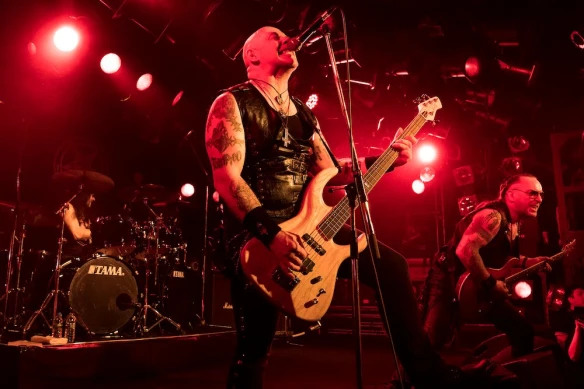 Venom Inc's Mantas, Abaddon and Demolition Man destroy Tokyo as they kick off their "Blood Stained Earth Tour" in style.
Venom Inc at Club Quattro, Shibuya, Tokyo, 15th February 2018
Mantas, Abaddon and Demolition Man were part of the best-ever line-up of British black metal pioneers Venom in the late 80s and early 90s. Tony "Demolition Man" Dolan on bass and vocals took the band to a new level then and he leads from the front now. He has a stage presence that commands your attention. Jeff "Mantas" Dunn on guitar and Anthony "Abaddon" Bray on drums have developed into fine musicians too, having started from nowhere four decades ago. The primitive start of Venom has over the years developed into some serious extreme metal with even progressive rock elements in the mix. There is some serious songwriting talent here. This trio also knows how to perform the songs and give their audience a great show in the name of black metal.
A few years ago, this line-up reunited under the name Venom Inc and started touring. In September 2017 they released a brand new album, "Avé" (via Nuclear Blast internationally and Ward Records in Japan), which was named Extreme Metal Album of the Year in The Roppongi Rocks Music Awards. With the Venom back catalogue and a terrific new album, Venom Inc has a treasure trove of music to choose from when putting together set lists.
As they walk on stage in Tokyo, following energetic sets by local opening acts Survive and Neuroticos, they kick off with the epic new track "Avé Satanas" from the latest album before they play the classic "Welcome to Hell". Many old Venom favourites – such as "Die Hard", "Live Like an Angel", "Warhead", "Don't Burn the Witch", "Poison", "Leave Me in Hell" and, of course, "Countess Bathory" – are mixed with fab new songs such as "Metal We Bleed", "War" and "Preacher Man".
"We like our metal black," says Demolition Man as he introduces the classic "Black Metal", indirectly reminding the younger generation that Venom not only influenced the black metal genre, it named it. We also, of course, get the classic "Sons of Satan" before the evening is over. This trio is in fine form, absolutely killing it musically. While on the surface there is aggression and anger, underneath the Venom cheekiness and playfulness shine through. They're loving it up on stage and they are soaking up the love and respect they get from the Japanese fans. Abaddon can't help himself but stands up behind his drum kit and screams "Fuck yeah!" several times during the set.
It's great to see these veterans better than ever and having some great new material in the show as well. Terrific stuff.
www.facebook.com/venomincofficial