Album review: Arallu "Death Covenant"
Unholy music from the Holy Land: Middle Eastern black metal from Jerusalem.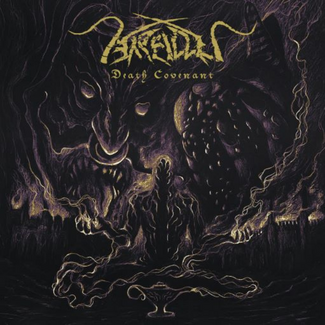 Arallu was formed in Jerusalem, Israel in 1997 by bassist and vocalist Daniel "Butchered" Moti. The band name Arallu is the name of the underworld kingdom where the dead are judged in Mesopotamian mythology. It is a very fitting name for the band. Following a few demos, Arallu's debut album "The War on the Wailing Wall" was released in 1999. They have been releasing records ever since and toured a fair bit in Israel and Europe. "Death Covenant" is the band's seventh full-length studio album. This band is different from most things in the black metal scene. Local traditional folk music from the Middle East and the struggles of living in a conflict zone are two ingredients that play crucial roles in Arallu's exquisite music. The Middle Eastern influences are real, based on the band's deep desert roots. The anger is real with band members having grown up and still living in a religious conflict zone where people are always on edge. Being a black metal band in a volatile part of the world where all conflicts are based on religious beliefs obviously adds complexity. The musical result is not only different, but it is also very good. This new Arallu album is such a treat. Arallu is a band that, not dissimilar to how some Nordic extreme metal bands do it, incorporates the members' cultural roots into the music. Taking ancient Middle Eastern music and bringing that into the world of black metal is a refreshing take on the genre. Arallu has been around for a quarter of a century, but now they are ready to take this to the next level with their best album to date. We get a creative mix of influences: there is a foundation of classic Watain, Mayhem and Marduk-style black metal, but with a bit of a thrashy element to it, some death metal influences and heaps of Middle Eastern instrumentation, including local folk instruments such as the saz string instrument and the darbuka drum. All of that boils down to a musical melting pot which is distinctly Arallu. "Prophecy of the Dead" is a standout track that in less than four minutes efficiently sums up what Arallu is all about in one song. "Ruler of the Seven Worlds" is one of the album's best and most brutal tracks and an immediate favourite. "Death Covenant" is one of this year's most important record releases for several reasons: it's shaking up the black metal scene with an injection of new influences seldom found in extreme metal and it shows us that Israel is a terrific creative hub, not just a conflict zone.
Arallu's new album "Death Covenant" will be released on 11th November via Hammerheart Records.