Album review: Grafvitnir "Keys to the Mysteries Beyond"

Hardworking but shadowy Swedish black metal trio Grafvitnir is back with yet another sinister studio album.
Sweden has long been a leading black metal nation, ever since Bathory helped form the genre in the 1980s. Grafvitnir is one of the leading stars in the current wave of Swedish black metal.
It's only a year since the band's last studio album, "Obeisance to a Witch Moon", was released and yet somehow this trio has managed to put together another great record. The music is superb, both the actual compositions and the performances of them. The tempo is for the most part relentlessly fast. The possessed vocal style puts an even more sinister twist to the songs. Wonderful if you like twisted, evil and darker than dark music. Occultism is the overarching theme of pretty much everything Grafvitnir does.
More than a decade into the band's career, Grafvitnir's new album is its fifth full-length studio album and it is, simply put, world class. This is up there at the top of the hill, front of the pack.
The band lets its music do the talking. They don't share much information about who the members are or any other personal information. The shadow-living band may be a tad shy, or deliberately mysterious, but that's OK. If the band continues to produce quality extreme music like this, we can let them remain faceless.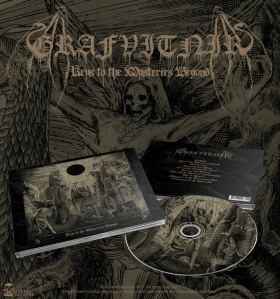 "Whispers of the Primordial Sea" and "Glimpses of the Unseeable" are among my favourite songs together with the fabulous title track, while "Vargavinter" is probably the best track on a very even album which is a worthy follow-up to "Obeisance to a Witch Moon".
Grafvitnir's album "Keys to the Mysteries Beyond" is out now via Carnal Records.