Album review: Graham Bonnet Band "Day Out in Nowhere"
At 74, Graham Bonnet still delivers like it's nobody's business. Graham Bonnet Band's third studio album offers up some excellent classic rock.
During his long career, British-born vocalist Graham Bonnet has at times wandered into hard rock territory with some of the bands that he has fronted, such as Rainbow, MSG, Alcatrazz, Blackthorne, Anthem and Impellitteri. He has pulled it off brilliantly, but as has been evident in his solo work and other projects, he seems more at home in the classic rock arena. "Day Out in Nowhere", Graham Bonnet Band's new album, is stuffed full of the kind of classic melodic rock that Graham is so good at – although we do get the odd bit of hard rock here and there as well on this great album.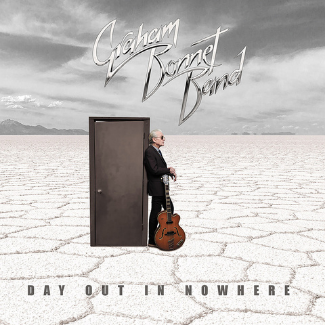 "Day Out in Nowhere" is GBB's third full-length studio album following "The Book" (2016) and "Meanwhile, Back in the Garage" (2018). Graham founded the Graham Bonnet Band in 2015, half a century into his career. Just a few months after the band was formed, I saw them live when they toured Japan. It was obvious from the start that GBB's core trio of Graham, bassist Beth-Ami Heavenstone and guitarist Conrado Pesinato had some real chemistry and smoking potential to not only play the Bonnet catalogue but also create and perform new music. When it comes to the drum stool there has been somewhat of a revolving door of drummers coming and going. On this new album, the band has opted to use several guest drummers to get the job done: Shane Gaalaas (MSG, Yngwie Malmsteen, B'z, Glenn Hughes), John Tempesta (The Cult, White Zombie, Exodus, Testament) and Kyle Hughes (Bumblefoot, Marco Mendoza, Oliver-Dawson Saxon). Beth-Ami's teenage son Levi Dokus, a very promising drummer, also appears on the album (not a bad way for a young drummer to arrive on the scene, I'd say). My favourite track on the album, "Brave New World", is GBB in a nutshell: catchy classic rock with fab guitars and Graham's characteristic voice. Guest guitarist Roy Z (Bruce Dickinson, Halford) adds some spice to that song. Other guests appearing on the album include Alessandro Bertoni (Aphelion), Jeff Loomis (Arch Enemy, Nevermore) and Mike Tempesta (Powerman 5000, Scum of the Earth). Keyboard wizard Don Airey (Rainbow, Deep Purple) adds his magic to the good-fun rock track "It's Just a Frickin' Song". Standout tracks include the high-energy tracks "Imposter", "Twelve Steps to Heaven" and "Jester". "Uncle John" is also a fabulous track that I take an immediate liking to. "Suzy" is an outlier on the album, sounding like some kind of "the Rat Pack–meets-Disney-meets-Broadway" tune. It's a beautiful showpiece and it demonstrates well that Graham can excel in many different musical styles. I have seen Graham perform live numerous times in recent years and thus knew that he can still deliver. I am amazed, but not at all surprised, that he, at 74, still has his terrific voice that we love. He had his first hit single ("Only One Woman" with The Marbles) 54 years ago. In 2022 he still has that golden voice. In GBB he has a band that helps him create and perform the music that perfectly frames his vocals.
Graham Bonnet Band's new album "Day Out in Nowhere" will be released internationally via Frontiers Music on 13th May. A Japanese edition (with a bonus track) will be released by Marquee/Avalon on 1st June.
www.facebook.com/grahambonnetmusic